The biggest event of the season, The International 2019, will be highlight of season - obviously. However, we still haven't gotten any official statement so far when the event will be taking place in Shanghai. Now Vici Gaming leaked unofficial dates in August.
ADVERTISING:
Update 25.04.2019
The International 2019 will be taking place on August 20th through the 25th. We are still finalizing details that are required before tickets can go on sale, but we expect to be able to do that in a couple of weeks.

— DOTA 2 (@DOTA2) 25. April 2019
Vavle has finally answered the question everyone kept asking: when is The International going to take place this year?
Original news
Valve surprised us during
The International 2018
: they announced that the next edition of TI will be held in Shanghai, China's biggest city. Since then, Valve fell really quiet in regards to the tournament and we havn't even gotten any new information about when the event is going to start.
On Vici Gaming's Weibo account the Chinese organization accidently posted unconfirmed TI dates earlier this day.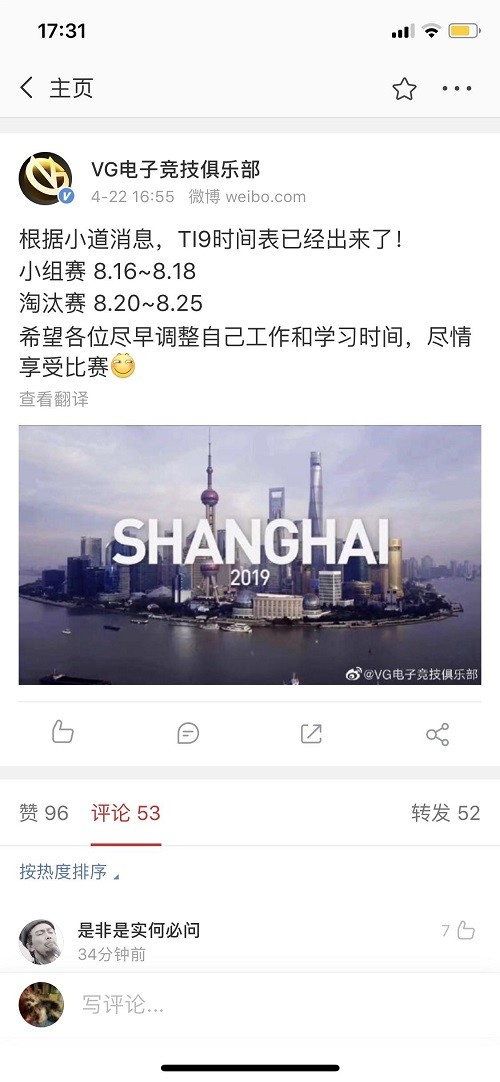 According to
Vici Gaming
, the group stage will be held from August 16 to August 18. The main stage will take place two days later on August 20. The Grand Finals, could take place on August 25. Vici Gaming, however, stated that these dates have not been confirmed yet. The post has been deleted on their official Weibo channel in the meantime.
Although the dates by VG are just a rumor at this point it's highly possible that The International 2019 could be taking place in this time slot. The event would be held exactly one year after the last edition. Now everybody is just waiting for Valve to react. The publisher of Dota 2 won't have much time to release the dates if they want to start their Battle Pass soon. 2018 the compendium was introduced on May 8.
Will Valve release the TI dates soon?
Photo credit: PGL