Things have kicked off in China with the release of an explosive statement from LGD.Forever Young regarding carry Du 'Monet' Peng. In it, the organisation details a 'unilateral termination' of the player's contract while the player himself labels the org 'hypocritical' in what is a messy and damaging saga.
ADVERTISING:
Two weeks of confusion
The statement begins by stating that Monet signed a contract in October 2017 tying him to the roster until 2020, and that they have 'fully fulfilled its contractual obligations' with regards to tournament exposure, training facilities and other details. Then comes a timeline of disaster for all parties, according to the organisation:
August 27
— the player demands a move to fellow Chinese side
EHOME
August 29
— LFY agree to allow Monet to join EHOME on loan and begin negotiations.
August 30
— Monet goes back on his word, rejecting a move to EHOME and demands a move to Royal Never Give Up. LFY begin negotiations with RNG over a loan move.
September 2
— RNG refuse to take Monet on loan. LFY claim that Monet says he is happy to either stay with the org or join another on loan, so they begin work on building a new team around him. The assumption is that Monet's negotiations with RNG have ceased.
September 5
— Monet sends unilateral termination notice to LFY and says RNG will represent him in his transfer.
September 10
— Monet has refused to rejoin LFY, insisting on a move to RNG.
RNG confirmed to enter Dota 2?
As you can see, the situation is a mess. It's the kind of thing you see in professional sports such as football, where players refuse to play in order to engineer a move away, usually after being tapped up by another team. While it's unclear if this is the case here with either EHOME or RNG, it's certain that this has created an untenable situation for all involved.
Another interesting point here is the mention of Royal Never Give Up. The organisation is a powerhouse in Chinese esports, with their League of Legends roster currently into the Summer Split finals and are reigning champions of the Mid-Season Invitational. They are known for building superstar rosters, and could now be looking to bring their considerable resources to challenge the established sides in Dota 2 — although nothing official has been announced yet.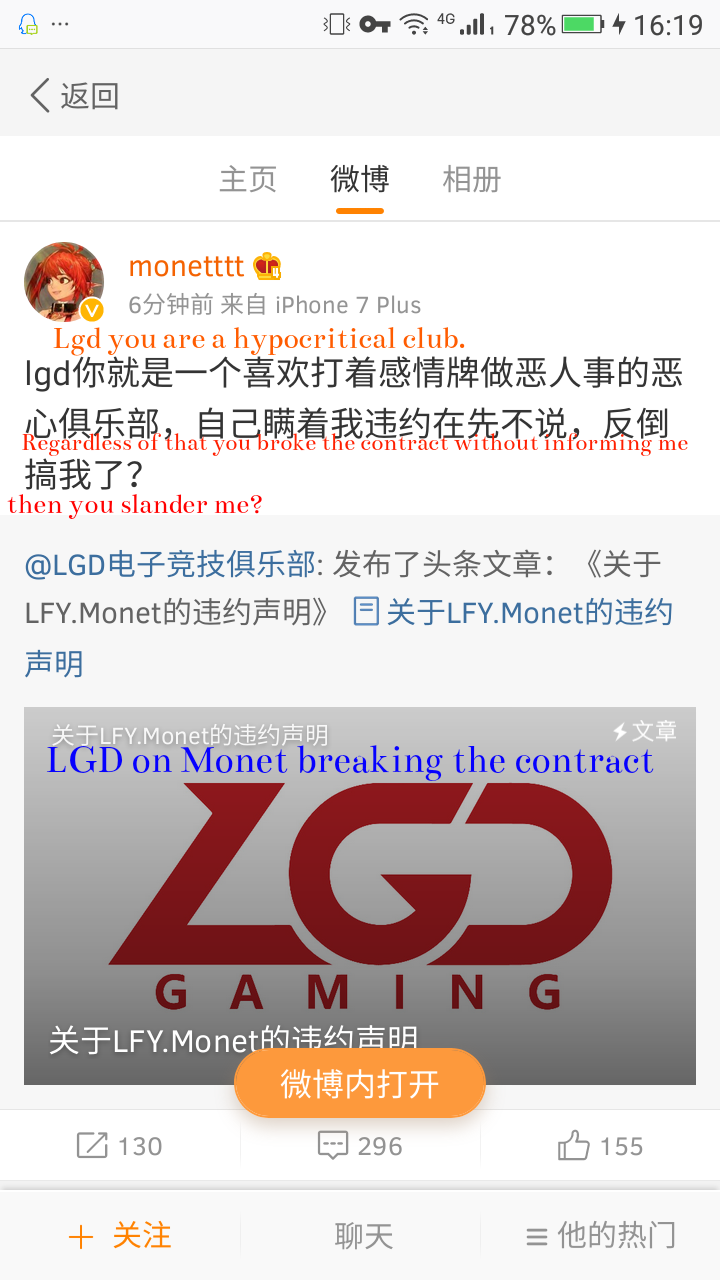 xiao8 – bridges have been burnt
In a post on Chinese social network Weibo translated by
Redditor ms_demonfox
, EHOME coach and
The International 2014
winner Zhang '
xiao8
' Ning confirms that his organisation were in negotiations with Monet:
— Zhang "xiao8" Ning (translated).
I have been communicating with this player for over a month. He explicitly expressed the desire to come over and join my team, but I need to talk to LGD's management and sort it out first. In order to work out Monet's transfer, I even had bitter quarrels with LGD's boss and general manager, and they finally agreed to do me a favor and let him go. However, once I got back from Vancouver, he told me that he would go join another team and definitely would not come to eHome. This is fucking screwed up.
The feed itself
throws up a lot more drama, making this a drama that could rumble on for a while. Several translated comments from prominent members of the scene, such as caster DC, new
Team Aster
recruit Liu '
Sylar
' Jiajun and
Vici Gaming
coach Tong '
Mikasa
' Junjie reveal differing opinions, while Monet himself has branded LGD 'hypocritical' and accuses them of slander.
LFY ended their statement by saying they reserve their right to pursue legal action for breach of contract, while extending an olive branch for Monet to return to the team.
What do you make of the Monet drama? Is there a wider issue at hand here?
Header image © Valve