According to Paul 'Redeye' Chaloner, it's time to give new regions the opportunity to qualify for major tournaments. Speaking to the Luckbox podcast, he gave his views on untapped areas of the globe, suggesting that the talent is there, but the chances are not.
ADVERTISING:
Chicken and egg
"I would love that," he responded, when asked if having a qualifier in an underdeveloped region such as Africa is a way to promote the game. In a show of support for grassroots-level esports, he mentioned that the only difference he could see between these regions and the South American or Korean scenes in Dota 2 is simply that they are 'geographically challenged.'
"In Valve's case, it comes down to 'do we have a scene there?' If we have a big enough scene, then we give them servers. If we give them servers, does that mean the game becomes more popular?"
He then went on to state that if the game grows, then we should include them in the esports side of things. "The other side of it is…if you gave them servers, maybe you'd get a bigger community, then maybe they'd be more competitive."
The future of professional Dota?
Redeye certainly has a point — there's undoubtedly a vast number of players across the globe with access to the game, but no access to a competitive scene to help them grow. South America is a shining example of how progress can lead to inclusion, with
paiN-Gaming
about to take their spot at The International 2018 thanks to the region being awarded its own qualifier.
He went on to give the example of South Africa, even comparing the scene there favourably to that of a more traditional country. "They have the infrastructure, they have good Internet in places, they have great structure of teams, some of the most professional teams down there."
"In some ways they're even more advanced than the UK is right now on a player level, and yet they're not invited to anything. They're not given access to anything, they've got to fight tooth and nail to get into any esport at all."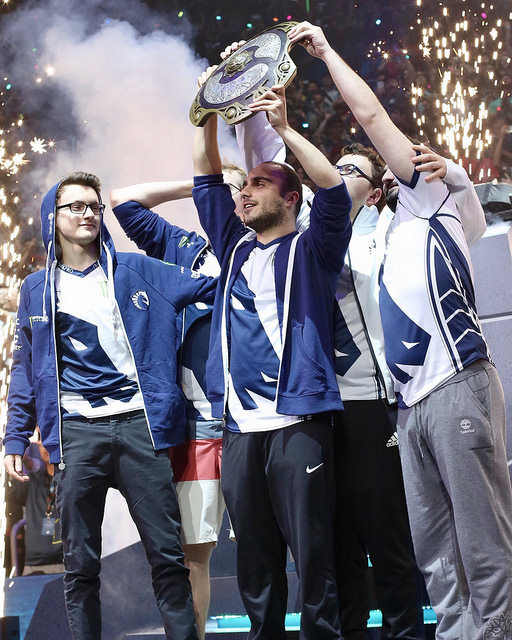 Miracle- and Team Liquid win TI7. Copyright: Valve
Massively untapped markets
The upwards trajectory of esports doesn't appear to be slowing down anytime soon. We agree wholeheartedly with Redeye, who mentioned several countries with rapidly growing esports scenes — Ghana, Lebanon, India, Pakistan, even Australia. He gives the example of
The International 2017
winner and
Team Liquid
star Amer '
Miracle-
' Al-Barkawi as a player from a lesser region to have made it.
"I think there's still evolution to happen," he said, and he's spot on. The chance to take the competitive side of our game to places it has never been should be something that excites tournament organisers, and the chance to reach millions more fans through that regional connection is something that teams, events and sponsors can benefit from greatly.
If the aim is to make Dota 2 a truly global game and increase the player base, then we certainly need to be doing more to help make that a reality. Just as kids kicks balls around dreaming of turning out for their hometown clubs, young players of Dota should dream of making the big stage through winning their own regional qualifiers.
Which regions do you think should have their own qualifiers? Let us know below!
Header image: Copyright ESL | Steffie Wunderl