Recently, IceFrog and Valve changed their patching schedule to a bi-weekly format. The last patch, 7.14, brought us Techies back. Now, players have started complaining again. On one hand, the fortnightly changes are not making the competitive scene any better, and on the other it seems as though some players know more than others.
ADVERTISING:
What I dislike the most is that some teams clearly know whats coming in the patch and other teams don't.

— EternaLEnVy (@EternaLEnVy1991) 26. April 2018
Fnatic
's hard carry seized the opportunity to complain about the patching system. In his opinion, there are players who receive information about changes before they're announced.
Beta-tester friends bring the advantage
If it were just EE complaining, the scene would mostly ignore his instigation of drama, but
OpTic Gaming
's midlaner
Quinn '
CCnC
' Callahan mentioned something similiar in a Twitch chat.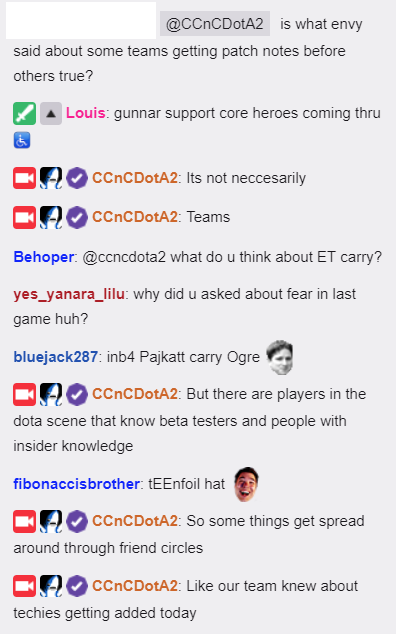 He further explains how some pros have more information than others, due to connections with IceFrog's beta testers. These players get to know every update before it is released. It appears some pro players have contact to those beta testers, to get more information beforehand.
General complaints about biweekly patch system
Why do valve/icefrog feel the need of changing the game every 2 weeks it's absurd how big the changes are they were supposed to be minor, do consider there are at least 2 million dollars tourneys every month. No other sports do it and their games stay just as alive. #nomodehipstr

— Sumail (@SumaaaaiL) 26. April 2018
While players like EE and CCnC complain about leaks during update cycles,
Evil Geniuses
' offlaner
Sumail '
SumaiL
' Syed Hassan is not fond of the update system in general. In his opinion, a bi-weekly meta change should be more about minor changes and not include huge meta shifts each time, especially if you consider that there are Major and Minor tournaments every week which are massively influenced by these changes.
You used to be able to prep for a tourney. Now, it's nearly all intuition and luck. Either you somehow binked on the right concept or you did not. How is this a competitive game? Why don't we ability draft while at it and spawn SSBM items, pokeballs and everything?

— SunBhie (@SunBhieDota) 26. April 2018
Secret's coach —
Lee '
SunBhie
' Jeongjae — has a similiar opinion, explaining that changes are now more about intuition and luck, and remove a lot of the competitveness.
What is your opinion on the patching system?
Photo credit: ESL - Adela Sznajder