Iceiceice has found himself the center of controversy once again after an attempted joke by his friends to poke fun at his racial slur on stream earlier in the week, caused the wrong kind of attention.
ADVERTISING: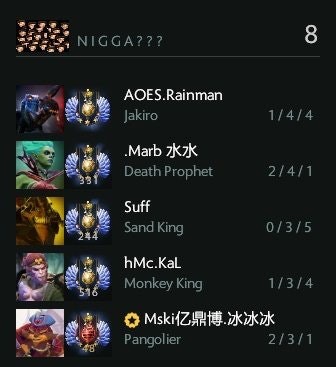 The screenshot of the team name was posted on Reddit
Earlier this week
Daryl '
iceiceice
' Koh was "reprimanded" by his team for using a racial slur on stream. However, an alleged joke by his friends today to change their Battle Cup team name to "N*GGA* ended up making it all the way to
the top of /r/dota2
. It not only reached the top slot but so far has over 1,200 comments.
RELATED: iceiceice's Twitch channel banned after use of racial slur
Divine 5 player Rainman who was one of the players in the Battle Cup team replied to the Reddit thread that "the name was me trying meme iceiceice and not of his own doing".
Another unconfirmed team member said that iceiceice had gone to the bathroom and was unaware they had changed it until it was too late. What was clearly meant as a bit of banter between friends however, has put further spotlight on the incident earlier in the week.

Divine 5 SEA player RainmanTommy said
on Reddit
the team name was his idea
icex3 actually contacted me regarding the tweet and personally I would tend to believe what he said regarding his friends setting up the team name, but I'd still have expected him to had left the game at this point.

— Allen Cook (@thisisallencook) 14 April 2018
What are your thoughts?