Quinn 'CCnC' Callahan was unleashed in Game 3 of Optic's semi-final series against Fnatic, and the NA team is now through to the Grand Finals.
ADVERTISING:
30K networth ahead but Fnatic have to work for victory
The first game was rather strange as Fnatic had issues closing the game despite having over a 30,000 networth lead for the last 20 minutes of the game. Optic only held on so long thanks to the carry play of
Per Anders '
Pajkatt
' Olsson L. on Morphling, and Fnatic kept on losing key players when they went for a highground push on top lane.
"It's not the draft was bad it's just the execution was not the best," said Lacoste post-game. Fnatic eventually managed to end game 1 but it took 70 minutes and 6 Roshans. The networth gap was 50,000 by the end of the game but it still felt like a close win, primarily due to
Abed '
Abed
' Yusop's Templar Assassin not scaling well into the late game. "Fnatic just need to man up," said Lacoste on the analysis panel, referencing EternalEnvy's comment in a post-match interview that his team need to listen to him more.
Bodyguards PPD and Zai render Fnatic's right click obselete
For Game 2, Optic built their draft around
Quinn '
CCnC
' Callahan's Death Prophet, with two heroes with saves to ensure he would live long enough to deal damage, Tusk and Dazzle. Fnatic on the other hand went primarily for damage reduction and right click, but the hit and miss nature of Abed's Shadow Fiend combo, ended up working against them. EternalEnvy's Weaver fell far behind and the brute right click damage of Shadow Fiend was not enough to make up for it. Therefore, although Fnatic did have Roar from Universe, they lacked enough burst damage to take a hero down at the start of the fight, and even when they looked like were about to
Peter '
ppd
' Dager just Shallow Graved them.
Pajkatt ended game 2 with no deaths in yet another brilliant carry performance by him, supported exceptionally well by Zai's Tusk and PPD's Dazzle.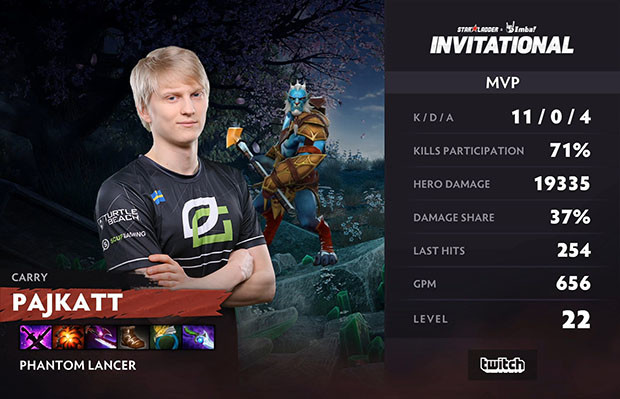 Pajkatt's stats for game 2 were superb
"Look at that smirk on Quinne" - CCNC steps up to finish off Fnatic
In the final game CCNC was drafted Lina, a hero PPD said post-victory was a safe and reliable one for his mid player. Although the casters and desk made a big fuss over the Lina, it was a great all round team performance by Optic, who managed to survive the Naga Siren/Pangolier combo Fnatic had won with in game 1.
CCNC comfortably beat Abed's Kunkka mid and off the back of that and the "strongest duel lane in the game" Ancient Apparition and Beastmaster in bot lane, Optic were in the driving seat. Pajkatt's Gyro dealt with Naga Sire and her illusions, and Optic ended up dealing twice as much damage as Fnatic overall in the 31 minute game.
Optic now progress to their first ever Pro Circuit Grand Finals, where they will face
VGJ.Thunder
, a team they beat 2-0 to win group A.