Evil Geniuses had yet to reach a Grand Finals on LAN since TI7, but today new captain
Rasmus 'MiSeRy' Fillipsen lifted the curse.
ADVERTISING: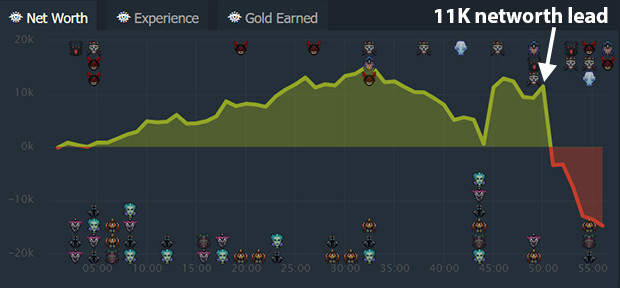 VGJ.Thunder lost 25,000 networth in the space of 5 minutes to lose game 2 (
More info on DOTABUFF
)
VGJ.Thunder will be kicking themselves, EG hold on to grind out 2-0 victory
VGJ.Thunder
were in control of both games but let them slip, especially in game 2 where they saw their 11k networth lead turn into a 14K networth deficit in the space of just 5 minutes. The fight that turned the tides was the one below, where
Rasmus '
MiSeRy
' Fillipsen's clutch Shallow Grave on Arteezy's Terrorblade allowed him to survive and Sunder
Liu '
Sylar
' Jiajun's Luna.
Sylar had just bought a Divine Rapier two minutes before, most likely expecting to be able to end the game with it, but instead got killed and Arteezy quickly snatched it up by dropping his Satanic. What is not immediately clear from the clip is that Cr1t's buyback was crucial to killing Sylar, with the Dane instantly buying back as Nyx to then Blink in and Impale Sylar's Luna ensuring the kill.
Evil Geniuses took down Roshan two minutes later and then rushed to the finish line, with Evil Geniuses grinding out a very hard-fought 2-0 victory to reach the Grand Finals.
SumaiL and Fear successfully juggle mid and offlane roles
It is the first Captains Mode LAN Evil Geniuses have competed in since the roster change, which not only sees
Sumail '
SumaiL
' Syed Hassan move to the offlane but also
Clinton '
Fear
' Loomis to the mid-lane. In game 1 of the series Fear stood his ground as Death Prophet, after going toe-to-toe with
Liu '
Freeze / Kamma
' Chang. However, in EG's convincing victory over
OG
earlier in the day, SumaiL played mid Puck with Fear on an offlane Phantom Lancer. OG were of course competing without
Johan '
BigDaddyN0tail
' Sundstein and
Gustav '
s4
' Magnusson, but it was still a formidable performance by EG.
EG's match with VGj.Thunder was by far their toughest match so far, and Galaxy Battles II is proving to be perfect practice for the new line-up. After this event the NA team will fly directly to Malaysia next door for ESL One Genting.
That was a close one boys. grand finals tomorrow!💪💪

— Rasmus Filipsen (@MiSeRyDOTA) 20 January 2018