Mineski head to the playoffs as top seed of their group after an impressive display against
Team Secret, featuring a certain MR.GG. (Image: Mineski Facebook)
ADVERTISING:
Mineski take down DPC #1 Team Secret in convincing display
Mineski
end Day 1 of the Captain's Draft Season 4 Minor with a first place in Group Horse (A), following a 1-0 win over
Team Secret
. Although the groups are purely for playoff seeding purposes, it was a convincing win over the currently #1 team in DPC Leaderboards.
Ninjaboogie Shadow Shaman rocks the early game
In the opening ten minutes
Michael '
ninjaboogie
' Ross seemed to be everywhere at once, racking up 6 kills on Shadow Shaman and working nicely with
Chai '
Mushi
' Yee Fung's Razor to nullify threats.
The combination of Shackles with Static Link served Mineski well, in particular with reducing the impact of
Yeik Nai '
MidOne
' Zheng's Viper. By 18 minutes Ninjaboogie had Arcane Boots and a Blink Dagger on a Shadow Shaman, making him an unexpectedly reliable initiator for Mineski.
Mineski opted for a very fast paced game compared to their previous round match against
Vici Gaming
, but it ended up pretty even thanks to some good rotations by
Yazied '
YapzOr
' Jaradat's Pudge.
Jabz snatches Aegis in front of entire Team Secret
Secret did get some breathing space after using Song of the Siren to clear out Ninjaboogie's Serpent Wards at their tier 2 which forced Mineski back, but their attempt to go for Roshan afterwards did not pan out as intended.
With all 5 of Secret in the Roshan Pit,
Anucha '
Jabz / Kaneki
' Jirawong snuck in to snatch the Aegis after a 3 man Impale out of Vendetta. It did buy some time for Mineski to reorganise and avoided Secret capitalising too much on the earlier engagement.
The Eul Sceptre on
Kam Boon '
NaNa / Timun
' Seng's Ember Spirit was a great counter to
Adrian '
Fata
' Trinks's 19 minute Orchid, and the game slowly slipped out of Secret's hands, with
Marcus '
Ace
' Hoelgaard taken down early in several of the key engagements.
Team Secret's draft was the trickier of the two, and they definitely had some good moments, such as this one at 36 minutes combining Puppey's Song of the Siren with Ace's Calldown (above). By 40 minutes Team Secret were looking for a way back into the game and ended up doing back to back smokes but were unable to make something of it thanks to superior vision from Mineski.
It was a shame the group decider was not a bo3 as it could have made for a very interesting series. Mineski's win puts them top of Group Horse and gives them the choice of either
Evil Geniuses
or
paiN-Gaming
as their opponent in the playoffs.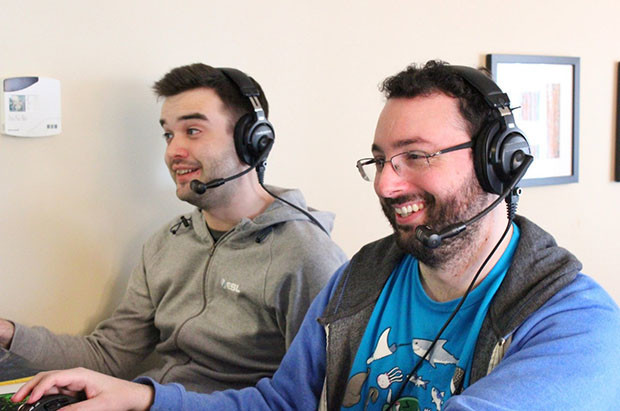 SyndereN and SUNSfan provided a fun cast and plenty of banter (Image
from @MoonduckTV
)
SyndereN and SUNSFan banter
The match was commentated on by SUNSFan and SyndereN, a duo who were partners in previous Captains Draft seasons but have not cast together in quite a while. The duo's back and forth was entertaining and they were not afraid to insult each other and themselves live on stream.
One of the most memorable events in game 1 was the appearance of MR.GG, a steam contact who decided it would be a good time to request to watch the match during the live broadcast. The fact his name was MR.GG and he appeared just as Secret looked certain to concede the game made it incredibly ironic, even more so when for some reason the request would not dissapear. Fortunately SUNSFan and SyndereN found a solution.