WESG's decision to move the WESG Americas Regional LAN Finals to the United States this year has backfired, and the organiser has kindly agreed to reimburse visa costs.
ADVERTISING:
The WESG Americas Regional Finals have been moved online
Alisports cancels offline Americas event and splits the regions online
Last year, the WESG America LAN Finals were without representatives from Canada or the USA after a series of complications. This year, the LAN has been cancelled completely, and has instead forced to move online for Dota 2 and CS:GO, the only team games part of this year's WESG circuit.
The reason given by WESG for the change was that "the current migration policy of USA" was causing "multiple visa issues". As a result Alisports, the company behind WESG, have cancelled the offline Regionals finals.
"Since the visa application for some of the players are tough. To ensure the equality participation and safety of players, we decide to shift it online," said Alisports on the decision.
The online finals will have the same prizepool but instead of North and South America being combined, as was the plan for the Regionals LAN finals, they will be seperated and the prizepool divided equally. Both the NA and SA online Regionals will therefore have a prizepool of $37,500.
The division of NA and SA was to "provide all players with fair conditions, like ping for game-servers". The only difference between the two Regionals is that NA has 4 Global Finals spots on offer while the SA Regionals only has 3.

South America Regionals: Brazil
Peru
Argentina
Northern SA
Southern SA


North America Regionals:
Mexico
USA
Canada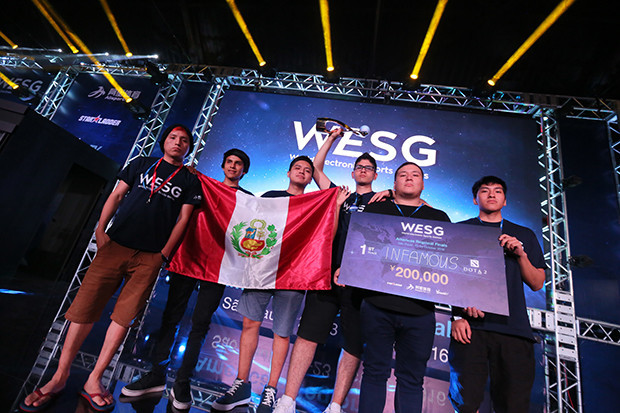 Infamous were winners of the WESG America Regional LAN Finals last year in Brazil
LAN Finals in California cancelled, WESG to reimburse visa costs
Alisports has also offered to pay the visa process costs for any players or teams who had already applied for visas to attend the LAN Finals. The offline event was supposed to be held in the esports arena in Santa Ana, California.
Infamous were winners of last year's WESG Regional finals held in Sao Paolo, Brazil, taking home $30,000 and a spot in the Global Finals where they ended up finishing 4th. The lack of Canadian representatives at last year's Regionals was down to a strike in the Brazilian embassies in Canada according to WESG, and the absence of any team from the United States was caused by one team having roster changes and the other being more keen to join the Boston Major.
The NA and SA online Regionals for WESG 2017 will take place on the 1st to 4th February. The Global LAN Finals for WESG 2017 are to be held in China at the start of March.