It's finally time for the first Valve Major of the competitive season, ESL One Hamburg 2017. We broke down everything you need to know to watch and enjoy the event this weekend.
ADVERTISING:
Evil Geniuses
Cr1t-
Fear
SumaiL
Universe
Arteezy
NA Qualifier
Newbee
KAKA
kpii
Sccc
uuu9 / Moogy
Faith
Direct Invite
Team Liquid
KuroKy
Matumbaman
MinD_ContRoL
Miracle-
gh
Direct Invite
SG e-sports
4DR
Costabile / Fuckineh
Liposa / Lelis
Thiolicor / lyct
Bardo / Peco
SA Qualifier
Fnatic
¹
Ohaiyo
DJ
pieliedie
Xcalibur
EternaLEnVy
SEA Qualifier
Team Secret
Puppey
MidOne
YapzOr
Fata
Ace
EU Qualifier
Keen Gaming
Zhizhizhi / 之之之
Tianming / 天命
Rong
Ying / 荧
dark
CN Qualifier
Virtus.pro
Solo
Lil
no[o]ne
9pashaebashu
RAMZES666
CIS Qualifier
It's true that this is the first Major, setting it apart from the Minors we've been enjoying so far this month. In practice, the format will feel very similar to the last two events. The group stage will take place over the first three days of the event with the playoff on the fourth and final day, but the group stage games are distributed differently.
The group stages are GSL, but the opening matches will all be single game series. These four games from both groups will be played on the first day starting at 16:00 CEST.
Group A
Group B
The winners' matches from both groups will be played on the second day followed by the first elimination match from Group A. This means that one team from Group A will not make an appearance on stage at the Barclaycard Arena in Hamburg.
Day 3 is Saturday, when things move to the main stage. The remaining three group stage elimination matches will be played this day. Playoffs are on Day 4, or Sunday. Both days at the arena start at 12:00 CEST, but this late start won't mean a long day on Sunday because the Grand Final is a best-of-three, not a best-of-five.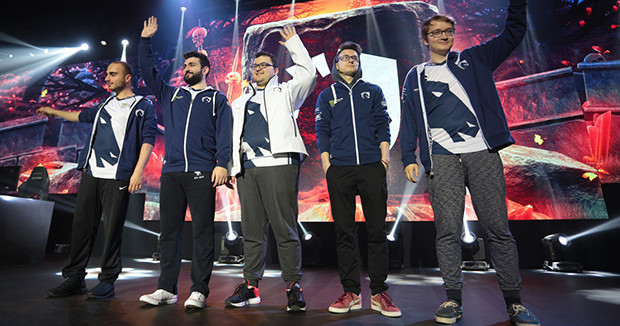 Liquid at the Starladder | i-League Invitational #3
Source: StarLadder
Team Liquid
have played and won one Minor so far this season, and if they can win this event as well they'll not just keep the streak alive, but also be crowned the true kings of 7.06, with Dueling Fates due just a couple days after the LAN is finished.
This might all feel very similar to the Minors, but the big difference lies in the prize pool and Qualifying Points being awarded. As a Major, this event boasts a $1,000,000 prize pool as well as 1500 Qualifying Points, to be shared between the top 4 teams.