New challengers
OpTic Gaming have taken NA Dota by storm after seizing a dominant victory in King's Cup and earning themselves a spot at DOTA Summit 8.
ADVERTISING:
Your King's Cup: America champion is The Dire! @PajkattDota @CCnCDotA2 @zai_2002 @MiSeRyDOTA & @Peterpandam will be at #DotaSummit 8 Minor! pic.twitter.com/lKe9jQezqM— Beyond the Summit (@BeyondTheSummit) September 20, 2017
The team itself may be new but the players are not. ppd, Misery, Pajkatt and zai are all well-established top level players. Their midlaner
Quinn '
CCnC
' Callahan may be better known to the community as a streamer and member of the TI7 panel, but has been a fixture of NA Dota for almost two years now. In fact, every member of this squad made an appearance on the TI7 panel at one time or another.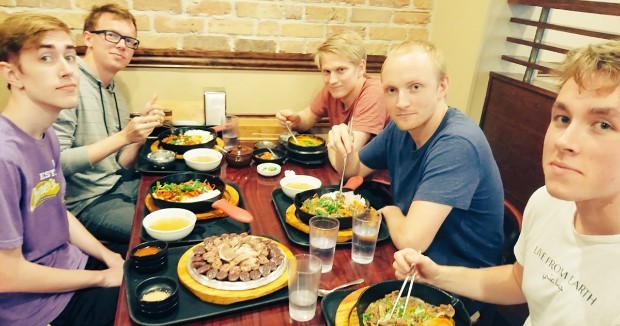 The Dire together for their bootcamp. Photo credit: ppd via Twitter
The Dire's performance so far this season has been very promising. They got off to a shaky start on the very first day of action with a 2-0 loss to
InFamous
but, by the end of the group stage, they tied for first with a 10-4 record. In tiebreakers, they beat both
Digital Chaos*
and
compLexity Gaming
.
In the playoff round, The Dire had a rematch against Infamous but this time they were ready. They took down the Peruvian squad 2-0 to advance to the Grand Final. Digital Chaos were their final opponent, but not even an
Abed
Meepo in Game 3 could save them and The Dire took the win 3-0.
This win books The Dire's ticket to Dota Summit 8, BeyondtheSummit's Minor. The Major/Minor list
tweeted out by Cyborgmatt
had BTS' Minor listed as Dec 13-17 but the corresponding Minor on Valve's
Pro Circuit website
is still listed as TBD.
The Dire roster
Per Anders '
Pajkatt
' Olsson L.
Quinn '
CCnC
' Callahan
Ludwig '
zai
' Wåhlberg
Rasmus '
MiSeRy
' Fillipsen
Peter '
ppd
' Dager
Header image source: BeyondtheSummit on Twitter