NBA have a new roster for the upcoming season featuring two of the members of the roster they dropped in June, as well as three new faces.
ADVERTISING: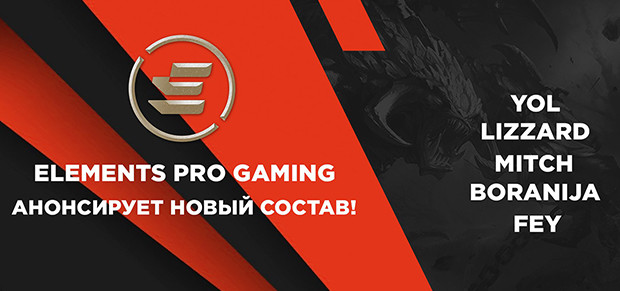 The squad made the announcement
on their vk page
earlier today. The two returning members of the team are their midlaner
Dusko '
Boranija
' Boranijasevic and their offlaner
Damir '
Zmaj / Mitch
' Skaricic. Mitch in particular has been with the organization for a year, having first joined Elements One in August 2016.
Admir '
lizZard
' Salkanović is best known as a streamer in Dota 2 with very impressive micro. At times, he has even used his ability to play multiple heroes at once on the same team . He has made a few attempts at joining pro teams, but they have usually been short lived. His latest was a two month stint with a squad called 8000 in late 2016/early 2017.
The other two new members are
Vladimir '
Yol
' Basov and
Filip '
Fey
' Musialski. yol plays support and is a veteran of the CIS scene while Fey is a relative newcomer carry player who got his start with Alternate aTTaX last year.
The Elements Pro Gaming roster:
Filip '
Fey
' Musialski
Dusko '
Boranija
' Boranijasevic
Damir '
Zmaj / Mitch
' Skaricic
Admir '
lizZard
' Salkanović
Vladimir '
Yol
' Basov