They're back boys and girls. The C9 reunion squad known as Team NP is now actually Cloud9.
ADVERTISING: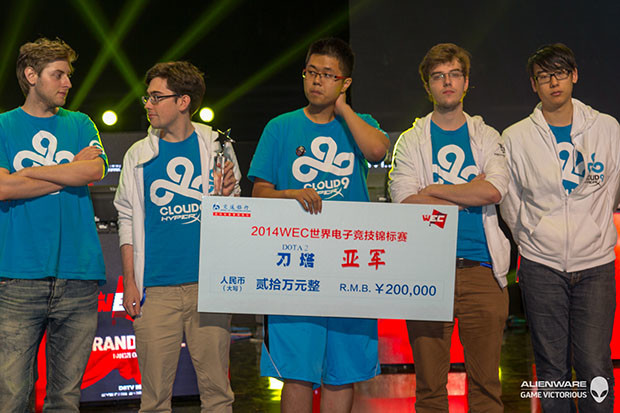 Bone7, PieLieDie, EE, FATA and Aui's 2nd place at WEC 2014 with C9 (Image: (
GosuGamers WEC gallery
)
Team NP is no more. The brand created by
Jacky '
EternaLEnVy
' Mao and
Kurtis '
Aui_2000
' Ling will be retired as the former roster will be moving to Cloud9. For those new to the scene, the entire NP roster has at one time in their career played for Cloud9, and the old line-ups led by EternalEnvy have quite a special place in people's hearts. The last roster led by EternalEnvy featuring Misery and n0tail was disbanded after finishing 9-12th place at TI5, with EternalEnvy then moving onto Team Secret shortly after.
EternalEnvy, FATA and Aui_2000 made a name for themselves during their time in Cloud9, much like PieLieDie who joined NP in the recent reshuffle period. MSS has also played for Cloud9 but during 1437's captaincy. Earlier this year Cloud9 recruited the Danish Imperial line-up to be their Dota 2 squad but the team's results were poor, and were "
being plagued by unresolved issues
".
During their time in Cloud9 back in 2014 EternalEnvy, Aui and PieLieDie finished top 6 at TI4. The team then replace SingSing with FATA and went on to get 2nd place at World E-sport Championships 2014, WCA 2014, DreamLeague Season 2 and Summit 2. Their run of second places earned them a reputation for always being the runner-up which in time became a meme always attributed to the team, and one which the company's CEO even made fun of when the news broke yesterday.
Cloud9 Roster for TI7 (former Team NP)
Jacky '
EternaLEnVy
' Mao
Adrian '
Fata
' Trinks
Arif '
MSS
' Anwar
Kurtis '
Aui_2000
' Ling
Johan '
pieliedie
' Åström