The seemingly inevitable move by
Double Dimension to an established organization has happened with less than two weeks to spare before the TI group stage.
ADVERTISING:
Planet Dog will play at TI7 under the banner of Hellraisers Dota. #TI7 #Dota2— Wykrhm Reddy (@wykrhm) July 19, 2017
The team's name has also been updated in the compendium, though the HellRaisers organization themselves haven't made any kind of official announcement. The latest post from @HRdota2 on Twitter is about the team disbanding way back in March 2016.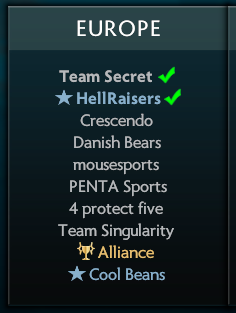 Planet Dog qualified for
The International 2017
after fighting through two open qualifiers. In the first, they were knocked out in the final round by
Loda
's
Cool Beans*
stack. They won the second open qualifier,then had an impressive run in the playoff round which grabbed them the second of two European regional qualifiers spots.
The roster is made up of four of five of the former
ProDotA Gaming*
who decided to part ways, forming Planet Dog and picking up
Uros '
swiftending
' Galic as their new carry, to replace
Ylli '
Garter
' Ramadani.
The HellRaisers TI7 roster:
Uros '
swiftending
' Galic
Grigorios '
Water / Keyser
' Kallianiotis
Neta '
TheCoon- / 33
' Shapira
Milan '
MiLAN
' Kozomara
Aleksei '
j4
' Lipai