We've decided to reflect on the results of 2017 and update our joinDOTA Power Rankings. Step inside to see which 15 teams made the cut and which teams are leading the pack.
ADVERTISING: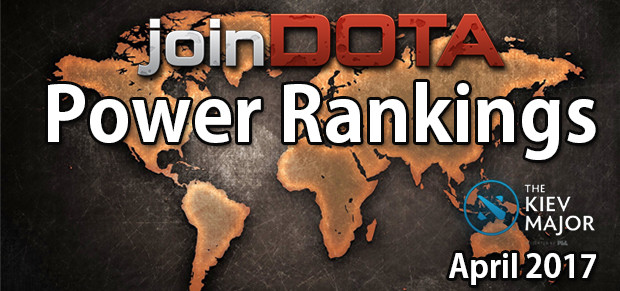 ROG is joinDOTA's Kiev Major partner, learn more about it
here
, as well as our
GL702 laptop
contest.
joinDOTA Power Rankings
With the Kiev Major just around the corner, it was time to revisit our joinDOTA Power Rankings to see how DAC 2017 affect the standings ahead of the final tournament of the season. We have one new entry along with two strong climbers and two significant drops, and have reduced the number of teams from 17 to 15.

They have been trumped by IG in the Grand FInals of DAC2017 but OG are still the top team right now. Lest we forget they were the ones responsible for sending iG to the lower-bracket in the first place. IG at least showed the world OG are mortal.

Newbee climb one spot after their 3rd place finish at DAC2017, yet another sign of just how consistently this team places at LAN Finals. Sccc who was quite reserved at the Boston Major is starting to open up a bit both as a player and as a personality. Furthermore since DAC2017 Newbee completed the DPL Season 3, which ended today with a 3-1 win over LGD Gaming in the Grand Finals.

The last time Evil Geniuses finished outside of top 4 at a LAN Finals was 9 months ago at Starladder i-League Season 2. At DAC2017 EG finished 2nd from bottom in group B after only 1 win in their five 2-game series. They did manage a respectable run in the lower-bracket before elimination by Newbee, despite beating the Chinese team 2-0 in the groupstage. EG still looking strong but Newbee just overtook them slightly at DAC.
The biggest mover in our Power Rankings this month is Invictus Gaming, and rightly so. The Chinese team were the victors of the DAC 2017 and ended the tournament with a thumping 3-0 win over the triple major champions OG, who had sent them to the lower-bracket in the UB Finals. IG have only lost 2 of their last 13 games since DAC 2017, one of which was in DPL Season 3 to the eventual victors Newbee.




iG may have received a lot of attention for their 1st place at DAC2017 but few mentioned the incredible achievements of IG.V, who placed 4th at the event. During the groupstage they delivered EG a 2-0 defeat and also were responsible for eliminating both VG.J and Empire in the lower-bracket. iG.V finished 1st in the Kiev Major Chinese Regionals and were joint first with iG in the StarSeries S3 Regionals.

We ranked Team Liquid #3 in our last Power Rankings. They were 1st in the EU Regionals for DAC, and also not only won the EU Regionals for StarSeries but also won the event itself. They were soaring, however, as Matumbaman put it in an interview after the groupstages at DAC2017, people had worked out their tactics and were simply banning their key heroes. Team Liquid are struggling to find a way to balance the farm between Matumbaman, Miracle and GH, and with their comfort heroes banned, they looked a little lost at DAC2017.




Wings' bad run of form continued at DAC 2017 with a first round playoff exit after joint third in group A behind OG and Empire. Aside from Faith_Bian the TI6 winners' fear factor is dropping rapidly and they simply did not look as sharp as they were last year, although to be fair they were unfortunately match with EG in the first round of the lower-bracket. Nevertheless Wings are not even a top 4 team in China right now.

Team Empire is a name that has long been missing from the LAN arena. They may have benefited slightly from the bizarre DDOS and forfeit losses given to Virtus Pro in the CIS Regional Qualifiers for DAC2017, but Empire hit the ground running at DAC2017. They finished 2nd in group A behind OG after taking a 2-0 win over VG.J and drawing with Wings. They were sadly outmatched by the eventual winners iG in the first-round of the playoffs and eliminated by their younger sibling iG.V in the lower-bracket but still placed Top 6.

Much like Liquid, Team NP take a hit after a underwhelming performance at DAC 2017. Team NP finished joint 3rd in group B losing only 1 of their 5 matches, but were knocked out by VG.J in the first round of the playoffs. We also need to factor in the fact the team kicked not only SVG but also their drafter for DAC 2017
Theeban '
1437 / Rose
' Siva directly after the tournament ended. There are not too many available supports in the NA region and NP may have to resort to luring players away from B)ears. Overall Team NP may have already peaked and will now need to rebuild.