It could be the best International ever based on the amount of cracking games and the number of surprises that occurred, and it came to its crescendo just now when Wings became The International 6 champions.
ADVERTISING: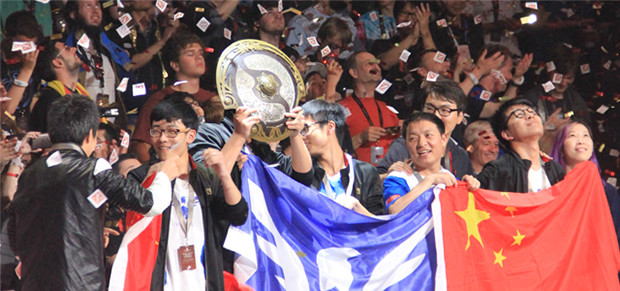 Wings are your International 6 champions
Digital Chaos and Wings was the finale of The International 6, and there were no two teams more befitting of their spot. Digital Chaos went on a rampage through the lower-bracket eliminating a total of 5 teams from TI6, including the former champions Evil Geniuses in the LB Finals.
Wings on the other hand, started slow on day 1 of the groupstages, but then gathered momentum much like Digital Chaos, qualifying for the upper-bracket and remaining undefeated in the playoffs all the way to the Grand Final. Both were known for creative drafting, both were on a roll when they finally clashed in a battle for the $9 million first place prize.
Entertaining right from the beginning
The first game of The International 6 Grand Final was a refreshing crowd pleaser. Ogre Magi, Keeper of the Light and even Pudge all made it into game 1.
Omar '
w33haa
' Aliwi's Skywrath Mage though was the MVP of game 1 without a doubt; the DC mid laner even came close to surpassing the entire kill count of Wings after a stellar performance. Wings' Pudge pick hoped to save their heroes from falling to Skywrath's AoE, but in the grand scale of things, was little more than a gimic.
DC took the lead in the series but Wings struck back straight away with their Faceless Void and Oracle combo, which were crucial in helping them win game 2 and game 3.
Zhou '
Blink / 跳刀跳刀丶
' Yang, who had a poor game 1, made up for his shortcomings in the following two games on Invoker and Death Prophet, two heroes that synergise well with Faceless Void's Chronosphere.
Chu '
Shadow
' Zeyu was on the Faceless Void in the two games, and had a godlike streak by the end of the game, which put Wings 2-1 up against Digital Chaos in the bo5 Grand Finals.
The draft for game 4 of the Grand Finals. DC were 2-1 down at the time
"LET'S GO DC" vs "WINGSSSSS!
The crowd got super lively for game 4, and the Chinese crowd behind the Chinese casters were chanting to counter-act the claps and shouts of "Let's GO DC". The crowd inside the KeyArena hall seem to favour DC, but that didn't stop a very substantial Wings fanbase almost managing to drown them out.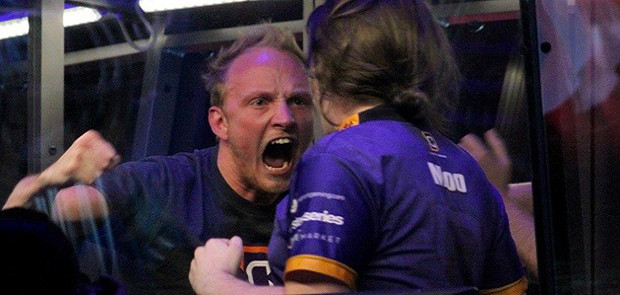 Misery's reaction to beating Evil Geniuses to reach the Grand Finals in the first place
In game 4, Wings made the mistake of letting
David '
Moo
' Hull get his hands on Timbersaw, a hero which has become synonymous with the NA player this International. A last pick Nightstalker for
Rasmus '
MiSeRy
' Fillipsen along with great warding by the DC support gave
David '
Moo
' Hull's Timbersaw and
Omar '
w33haa
' Aliwi's Slark the information they needed to take control of the map.
Wings, however, were far from out and
Zhang '
Zrd / Faith Bian
' Ruida's Elder Titan started to deliver as the game progressed. At 28 minutes,
Zhang '
Zrd / Faith Bian
' Ruida's Earth Splitter led to a costly team fight for DC and a free Roshan for Wings. All the while
Chu '
Shadow
' Zeyu's Antimage was farming away, DC's 10K networth lead had been nullified in under ten minutes. With
Chu '
Shadow
' Zeyu's Abbysal Blade on Antimage, DC were now in real danger of losing 3-1 in the Grand Finals of TI6.
A 5-on-5 battle ensued on the Aegis carrying Antimage and his team-mates, but a good initiation by
Roman '
Resolut1on
' Fominok's Mirana looked to give DC a favourable result as
David '
Moo
' Hull took out the supports of Wings. However, disaster struck a couple of minutes later as DC were caught out in the open after
Omar '
w33haa
' Aliwi's Slark got blown up, and from then on DC were constantly under fire. Wings' had successfully coasted for Shadow to come of age, and the Antimage was the nail in the coffin for DC's Grand Finals.
Final Standings
With the TI6 a wrap here are the final standings of the top 16 teams. The winners of TI6 receive over $9 million, whilst second place is over $3 million. It is the third year in a row Evil Geniuses have placed top 3 and the prize money for their bronze medal at TI6 is over $2 million, which will make their mid player
Sumail '
SumaiL
' Syed Hassan a teenage millionaire.
1st:
Team Random*
- $9,119,210
2nd:
Planet Odd*
- $3,419,704
3rd:
Evil Geniuses
- $2,176,175
4th:
Fnatic
- $1,450,783
5th-6th:
EHOME
- $932,646
5th-6th:
MVP Phoenix*
- $932,646
7th-8th:
TNC Pro Team
- $518,137
7th-8th:
Team Liquid
- $518,137
9th-12th:
Newbee
- $310,882
9th-12th:
LGD-Gaming
- $310,882
9th-12th:
The Alliance
- $310,882
9th-12th:
OG
- $310,882
13-16th:
Vici Gaming Reborn
- $103,627
13-16th:
Ninjas in Pyjamas*
- $103,627
13-16th:
Team Secret
- $103,627
13-16th:
Natus Vincere
- $103,627
[i]joinDOTA's TI6 coverage is brought to you by ASUS, our official partner for the event.
[/i]