compLexity Gaming's run in the Wild Card of TI6 came to an abrupt end when they were torn to pieces by Filipino team Execration in the lower-bracket, after what had looked like a promising start against Escape Gaming.
ADVERTISING: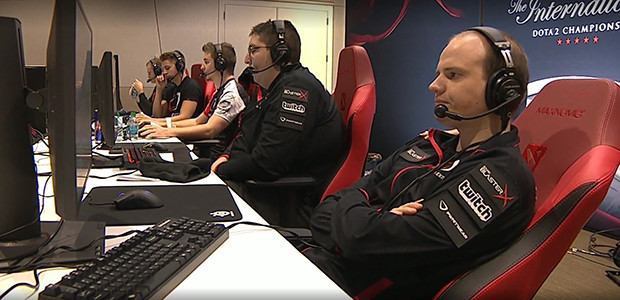 Chessie apologised on Twitter for the team performing "so poorly when it matters"
Abed was gifted his favourite Meepo
The warning signs were there for
compLexity Gaming
in the run-up to The International 6, and even ahead of the Wild Card stage the majority expected the NA team to finish in 3rd place. However, to have predicted compLexity would be so emphatically outplayed by
Execration
and actually become the first team to be eliminated from the opening stage of The International 6 would have been godlike.
CompLexity had actually opened their scoring in the Wild Card with a win, after taking the first game against
Ninjas in Pyjamas*
, and they were looking good to possibly squeeze through the WB finals of the double elimination playoffs.
That was until
Yazied '
YapzOr
' Jaradat freakishly good Mirana was introduced to the series in game 2 and 3, only matched by
Max '
qojqva
' Broecker's 13-1 Queen of Pain in game 3. CompLexity lost the series 2-1 to then be paired with Execration, a scenario that was expected, the result however was not.
This was by no means a close series and Execration dispatched of Complexity with ease. Their 2-0 victory was achieved in less than an hour, and Complexity just seemed to be all over the place in their second series of the Wild Card stage.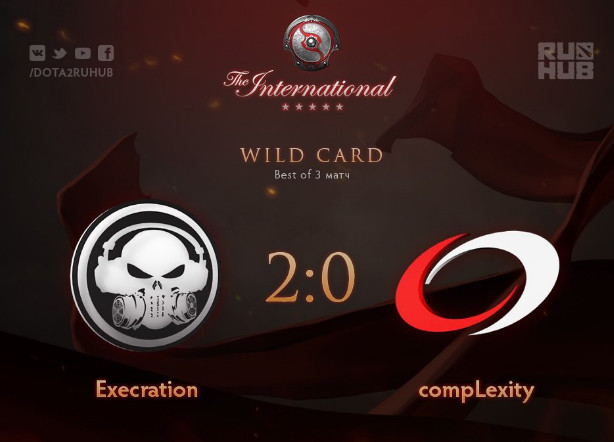 15-year old Abed absolutely destroys CompLexity with Meepo
The second game of the series was brutal, as Complexity let Execration get their hands on Meepo. Meepo is Abed's most played hero and the young Filipino player is actually the highest ranked Meepo player in the world according to Dotabuff with over 400 games played.
MEEEPO! @ExecrationGG delivers yet another team wipe.#TI16 #Dota2 pic.twitter.com/YI4dFJivct— Jibin Sui (@PVPLive_Idled) 2 August 2016

Meepo is Execration's Abed's most played hero - His stats on the hero are public data
Complexity's supposed counter to Meepo was Ember Spirit, which was given to Chessie, but the Swede never got the chance to make a mark on the game (ending with 0-7) as Abed snowballed out of control. The Filipino's Meepo ended the game with 18 kills and not a single death in the swift 27 minute Execration victory.
Ember is not a meepo counter, if anything it goes the other way cause of item timings

— David Parker | Godz (@BTSGoDz) 2 August 2016
Really awful feeling having worked so hard for something and perform so poorly when it matters. Sorry everyone

— Rasmus Blomdin (@ChessieDota) 2 August 2016
Didn't deserve it, so fucking empty

— Linus Blomdin (@LimmpDota) 2 August 2016
Complexity are now left to pick up the pieces of what was an incredible year for them up until this point. The NA team had finished top 6 at the Shanghai and 9-12th at the Manila Major, but have now become the first team eliminated from the Wild Card stage, and as a result will not be taking part in the main event of TI6.
[i]joinDOTA's TI6 coverage is brought to you by ASUS, our official partner for the event.
[/i]