The wave of roster reformations continues, as the DreamHack Summmer 2012 champions
mTw become the latest team to declare changes. Contrary to widespread rumours, team captain
Troels 'syndereN' Nielsen will continue to stay with the organisation, and will set about forming a brand new team around him once again.
ADVERTISING: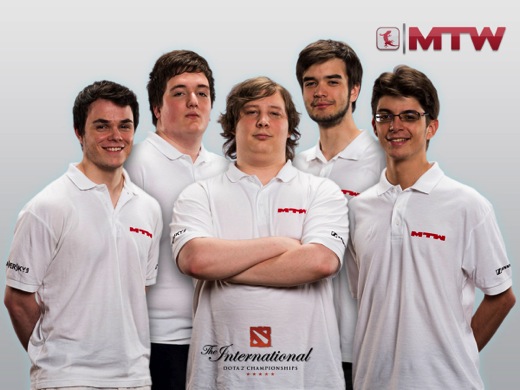 mTw roster at The International 2012
The team's primary support player,
Rene '
Kebap
' Werner, has
already joined
mousesports
, and briefly reflected on his time with mTw:
I'm glad that I was part of mTw, but everything good comes to an end. I would like to thank the organisation and sponsors for all the support who made this possible."
syndereN also gave his take on the dissolution of the team, and reveals that the future of the French trio of
Sébastien '
7kingMad
' Debs,
Thubault '
Funzii
' Calonne and
Titouan '
Sockshka
' Merloz is currently uncertain:


Regardless of the troubles we've been through during the duration of the roster and the disappointing result at The International 2, I'm still very proud of what we managed to achieve as a team which not many believed would make it far. Without any 'superstar' players, we managed to rise to win and get top placements in several tournaments, including our victory at DreamHack Summer 2012 and the victory in The International 2 western qualifier. I'd like to thank all of players for their dedication and desire to win, and for some awesome shared experiences along the way.

I will be building a new team under the mTw tag which will be made official when it's ready. Kebap is currently playing with mousesports. 7ckngMad, Socks and Funzii's exact future in Dota 2 is unknown. We'll have to wait and see what they decide to do!"
There has been numerous rumours floating around for quite a while now about what happened to mTw, and what the future has in store for us. The team is splitting up completely. It is a mutual desire for all players to not continue in the same team—it became increasingly apparent during the last many weeks leading to The International 2 that our team would not last because of interpersonal issues, lack of trust and focus. It is important for me to emphasise that we are NOT splitting because of disappointing results—even with a better result at TI2, our paths would still have split afterwards.
Former mTw roster
Troels '
syndereN
' Nielsen
Rene '
Kebap
' Werner
Sébastien '
7kingMad
' Debs
Thubault '
Funzii
' Calonne
Titouan '
Sockshka
' Merloz