Two clever moves by Valve to boost sales have resulted in the prizepool now being extremely close to beating TI5's prizepool. We still haven't seen Immortal Treasure III yet...
ADVERTISING:
Now $16.6 million. Battle level bundle sale last weekend had a huge impact
The first clever move was the well-timed release of the Immortal II Treasure just as sales were dipping, which
we brought up a fortnight ago
. The second move was to host a Battle Level Bundle discount of -60% over the past weekend, which increased the prizepool by $2 million in the space of just 3 days.
what a day. bought 1k compendium lvls, 10k viewers on stream, my cat jumped from my 5 story high apartment and survived. GGs to PR!

— Lasse Urpalainen (@LiquidMATUMBA) 3 July 2016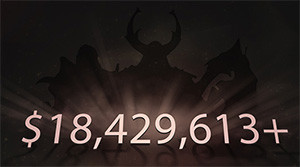 This was TI5's prizepool
It was not only fans who got in on the action but also players. Whilst streaming
Team Liquid
's
Lasse '
Matumbaman
' Urpalainen promised his viewers he would purchase 1000 compendium levels if 5 more people subscribed. Of course, this goal was easily met, leading to the player to cash out on roughly about 330 euros.
Although, due to Liquid's domination in recent tournaments, the player may seem to have plenty of disposable income, his willingness to make such a large purchase can also be seen as a reflection of many people within the Dota community. The overwhelming support of players and fans all have led to this year's huge growing prize pool, currently sitting at around $16.5m.
If TI5 prizepool is exceeded there will be rewards!
Additionally, and somewhat forgotten, Valve has also promised each compendium holder three 'Trust of the Benefactor' rewards. You can find the page
here
. Under the 'Prize Pool' section, Valve mentions that in each treasure, people will have a chance to receive a 2016 Immortal Treasure, a Random Hero Set, an Arcana Set, or an ultra rare chance to recieve one of the following limited run prizes:

As expected, this year's TI prize pool is set to soar above its predecessors. From 2011's seemlingly meager prize pool of $1.6m to TI5's $18,429,613, the Dota community is just continuing to grow, and we can only predict what numbers we will see this year.
You can compare TI6 prizepool with TI5 and TI4 on
Prizepool Tracker
What do you think the final TI6 prize pool will be?