1v5 will be representing Singapore in the World Cyber Gamers: Grand Final after defeating
Flash eSports in TGX Singapore 2012.
ADVERTISING: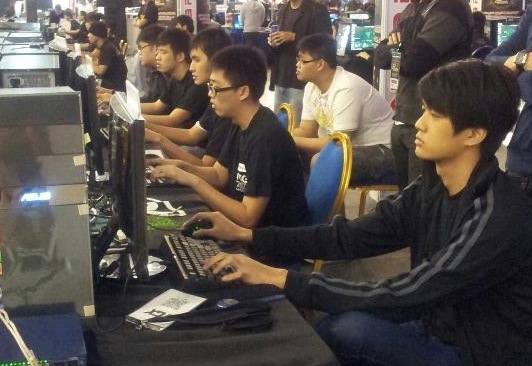 1v5 in action during TGX Singapore 2012
1v5 consists of three
Zenith
members
Daryl '
iceiceice
' Koh,
Wai Hong '
xy-
' Toh, and
Nicholas '
xFreedom
' Lim. The lineup is complete along with
Patrik '
LuX
' Kwan and
Alan '
alanter
' Ter, who are both well known players in the scene. The team were dominant throughout the competition and utilised unorthodox picks such as Spectre and Slardar.
For their win, 1v5 earned $2,000 SGD along with qualification for both WCG: Grand Final and ACG Singapore National Finals.
Zenith was unable to participate with their full lineup as WCG rules disallow
Jonathan '
Loda
' Berg from participating with the team, and
Benedict '
hyhy
' Lim was absent from the lineup after stating his desire to possibly retire after The International. It is unclear if hyhy has made a final decision and what the future holds for Zenith.
Zenith
released
the following statement:
Looks like we will have Zenith representation at the WCG Grand Finals in China! The team comprising of iceiceice, xy-, xfreedom, LuX and alanter are now waiting for the prize presentation after beating flash eSports in the finals of the WCG Singapore Qualifiers.
WCG: Grand Final will take place from November 29th to December 2nd in China. Stay tuned as we brings you more updates.
1v5 team roster
Daryl '
iceiceice
' Koh
Wai Hong '
xy-
' Toh
Nicholas '
xFreedom
' Lim
Patrik '
LuX
' Kwan
Alan '
alanter
' Ter