The Division 1 matches of the tenth season of the joinDOTA League start today!
While the sign-up is still running for the rest of the joinDOTA League in all 3 regions, the wait for the Division 1 teams is over. Get ready for the regional rivalry and exciting clashes for pride and fortune.
ADVERTISING:

The teams from Southeast Asia, Europe and Americas are ready to show off the skills and conquer. It will be bloody! In the first division you can find some familiar names like
Mineski,
Team Freedom,
Shazam,
Danish Bears,
FlipSid3 Tactics,
Power Rangers and others.
Follow your favourites through their road to the top. You can find the complete list of the first division teams by region below.
The reward is greatAll of the participants are fighting for a $10,000 prize pool, which will be distributed in a following way: $4,000 to Europe, $3,000 to Asia and $3,000 to America.
The format in different regions slightly vary. While 13 European teams will be measuring their strength in best-of-one round robin group stage, their counterparts in Asia and America will play round robin two game series. However, those regions have only 10 teams each.
Starting this Monday matches will be always happening on Mondays, Tuesdays, Thursdays and Fridays.
The group stage games will be finalized on 29th of July and top 4 teams of each region will proceed to the play-offs, which will be played after The International.
Sign-ups are still running!Sign-ups for the joinDOTA Season 10 League end on June 21st, but if you feel your team deserves a spot in a higher division and you're willing to fight for it, make sure to sign up the Preseason Playoffs as well if you have the time for your chance to jump divisions. This should also help to avoid giant 6K stacks tearing up the Starter Division.
SIGN UP NOW
Tune in live on joinDOTA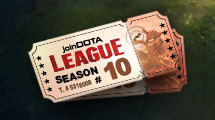 Our beloved caster
Gareth will stream a selection of the best matches this week!
Also you have the option to watch all games live thanks to the joinDOTA Ticket.
Tuesday, 21:00 SGT/15:00 CEST
The Mongolz
vs.
TNC
Thursday, 17:30 CEST
Alternate aTTaX
vs.
Sqreen's Squad
Thursday, 18:45 CEST
Sqreen's Squad
vs.
Fantastic Five
League overviews:
joinDOTA League EU Division 1
joinDOTA League NA Division 1
joinDOTA League Asia Division 1
First division teams of the joinDOTA League
Division 1 SEA:
TNC Pro Team
Mineski
Trust.Gaming
Orange.Taring*
WarriorsGaming.Unity
Execration
First Departure*
Gse7en
Rex Regum Qeon
The Mongolz
Division 1 Americas:
Shazam*
Exodus*
T Show*
Team Freedom*
Not Today
Kingdom Dota*
Perky Pepperonis*
Elite Wolves
Friendship, Dedication, Love*
paiN-Gaming