Tickets for The International 6 will go on sale next week on Thursday 7th April. Click to find out details of costing and schedule of when to purchase them!
ADVERTISING:

$75 for Midweek ticket, $100 for Finals ticket
Valve have decided to adopt a format that was used back at the Frankfurt Major, where tickets for the final stage of the competition are bought seperately at a higher price. For fans hoping to attend the entire main event, they will need to part with $75 for the
Midweek ticket
from August 8-11th and then another $100 for the
Finals tickets
which cover the last two days of the main event.
The TI6
Midweek ticket
would cover the All-Star match, which was particularly memorable last year after Valve organised 10 v 10 on-stage featuring well-known players and members of the audience.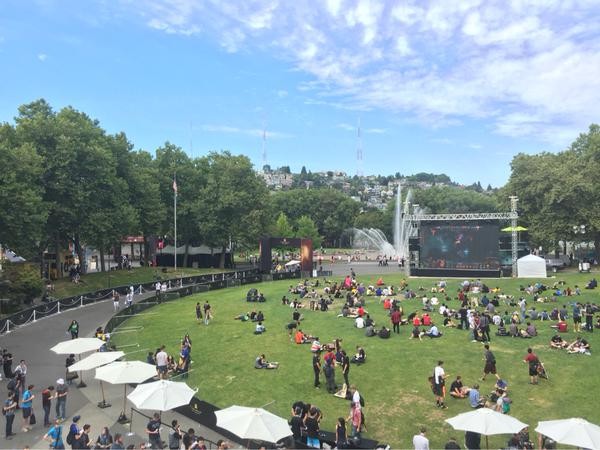 The public viewing area last year at The International 5 (Image: @Dota2)
For Midweek ticket owners, there will also be a free large outdoor viewing area on the KeyArena grounds - which last year was infront of the Secret Shop - which could be used to watch the final two days.
Tickets will be sold on
Ticketmaster
on April 7th at 10am and 10pm Seattle time. Valve provided a list of timezones to make sure you do not miss a chance to purchase tickets.
TI6 ticket sale times schedule

Rio de Janeiro: April 7th at 2PM and April 8th at 2AM
London: April 7th at 6PM and April 8th at 6AM
Berlin: April 7th at 7PM and April 8th at 7AM
Moscow: April 7th at 8PM and April 8th at 8AM
Beijing: April 8th at 1AM and 1PM
Singapore: April 8th at 1AM and 1PM
Seoul: April 8th at 2AM and 2PM
Sydney: April 8th at 3AM and 3PM
Seattle: April 7th at 10AM and 10PM
Special bonuses
Similar to last year, fans attending the event can sign-up to receive unique in-game item drops, which include 500 exclusive Attendee Treasure containing a "visually-unique versions of this year's Secret Shop Immortals".
How does this compare to previous years?
In comparison a ticket for all six days of The International 5 last summer was $99, whereas The International 4 in 2014 had a General Admissions ticket for $99, Floorseats for $199 and a VIP package for $499.
Ticketmaster