The teams that advanced from the group stage continue their struggle to win the main prize of €6,000. The Defense - brought to you by Razer and BenQ - will continue tomorrow, with
Darer going against
POTM Bottom. Here is an overview of the current situation in the second stage of this tournament.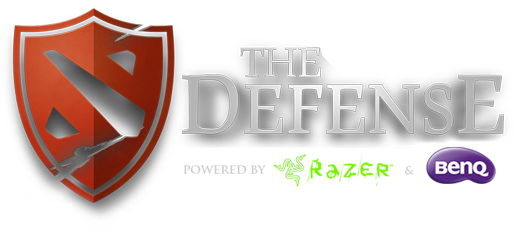 ADVERTISING:
Upper Brackets
We have seen impressive results in the upper brackets. It began with
mousesports
taking down the Russian giants
Moscow Five
with relative ease. mouz won two games convincingly, taking the Russians to the lower bracket with much for them to think about.
Counter Logic Gaming
did not lag behind and followed suit, defeating the winners of the Dreamhack Summer Vengeance Cup,
mTw
. Both Mouz and CLG will face off on the 2nd of August.
Complexity Gaming
had perhaps the toughest time during this competition. The North-American team fought against
Darer
and managed to win two matches, but not without much needed effort. Meanwhile, in a surprising turn of events,
Natus Vincere
was thoroughly beaten by
Quantic Gaming
. Quantic worked together in a refined manner, not giving any room for Na'Vi to breathe. The match between the North American teams will take place on the 28th of July.
Lower Brackets
The lower brackets lacked in no way their dose of action. This is, however, where we had to see four teams leave the tournament after their defeat.
Evil Geniuses
began the madness by defeating
Aboslute Legends
with a two for nil match, which shows that the team is in the right mindset for their following opponent,
mTw
. This tough match for both teams will happen on the 27th of July.
The newcomers
Power Rangers
have shown great potential during the group stage and made their mark by reaching the knockout brackets, but their path was blocked by the victory of
Storm Games Clan
, who put on quite the show during their match. Their respite will be short since they will face,
Moscow Five
who are probably thirsting for blood after their loss. Their match will take place on the 26th of July.
Following up was a German showdown match between
Uebelst
and
We haz Asian
, where we could see who was the top German dog of this competition. While Uebelst surely deserved much praise during the group stage, their performance was not enough to defeat WhA. Now, as a final test for WhA, they will have to face
Natus Vincere
. This match will prove to be a learning experience for both teams and will take place on the 26th of July.
Last but not least,
POTM Bottom
started their path back to the upper bracket with some problems -
Team Empire
offered great resistance and almost managed to defeat the North Americans, but it was not enough. Bruised, POTM Bottom have a few days to polish their skills and heal their wounds. Their next match, as stated above, will be against
Darer
, tomorrow at 20:00 CEST.
The knockout stages will continue to be streamed and commented by the (as of today) forever 21-year-old
Toby '
TobiWan
' Dawson, bringing you complete coverage of the competition, live on
his stream
.
Alternatively, you can
purchase a ticket
to watch The Defense live in your Dota 2 client, giving you the freedom to control the camera and check the stats as you wish!