If you missed the groupstages here's our round-up of the results and surprises so far at the Shanghai Major, as well as our recommendations for series to watch.
ADVERTISING:
Evil Geniuses topped group D - (Image from Carry6.cn)
MVP dispatched the strongest team in the group
MVP Phoenix*
's performance is by far the biggest story of the groupstages. MVP Phoenix qualified via the SEA Regionals and ended group A in first place, so surprising in fact we
dedicated a news just to them
. Their achievement was made only the more impressive considering their first match was against a team tipped by many to be the strongest coming into the tournament, MDL Champions
EHOME
.
Ahead of their MVP's first match analyst
Chan '
Winter
' Litt-Binn said that MVP's weakness was the lack of experience of their captain
Kim '
DuBu
' Duyoung. However, Blitz's comment that MVP's strength was their individual skill showed in the game. Dubu's draft for MVP worked wonders for the team as they managed to beautifully stack chain stuns in their opening game against EHOME with Astral imprisonment into Sacred Arrow and Magic Missile, while
Sang-Don '
FoREv
' Lee's Enchantress kept the team alive.
In the second game EHOME were outplayed and
Kim '
QO
' Seon-Yeob's Slark, a hero we've also seen OG play in the groupstage, decimate the MDL Champions.
Cty was on Morphling and we must not forget that it was
Chen '
Cty
' Tianyu's phenomenal Morphling that
dealt the killing blow to Evil Geniuses at the MDL
. MVP Phoenix had him completely under control in the second game, and he ended with 1-5, although it should be mentioned that his team-mate
Yang '
Eleven
' Wei Renhad a great game on Broodmother. You can read more about MVP's series in
Guardiangel's piece
.
CDEC finish last but not through a lack of effort
With MVP on form it meant CDEC would have a tough battle to not finish bottom of group A, and a 2-1 defeat to Secret in the opening round left only second place within CDEC's grasp. CDEC ultimately finished last but not from a poor performance, just the teams they faced were better on the day. Against both Secret and EHOME they forced the series to a third game, and they will benefit from being paired against Newbee in the lower-bracket, who looked exceptionally out of shape in their group.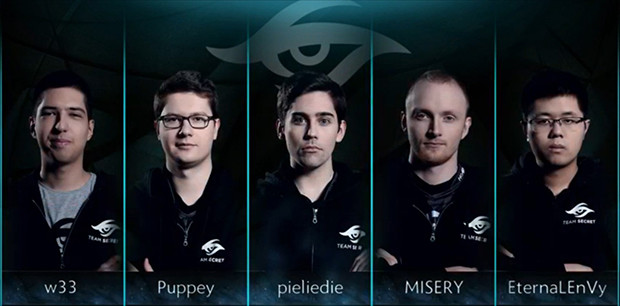 Are Secret back in shape?
This is probably the biggest question on our readers' lips when it comes to group A and if one player is definitely helping Secret to get back in shape it is
Johan '
pieliedie
' Åström. Secret's support player served up EternalEnvy's Clinkz dinner on a plate (Secret vs EHOME game 2), and played his second most-played hero, Vengeful Spirit, in three of seven matches to great effect.
Another surprise in the drafting was that Secret's opponents have let Invoker into the hero pool, resulting in
Omar '
w33haa
' Aliwi getting to play Invoker in all but two of their group stage matches. The days of teams banning W33haa's heroes first seem long gone, and the Asian teams mostly targeted
Rasmus '
MiSeRy
' Fillipsen's hero pool with their bans along with pieliedie's Bounty Hunter and Puppey's Chen. Secret have made it through to the upper-bracket and if W33haa can make the most of a lack of attention to his heroes, Secret could go a long way.
Alliance top as expected, only Vici Gaming crumble
In Group B direct invite
The Alliance
were expected to finish top, and they did so fairly easily. Vici Gaming were the most likely candidate for second place, but defeat to Fnatic in the first round and a below par performance against Spirit in the next round saw them finish in last place.
Vici Gaming's match with Fnatic was easily the appealing of the groupstage for a neutral, and the rise of Fnatic's newest addition
Yeik Nai '
MidOne
' Zheng can not be ignored. Fnatic didn't challenge Alliance in the fight for first seed but they were impressive, although being match with Evil Geniuses in the first round of the playoffs is not what they would have wanted.
Spirit Gaming on the other hand finished third, but should head into the lower-bracket with confidence as much like CDEC in group A, played some good Dota, in particular against Vici Gaming. Spirit had two disappointing results in back-to-back LANs, Starladder i-League and MDL, but seem to have recovered and look like the side that won their slot at the Shanghai Major in the first place back in January.
Group C was the most clear cut of the groups with no real surprises. Reigning Major champions
OG
topped the group after a brilliant game against
LGD-Gaming
. Newbee looked out of shape and could well face an early exit in the lower-bracket first round when they play
CDEC Gaming
.
OG made very good use of
Amer '
Miracle-
' Al-Barkawi's Slark, and continue to rely heavily on the young player to take over the game.
David '
Moonmeander
' Tan amused a few people with his taunt during the match against LGD Gaming's
Leong '
DDC
' Fatmeng, but later claimed it was a "bug" (video below).
Team Archon*
unsurprisingly finished bottom of group C but did show signs of life. Their best period was probably game 2 against OG where they actually won the early game with good support rotations by
Brian '
FLUFFNSTUFF
' Lee and
Bryant '
whiteBeard
' Lehwald. They will unfortunately play EHOME in the first round of the playoffs, making survival highly unlikely.
Liquid finished ahead of VP in group D to qualify for the upper-bracket (Image by Carry6.cn)
Group D was the most anticipated on paper and started off with a shock when
compLexity Gaming
took the first game against
Evil Geniuses
.
Linus '
Limmp
' Blomdin's Tiny with
Simon '
Handsken
' Haag's Wisp were to blame, and with
Kyle '
Kyle
' Freedman's Refresher Orb Tidehunter, the squishy line-up of Evil Geniuses met a rather painful death.
However, Evil Geniuses ability to come back from defeats is well documented and the NA American team knows how to put a loss quickly behind them, and as a result game 2 was a massacre. Either accidentially on purpose Complexity left the game when the score was 3-22, but this was not a throw, it wasn't even a Toss. Game 3 was much of the same and the initial excitement of Complexity's early victory subsided.
Their run in the groups ended after their next round match against Liquid, with a
Lasse '
Matumbaman
' Urpalainen Antimage running the show in game 1 (876 GPM). In Game 2 Liquid made use of the flavour of the month, Outworld Devourer supported by hero(es) with sustain, in this instance Phoenix AND Treant Protector. An emphatic victory for Liquid who went on to beat Virtus Pro to take second seed in the groups.
Evil Geniuses and Virtus Pro match in the second round of the groupstage was THE match of the group and possibly even the whole tournament so far. The pair have been known to put on a great show in previous encounters and PPD has publically commented that Virtus Pro have been EG's training partners in the past. Evil Geniuses won with a clean 2-0 but it was a hard fought victory. You can listen to PPD's thoughts on the match below.
Ones to watch in the upper-bracket: MVP's QO and Fnatic's MidOne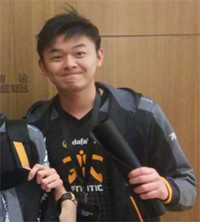 Fnatic.MidOne
MVP's 2-0 victory over EHOME turned group A upside down, and the Koreans went on to dispatch Team Secret with
Kim '
QO
' Seon-Yeob crucial, just as he was back at TI5 when MVP.Phoenix defied all expectations.
MVP defeated Secret 2-0 in just 42 minutes, with the shortest game lasting just 18 minutes. QO's record in group A is astonishing, the MVP carry averaged just a single death in each match but secured 37 kills in four games. His groupstage KDA was 37-4-28.
In Group B
Bogdan '
Iceberg
' Vasilenko's synergy with
Andrey '
alwayswannafly
' Bondarenko was spot on, and their Tiny/Wisp combo against Vici Gaming in game 2 was beautiful. However,
Yeik Nai '
MidOne
' Zheng's lack of experience heading into the Shanghai Major makes his performance slightly more impressive.
MidOne has only ever played for Fnatic, and before this Major had only 18 games under his belt. The only time he stumbled was in game 2 against Vici Gaming when he played Puck up against his own favourite hero Invoker. The prospect of MidOne facing up against Evil Geniuses' mid player
Sumail '
SumaiL
' Syed Hassan should be an interesting one as it be Fnatic's lifeline against a formidable opponent.
Should Fnatic fall into the lower-bracket which is quite likely, MidOne may be able to keep them afloat, especially if Fnatic's support player
Djardel '
DJ
' Mampusti continues to play the way he did in the groupstage.
Which groupstage series are worth watching?
With so many games it's always nice to have an idea which ones are worth watching if you missed out. For group A and B, the round 1 matches of Fnatic and MVP.Phoenix are the stand-out series considering their opponents and the relatively low expectations of both teams coming into the competition. In Group C the OG versus LGD Gaming match was by far the best, and then for group D it's a no-brainer really with Evil Geniuses versus Virtus Pro.
My pick of the series to watch (one for each group) :
MVP.Phoenix versus EHOME
(Group A)
Fnatic versus Vici Gaming
(Group B)
OG versus LGD Gaming
(Group C)
Evil Geniuses versus Virtus Pro
(Group D)
Feel free to share your thoughts on which series you loved in the comments.
Playoff grid and format
The format for the upper-bracket is bo3 with the Grand Final being a bo5. The first and second rounds of the lower-bracket will be bo1.