The 16 teams completed their groupstages and now have been divided between the upper and lower-bracket. Despite a home soil advantage the Chinese teams did not place well in the groups.
ADVERTISING: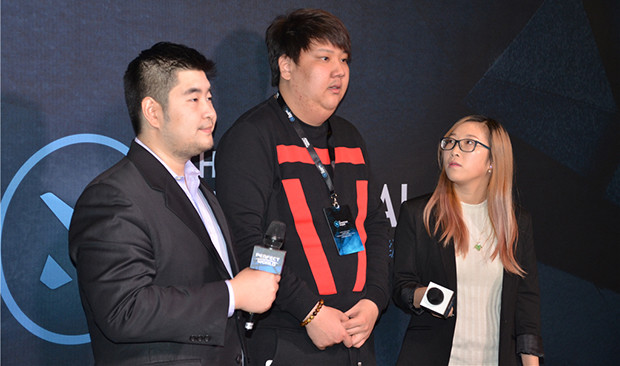 Chuan and Newbee were one of four teams to finish in the bottom 2 of their groups
Home soil advantage? It appears not as China underperforms
EHOME
headed into the Shanghai Major as one of the favourites after an emphatic 3-0 victory over
Evil Geniuses
at the MDL Winter LAN Finals. However, a surprising performance by
MVP Phoenix*
saw the Chinese team finish outside of the top 2 in group A, with Team Secret joining the Koreans in the upper-bracket playoffs in the next round.
CDEC Gaming
, who were also in group A, did challenge for a top 2 finish but back-to-back 2-1 defeats saw them finish in 4th place.
Vici Gaming
's groupstage finish was also unexpected after the team
put on a great show in their opening series
against
Fnatic
, but they ultimately lost 2-1 against the Malaysians who ended up finishing 2nd in their group behind
The Alliance
. Vici Gaming's second series against
Team Spirit
was definitely not their best, and the Chinese team were taken for a ride by
Bogdan '
Iceberg
' Vasilenko's Tiny and
Andrey '
alwayswannafly
' Bondarenko's Wisp combination. The two defeats meant that VG like CDEC ended their groupstage in last place.
Only LGD Gaming heads to the upper-bracket
The only Chinese team to make it out of the groupstages and be heading to the upper-bracket in the playoffs was
LGD-Gaming
, who had
a particularly entertaining match
against
OG
. OG finished top of group C with LGD taking second place, leaving poor
Newbee
in third place after suffering two defeats to LGD.
Will the Chinese teams strike back with a vengeance?
If we rewind to the Frankfurt Major last year, six Chinese teams competed in the groupstages and Vici Gaming, LGD Gaming and CDEC all qualified for the upper-bracket. What is more when the tournament was over the Chinese teams took four of the top eight slots. However, none of the four teams reached the top 3.
With Newbee and CDEC matched with each other in the lower-bracket of the Shanghai Major, that means there will be at least one casualty, and Vici Gaming will have to step up their game if they hope to survive their encounter with Virtus Pro in the lower-bracket.
Based on the performances of the groupstage and the playoff grid,
EHOME
and
LGD-Gaming
look the most likely to reach the top 8. EHOME's 3rd place finish in the groups has played to their favour in some way, as they open with a match against
Team Archon*
and manage to avoid both VP and CDEC in the lower-bracket.
Do you think any Chinese team will finish in the top 3 in Shanghai?
If yes, which team(s) do you think could reach top 3? (you can vote for 3)