Alliance start their campaign in the Shanghai Major today and with EHOME stumbling yesterday, they will need to be particularly careful. We spoke to Akke ahead of Alliance's debut at the Shanghai Major.
ADVERTISING: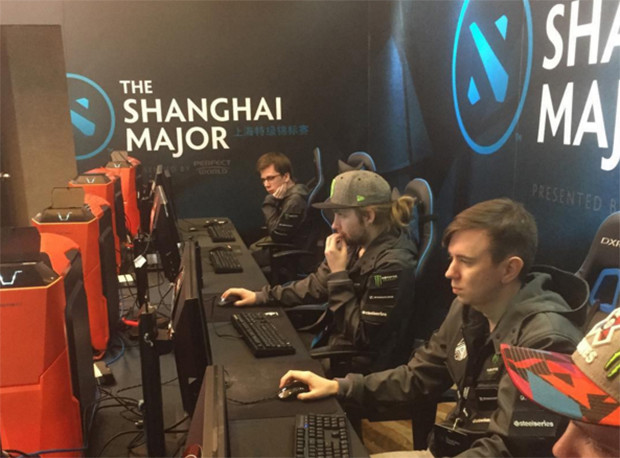 Alliance preparing to start their Shanghai Major campaign (Source:
Akke's Instagram
)
Alliance were present at the last Major in Frankfurt but qualified for the event through the EU Regionals, taking the second slot after coming back from an almost impossible 2nd game against megacreeps versus
Ninjas in Pyjamas*
.
"I think just qualifying (for the Frankfurt Major) was a big achievement for us so we were very happy when we did. After missing out on TI5 we really wanted to go to the Frankfurt Major and I don't think anyone thought we would qualify after the past year we had, so even though we didn't perform so good in the event I'm satisfied how it turned out."
The Frankfurt Major was the first of a new generation, a regular seasonal Dota 2 tournament to fill the void between TIs and addsome much needed structure to the competitive year. Based on the scale of the event, did it feel like a TI?
"I would say the group stage didn't feel like a TI but the main event did," said Akke. "We have already given some feedback on what that could be improved until the next time but it was mostly how the practice area and groupstage booths were situated, like when we played we could hardly hear what eachother said because we had teams that were screaming just next door (and there wasn't any roof on the booths) but it's something that are easy to fix for the next time."
Akke: "When people asked me if I thought we would get one I said it was 50/50"
Alliance received a direct invite for the Shanghai Major following a surprise victory at the WCA 2015 in China after reforming the same roster than were champions at TI3. Team Liquid had put together a solid string of results at the Nanyang Championships and The Defense, but the Swedes were chosen ahead of their most likely contender for the slot. Did Alliance deserve it?
"I felt like we deserved it but I had no idea on how Valve thought about it so when people asked me if I thought we would get one I said it was 50/50," said Akke. "Even though it was a new patch I think winning an event that big is an achievement enough to get an invite. Even though I don't think we needed to win Starladder to prove that we deserved the invite it was really nice to prove those who thought we didn't deserve it wrong."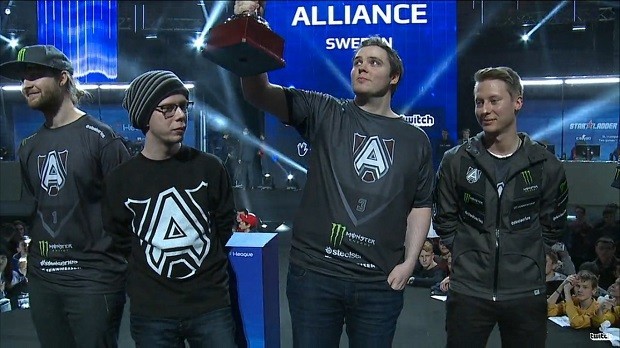 Alliance won Starladder following their direct invite to the Shanghai Major
Akke: "It's a fine line between getting distracted and liking the attention"
The Shanghai Major is already underway but the 4 days of groupstages won't be played in front of an audience. Instead they will played out from a hotel in Shanghai. Evil Geniuses captain
Peter '
ppd
' Dager said after Starladder - the event that Alliance went on to win - that it was the first event he "felt like a rockstar". We asked Akke how he felt about the live audience and whether you can have an epic event without one.
"It depends on how you see it. If you just look at the game and how you feel about the competition it doesn't affect so much," admitted Akke. "But if you look on the experience and the aspect of "feeling like a rockstar" the fans are everything. The Starladder event in Minsk was one of the best events I've been to in both areas.
"We had a practice room the whole time, the booths and all things regarding the competition was good and the fans were just the best. There were so many people there and everyone was just happy and had a good time.
"It's a fine line between getting distracted and liking the attention - I think when you are just about to play a game you just want to focus on that but after we are done I feel like I could sign for hours. I think it's very good when the events have scheduled signing sessions so both the fans and the players know what's up. (
So perhaps more like ESL One Frankfurt?
). Yeah I like that. It gives all the people attending a chance to get an autograph if they really want to.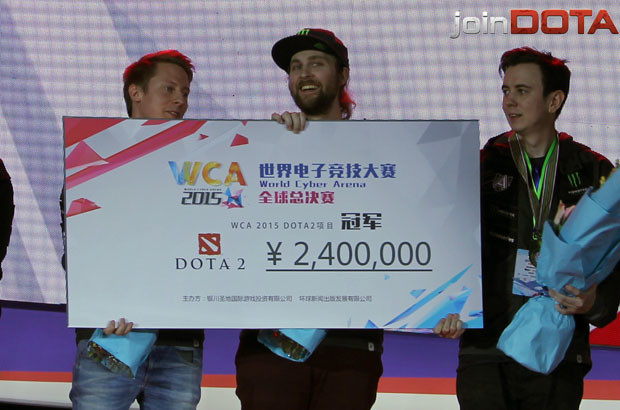 Alliance finished first at WCA2015, which definitely helped them with their direct invite
Akke on Alliance's decision to compete less ahead of the Shanghai Major
With a direct invite secured Alliance could dispense with the need to play the Regional Qualifiers, and also decided to withdraw from several tournaments following a solid result at WCA. "We chose not to participate in so many tournaments before the Major to be able to focus on our practice," said Akke. "I think it's impossible to know exactly what the best way to do it is, if it's best to play a lot of officials and practice with that or play very few of them. We have done both ways in the past but this time we chose not to play a lot of officials and just practice instead."
One of the tournaments they did not withdraw from was Captain's Draft, where they ended up placing third and Akke enjoyed the experience. "Captain's Draft isn't really the same practice regarding heroes and game plan but the team coordination and synergy is the same. So if you combine that with a lot of "normal" practice I think it's good!"
Alliance's triumph at WCA was the first major title in a long time
Akke on the nerf to his trademark hero Chen in 6.86d
A hero nerfed heading into the Shanghai Major was Chen, an Akke specialty. The nerf was to Chen's ultimate Hand of God, which now no longer has a reduced cooldown with Aghanim's Sceptre. "It was probably a good way to nerf him because he was a bit too strong with that in the mid/late game. I do still feel that he is too strong in the early/mid game though so they should probably nerf some other things as well, like the Satyr creep whose nuke needs tweaking," said Akke.
(Do you mean the Satyr Banisher we've seen in some recent videos?) "No I'm thinking of the big Satyr creep with the nuke. The small one with purge could seem a bit overpowered from the videos but I don't think it is. If you take that creep on level 1 your ability to farm other camps is zero so it's very risky," explained Akke. Which creeps are your personal favourites to take?
"In the early game I just take the big creeps I can find and choose what I do from there depending on which creep I get. In the mid/late game you can think of what combination you want depending on what heroes you face, like maybe you want to stack armor so you want a Wildkin and an Ice Ogre, or you want to have as many Trolls as possible to interrupt Blackhole or other channeling spells. Every game is different!"
You can see Akke and Alliance in action later today as they start their Shanghai Major campaign in group B alongside
Vici Gaming
,
Fnatic
and
Team Spirit
.