In a gripping finale to the WCA 2015, Alliance stopped LGD Gaming from completing their comeback in a tactical battle of wits which went the full five games.
ADVERTISING: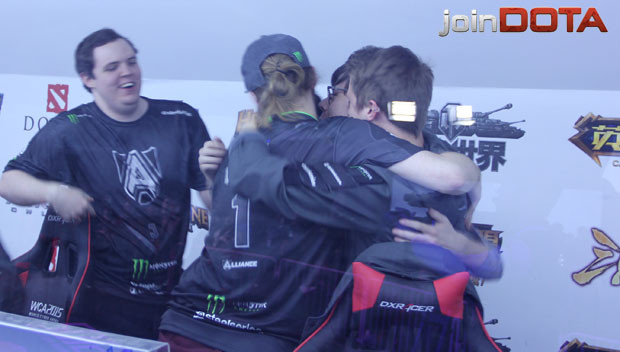 Alliance had the odds stacked against them in the Grand Finals, with a heavily biased home crowd and also the possibility that LGD Gaming could hear the casters due to the player booths not being soundproof.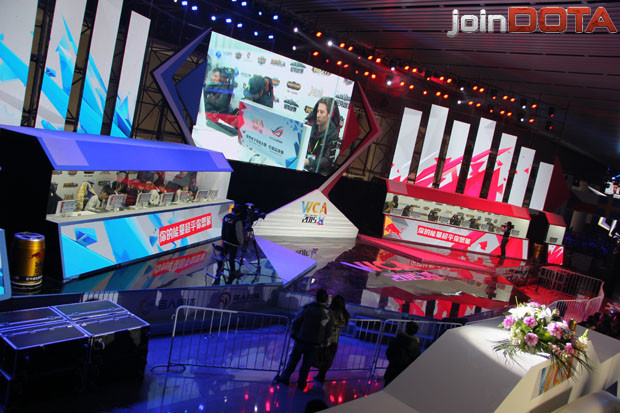 The Grand Finals was on stage, infront of which were a few hundred spectators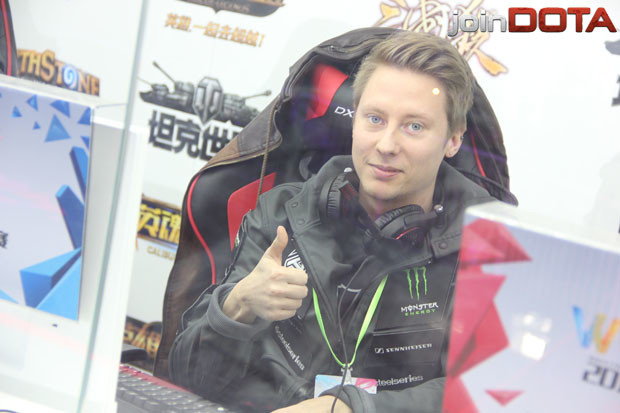 Akke ahead of the Grand Finals
Alliance started off well with a
Jonathan '
Loda
' Berg Naga in the opening game and a rather uncommon Dragon Knight for
Gustav '
s4
' Magnusson, but it was
Henrik '
AdmiralBulldog
' Ahnberg's Beastmaster which proved the decisive factor in the first game win equipped with a Necronomicon.
The second game was all about Loda's Bristleback, and despite LGD Gaming seemingly having a tougher line-up with Shadow Fiend, Earthshaker and Spirit Breaker, Alliance dealt with Maybe's threat with some sneaky smoke ganks on the Chinese mid player. The game ended with 33-13 in favour of Alliance, and put them one win away from the title.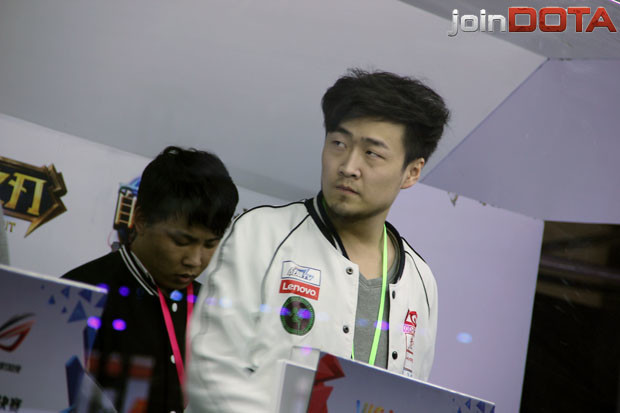 The smiley ROTK of TI5 was nowhere to be seen after LGD went 2-0 down
LGD Gaming have a reputation in China for coming back from series they start poorly in, a reputation which grew further after the addition of
Fan '
rOtk
' Bai. In China when LGD Gaming start losing a series fans will flock to RoTK's Weibo not to encourage but to insult him, including suggestions he should retire.
The crowd was for the most part quiet in the opening two games, but was still the largest crowd throughout all four days of the WCA 2015 event. However, they got rowdier when LGD Gaming lived up to their reputation and staged a come back.
Alliance were left winded in game three, as MMY's Lion played a vital role in combining with Maybe's Dragon Knight while
Liu '
Sylar
' Jiajun cleaned up the mess. It was a fast game, and although Alliance's support Naga on
Jerry '
EGM
' Lundkvist did get them out of a sticky situation or two, defeat was inescapable.
With the crowd now fully warmed up and LGD Gaming as well, the fourth game was by far the most one-sided of the Grand Finals. Lasting only 22 minutes, Alliance only mustered together a measly 2 kills in game four, as Maybe's Ember Spirit tore their line-up to shreds with not a single death to his name by the end.
The final game was tense, extremely tense, torture yet a joy to watch as Alliance and LGD Gaming maneouvred around each other in a very tactical final game. The piece de resistance was Loda's Naga ultimate when LGD Gaming had one set of rax standing, with the audience expecting a full-scale fight but then the camera panned to see S4 sneakily taking out LGD's last rax while they slept.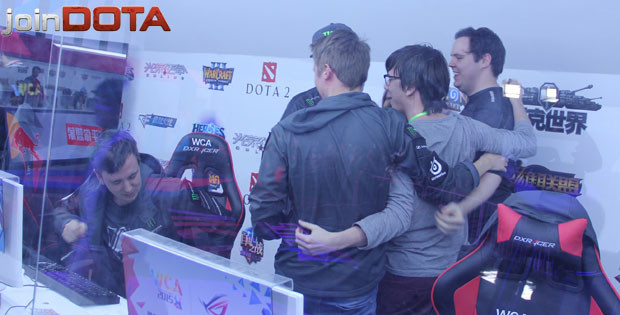 S4 joins the party, team-mates clearly appreciate his determination this tournament
The crowd was dead silent, and you could see Loda's excitement ahead of the "gg" call, it came soon after and Loda screamed and jumped up as the WCA 2015 winners renacted their team huddle from TI3. Aside from a moment of disbelief on S4's face, the captain and drafter remained calm, and the four remaining Alliance players stood together and looked at him, well aware what he had pulled off despite being under the weather.
This is Alliance's first major LAN victory in 18 months, with their last title back in June 2014 in DreamLeague. Could this mean a direct invite to the Shanghai Major for Alliance?
Final standings:
1st place: $370,200
The Alliance
2nd place: $169,675
LGD-Gaming
3rd place: $77,125
Team Liquid
4th place: $46,275
Team Random*