Jonathan 'Loda' Berg's successful start to competitive Dota 2 action around the turn of the year with
Counter Logic Gaming (formerly eXperience) marked the return of a popular legend to the European DotA scene. But his recent and unexpected move to Singapore and subsequent assimilation into the already star-studded
Zenith squad marked the beginning of a new chapter in his life competitive career, and sparked passionate discussion and predictions among fans and followers of the man, his new team, and the competitive DotA scene.

Now, in another exclusive collaboration with joinDOTA, up-and-coming commentator
Christian 'Epi' Czech (whose website you can find here) has brought us his in-depth interview with Loda, in which he shares his thoughts and feelings about his past, present and future in Dota 2.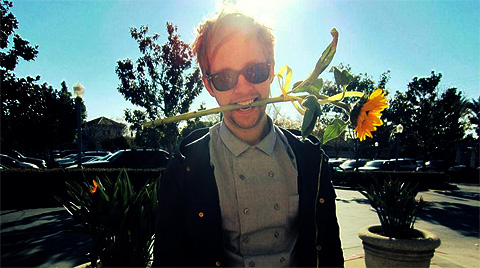 The legend...
ADVERTISING:
Epi: Welcome to another joinDOTA exclusive interview, featuring long time DotA star and eSports personality Jonathan 'Loda' Berg. Loda, thank you very much for accepting this interview.
Loda: Hey!
We can only imagine that the last few weeks of your life have been very eventful. You are still relatively young, but you are one of the "ancient" personalities in the quick changing world of eSports. You have just made some big decisions and taken a few big leaps in life and now find yourself living in Singapore with your girlfriend and playing for Zenith. It is this ability to make big decisions and take these leaps of faith that most successful personalities share. So, respect for that.

How is Singapore, man?
Singapore is treating me very well! It's a bit hotter than in Sweden... But I'm starting to get used to it. *Smiles*
Do you go outside much? And are you learning their language at all?
I'm practicing a lot, but yes I do go out on a daily basis. *Laughs* By "learning their language", do you mean English? I'm already pretty much fluent in English, "Singlish" is just slang that a lot of Singaporean people use. Other than that, my girlfriend teaches me some Mandarin words every now and then.
I wasn't even aware that they speak a lot of English there. I guess that is one less factor to worry about!

Moving on though: are you still in touch with your boys from Counter Logic Gaming? What do you think about their new roster?
To some extent I'm still in contact with CLG, but mostly with Akke due to the fact that we have been friends since forever. Other than that, I've just exchanged a few words with the rest. It is hard to say much about their roster, to be honest. But they do look very strong when I watch them play! Although I was a bit surprised when they added Lacoste instead of another Swedish player, but he seems to be doing a good job. *Smiles*
You certainly did leave behind a strong bunch of players. And you will see them again at The International 2 at the latest. Now you are playing for Zenith. Can you tell us a little bit about the other "Zenithians" and what impression they've made on you, both as players and people?
iceiceice is the troll of the team I would say; he talks a lot of shit that makes the rest laugh... Most of the time... *Smiles* As a player he is one of the best, if not the best, with certain heroes like Invoker etc. He just has a special aggressive playstyle that is very entertaining to watch.
Hyhy, also known as "Mr. Captain" is a genuinely great leader, he listens a lot to the team, but he knows when he should make the decisions himself, whether it's regarding the picks or if it's about pushing in game. He is very dedicated and analyses our replays and then gives some ideas (at least to me) about what could have been done better, maybe a slight change of item builds and so on.
xy- is the second support/woods hero most of the time, but he can play almost everything, and his Storm Spirit and Antimage are superb (he is a former carry player). I always feel confident while roaming around and doing actions with him... As long as he doesn't block me with his Earth Shakerr... *Grins* But on a serious note he is very, very talented, just as everyone else on the team is, and the wide variety of heroes he can play helps our drafting a lot. As a person he is funny, a crazy driver and "Mr. Army Man". That's all I know after eight days. *Pokes tongue*
Last but not least we have xfreedom (well actually he is the youngest so maybe he is least *Grins*). He is the main support player on the team and always does a great job in the games we play. He has a lot of sneaky wards, and just does everything a support should do and more. I have a hard time remembering his name since it's something like KELVIN ELITEO PRO, but still haven't got a hang of it.
Man, I really had to think that question through.
And, well they have all made a good impression on me, both as people and players. They have all made it very easy for me to adapt and fit into the team, their support and belief in me as a player is what makes me play as good as I do. My earlier position in CLG was a bit... Let's just say it didn't work out one hundred percent after some roster changes. I don't blame my team for my mediocre play in CLG, but if you feel that your team isn't confident in you, well then you don't perform. *Smiles* That is how it is, to be honest.
No doubt your individual performance in recent games has been impressive, to say the least. And we will delve into the past few games here shortly. But what you've just mentioned is a very interesting phenomenon. Great players, such as Natus Vincere's current captain Puppey, have mentioned that "belief in yourself and your skills" is one very important factor in Dota 2. Even the controversial ArtStyle talked about this concept after he won the million last year and you can even hear Dendi tell his teammates in public matchmaking games that they need to believe in themselves.

I'd love to hear your take about this. Can you try to explain this concept a little more for the community?
Well I agree one hundred percent; I know for a fact that it affects my own performance a lot. If you feel that you don't play well for a long time, you will lose faith in yourself. Even if it may be due to other reasons rather than your own skill actually diminishing. This was kinda the position I ended up in after I came back from my first trip to Singapore. The team had changed its play style, changed its captain and the thoughts about the game were different, both regarding playstyle and lineups. I kept on switching between heroes I wasn't that confident in, and I actually felt like my role on the team wasn't as important as the rest. It affects your skill A LOT, to say the least.
If on the other hand you show one hundred percent faith in your teammates, then they will play better than ever. That's why you can sometimes see rarely picked heroes end up being picked and completely dominating a game. This is one of the reasons why I try to tell people that there is so much more going on behind the scenes than you can see in games. If someone is suddenly in a slump, I rarely believe that it's actually due to the fact that they suck.
So in CLG, there were changes that negatively affected your personal dynamic and thus you underperformed even with heroes you are comfortable with playing. Whereas in Zenith, we see you using Ancient Apparition in the middle lane and destroying everything... And that has largely to do with the fact that your teammates trust in the fact that you are an exceptional player?
*Laughs* No, it's not so easy as that when it comes to CLG. I know some of the reasons to why I may have been seen as underperforming in CLG, but it's not something I would like to go into. If you perform or not also has a lot to do with how things look around you in real life as well, it's all just a big combination in my opinion. I feel that after the several roster changes we made in CLG, it wasn't the team I created, and quite frankly in the end it wasn't really my team anymore. I never felt that I HAD to be the captain, but in CLG it didn't really work out when I wasn't. This way CLG will become stronger with players that can perform better on THAT team, and for me... Well, it seems to be working out for me too. *Smiles*
Indeed it does. You just said that you think of Hyhy as a great captain. The DotA community knows you as a leading figure and you've almost always been the captain of the teams you played in. So we've seen a Loda in the past few days playing heroes that were unusual for him, as well as an unusual role within the team itself. But all in all, the results Zenith delivered speak for themselves. Do you have problems not calling the shots in crucial ingame moments? How about playing out of the ordinary heroes, such as Ancient Apparition?
I don't find it annoying or weird at all to not make the calls. If you have a strong leader that makes all the important calls, but still leaves a lot for yourself to decide combined with a belief that you will do your job well, then you cannot ask for more. *Laughs* And well, to be honest, I very rarely play Ancient Apparition, but we had practiced it once before, and at that point I had to play the hero, so I just did it again.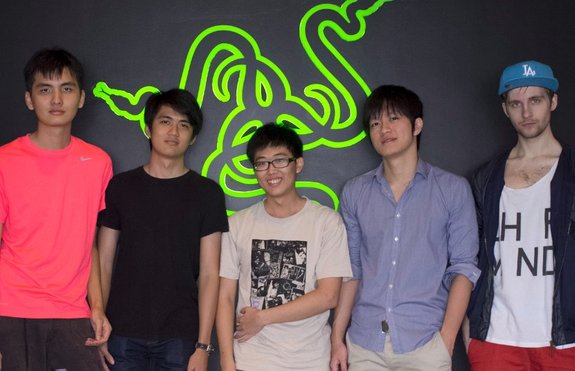 Team Zenith, l-r: iceiceice, xfreedom, xy-, Hyhy, Loda
The game we are talking about was Zenith vs. DK. DK of course being widely considered the number one DotA team in the world. In that particular game you outfought Super's Invoker on the middle lane with Ancient Apparition [the game can be found in the joinDOTA Video on Demand section]. You and your team generally performed very well and DK's star carry player, Burning, called the "GG" at 39 minutes, with the score being 44-11 in Zenith's favor after your team wiped the entire DK side as they attempted to take down your Crystal Maiden. Is there anything in particular about your game against DK you want to share with us?
There's not much to add. Sure DK may be the best DotA team in the world, but they are not the best Dota 2 team out there. I was actually quite surprised that they were able to beat EHOME when they faced each other last time. What you may not know about the game is that we actually practiced against DK with a similar lineup, but in that game we picked Pudge instead of Faceless Void. That may be one of the reasons why they picked Lone Druid in that game, because when iceiceice played Pudge against them, they lost as well.
Other than that we tried out a different kind of strategy that hasn't been used so much in the scene lately, but we were confident in our ability to make it work!
To clarify myself: I don't think DK are weak or anything, it's just that stuff worked out really well for us, and we never fear any opponents!
Prior to playing DK, you and your new team went up against EHOME, and the only thing that comes to my mind when now thinking about that game is "stomp". You played an amazing Queen of Pain on the short lane and ended up with a 10-1 score. Your team won with a score of 28-6, ending EHOME's 11 game winning streak. One does not simply destroy EHOME. Talk to us about this very fun to watch game.
Well the draft played a big role in how this game ended up as a stomp. We decided to take the fight to them, and after leaving Chen, we picked up Enchantress to ready ourselves for a fight on their side of the map. By banning most offlaners that were still in the pool, EHOME had to pick up Weaver. Lanm is a very strong player, but my last-hitting worked out really well, so I was able to deny him a lot of experience and gold. Even though he made me teleport home to base, I could return to the lane with just as good level and seal the deal by killing him before his sixth level.
The game in itself was a pure team performance though, we were able to win some very important engages in the game which gave us control of the map and gave us the chance to keep EHOME from getting their crucial items. I would say everyone on the team played superbly, and we are all very happy that we could work this well together in such a short time. *Smiles*
Yes. That certainly is one of the things we hear going around the community often. Zenith is still a new team. In my mind, the game against DK was one good example that showed how Zenith is a really strong conglomerate of exceptionally skilled individuals. "The sky is the limit, once your team begins to really synchronize" is one side of the argument, and the other is that "in the beginning of each new team, there is the honeymoon phase and things go greatly, you have to wait a few weeks or months to see how things develop". What is your take on the current state of development of your team?
Well I agree that there may be a honeymoon phase for all new teams, whether or not you are able to capitalize on that is up to yourself. We are very aware that you cannot take anything for granted, especially not your own performance. We keep practicing as much as we are able to, and will meet up every week for some much needed LAN practice. We are confident that our performance is not just some fluke or luck, and we will practice hard to stay on top in the South East Asian scene. All teams (especially those invited to the second edition of The International) are practicing very hard and you cannot let your guard down at any point, because someone will be waiting to capitalize on your loss.
Yes, and of course after your brilliant performance against EHOME, you guys received your invitation to The International 2 from Valve. How did you find out? What were your thoughts?
Well of course we were extremely happy when it was announced. I knew for a fact that Zenith was a possible invite due to their top 3 performance at the last "International", plus them being one of the strongest teams in the SEA scene. I believe Valve had to wait and see if we could actually perform after I joined the team to be sure to send out the invite. But Zenith is filled with some of the best players around, and I knew that even if I would have had a hard time playing well in the beginning, they would be able to carry me to The International. *Grins*
IceFrog contacted hyhy personally after our win against EHOME and informed us that we were invited. The thoughts going on at that point were just thoughts of happiness. *Smiles* Being able to go there and fight for first place! I always felt that fate wants me to be at The International, whatever happens. And now it's up to me and my team to see how far we can go!
Which team will be the one to beat at The International ? Is there anything in particular about this year's tournament that you look forward to?
No, there is no team in particular; I believe that all teams that will be there will be strong in their own way. I have faith in Zenith and you cannot fear anyone if you want to be the best. But of course you have to respect everyone you play against. *Smiles*
I'm looking forward to everything about The International, not just the games we are going to play. *Grins*
Unfortunately for me, The International will not be held in Germany this year... Ah well. Loda, is there anything in particular that you would like to tell the community before we wrap up?
To all the haters out there: go f*ck yourselves, I don't appreciate two faced bastards, so please don't come crawling and tell me I'm good after bashing me for months.
To all the loyal fans, I love you all and you are part of the reason to why I keep fighting! Keep respecting my decisions even though they may seem strange to you, I always have a reason to why I do things. *Smiles*
Also a shoutout to my girlfriend for always believing in me, even when I have doubts myself.
LiveAndLetLoda
Strong words from one of the most famous Dota players out there. Thank you very much for the chance to interview you.
You can find and follow Loda on
Facebook
, on
Twitter
and on his
livestream
. And once again, joinDOTA would like to thank Epi for his contribution. Please support him by at
epicommentary.com