After listening to members of the community, we have learned that the public does not always have time to watch all the competitive games. With so many competitions going on, it is hard not to miss an epic game. With this in mind, we have been working on a solution.
ADVERTISING:
Today, we present joinDOTA: Weekly Top 5.
Weekly Top 5 (WT5) aims to provide the audience the top five games of the week from all competitions. Whilst deciding how to select the best five games, we came to the conclusion that it is the
casters
themselves who should select the best games they have seen each week.
Being involved with countless games, they have seen it all. Their expertise and experience will give them the perfect qualifications to select the best games from their casts each week.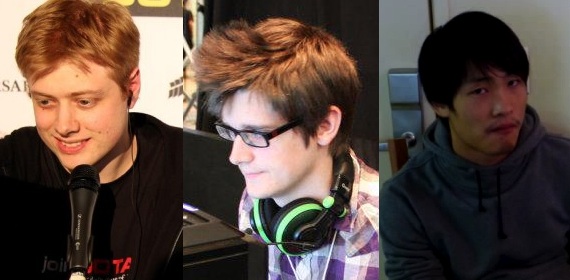 [I]TobiWanKenobi, GoDz, Luminous[/I]
This week's casters at work will be
Tobi '
TobiWanKenobi
' Dawson,
David '
Luminous
' Zhang and
David '
GoDz
' Parker. Each caster will pick one or two games that they feel are worthy of earning the honors of WT5 and give their comments on the game. There are plans to incorporate more casters, so stay tuned for future editions.
For this first edition, we gathered the best games from 7/5/2012 to 13/5/2012. Be sure to watch these epic matches!
[/B]Every now and then we will have a match which comes down to a base race, but when it happens were the possibility is 50/50 of either team winning, that is what epic games are about.
[/B]A game which Na'Vi never really found control of as DTS was really stepping up their plays all game. The end however, the timing, the choices and the momentum gave us a much more thrilling end than anyone was expecting.
Game 1 between Na'Vi and mTw paints a good picture of the fast pushing metagame in European Dota. The game is worth watching, however, is due to how even the teams were at the end of the push. Neither teams had a big lead in gold or kills, quite a rarity in today's fast paced games. Some of the most intense and desperate high ground defenses occurred in this game, and you don't want to miss out on this game.
Game 2 of Na'Vi and mTw features Dendi's Pudge and Sockshka's Shadow Fiend. A roller coaster ride for Na'Vi as they did well in the early game with Pudge's hooks hitting but fell behind during the mid game with the same hooks missing. Another game of grueling defense full of buy backs and huge AOE ultimates.
I suppose this game would have been very different if there hadn't been mistakes. Hadn't been a few moments of "fortune", such as LGD's panda dc'ing mid-push. Maybe if LGD played with a bit more aggression, or MUFC had one less buyback, we would have seen a much more straight forward game. But the stars aligned, and everything was perfect to produce one of the most epic and exciting games I've had the privilege of commentating.
And that is the end of joinDOTA's first Weekly Top 5, we will return with more next Monday. Let us know your thoughts about this new segment below. Enjoy the games!