For many teams success is likely not only defined as winning tournaments, but more importantly making a living. Dota 2 has grown substantially since it's inception, and so have the prizepools. So how have this year's International teams faired since TI4? We take a look at the winnings for all teams involved in this year's main event, to get a perspective on who had a good year. (Image by Keterok@DeviantArt)
ADVERTISING: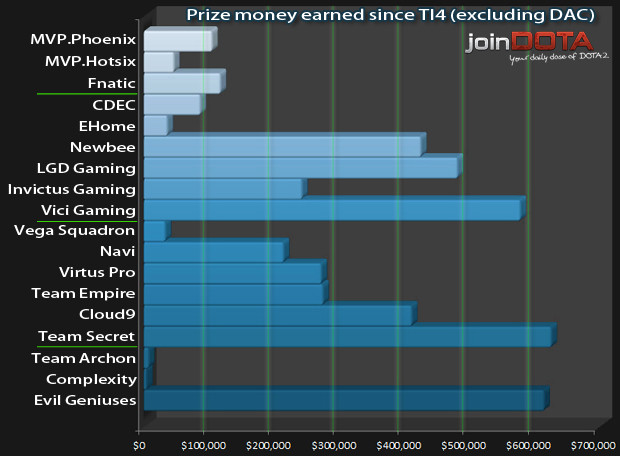 In terms of prizemoney TI has always been in a class by itself, setting new and immense records each year. However, counting on your success in one tournament a year might be a bit unreliable. So here we are to see how teams have done throughout the rest of the year. For the purposes of our graphs we've excluded DAC because the prizepool for DAC would have heavily distorted the graph with the first place prize being twice as high as any team's yearround earnings.
Update: Due to popular demand here is the table with DAC prize money included: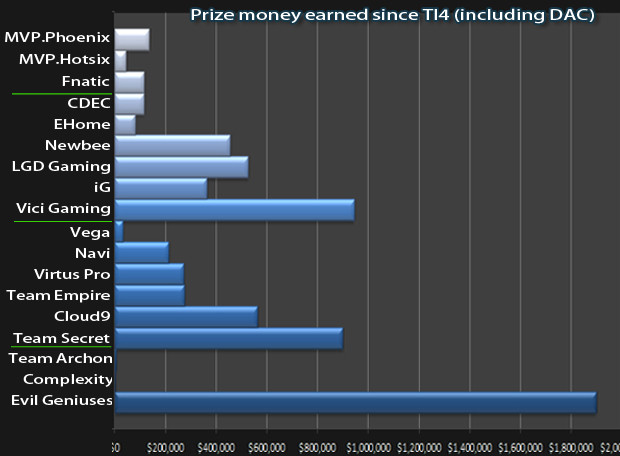 The Usual Suspects
Team Secret
,
Evil Geniuses
and
Vici Gaming
were the top earners this season, each representing a different region. With Team Secret's recent win streak they've managed to push themselves in the lead, but only by a mere $11,056 compared to EG. All three teams managed to qualify for the vast majority of tournaments they participated in this season, although the coveted number one spot was a bit like musical chairs between the three..

Team Secret's run of success recently has been highly lucrative - (Image: BTS Flickr)
One Hit Wonders?
LGD-Gaming
and
Newbee
still both managed solid earnings around the mid $400,000. For both these teams, however, nearly half or more of these earning came from a single tournament with LGD winning $213,360 by finishing first in the third season of i-League and Newbee taking home $325,000 from the World Cyber Arena.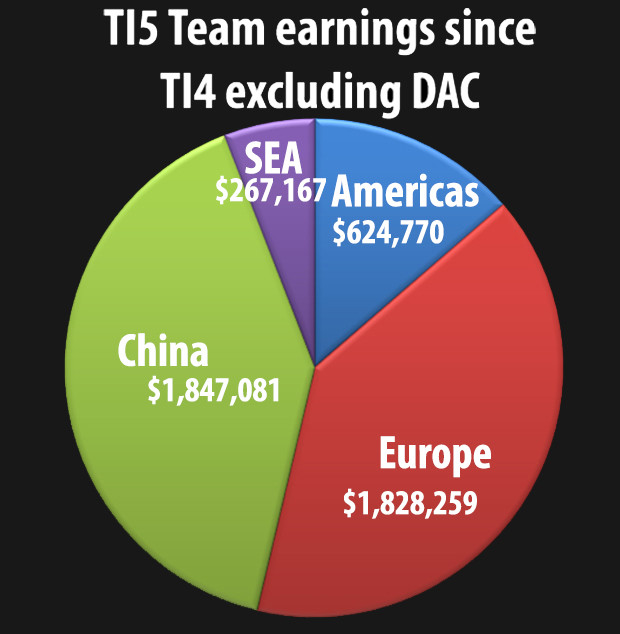 China and Europe both have about 40 per cent with EG taking another 13
Inconsistent persistency
The next group of teams is almost entirely European, with the expection of
Invictus Gaming
. The well known Chinese team is joined by
Cloud 9*
,
Team Empire
,
Virtus.Pro*
and
Natus Vincere
. These teams are the last to make a decent living of their prizemoney. Cloud 9 is sitting atop this group with just over $400,000 while Na'vi sits at the bottom with just over $200,000. Generally these teams have qualified for a large number of tournaments this season but failed to bring home the gold when the prizepools were the biggest, often finishing second or lower. Many of them do have a few wins under their belt this season, but only in the smaller tournaments.
Update: Here is the region piechart with DAC due to popular demand.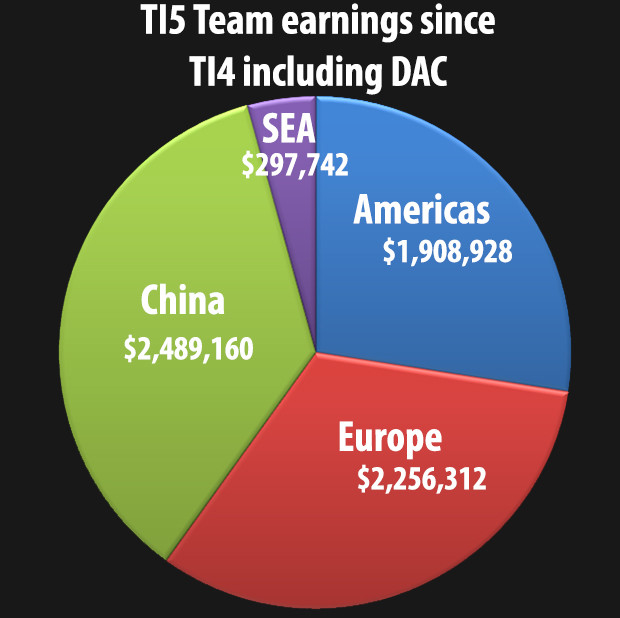 Notable Absentees
There are some very notable absentees looking at prizemoney as well. The now disbanded SEA
Rave*
made $107,895 or $260,762 if you include DAC. The only absent former TI champion
The Alliance
made $171,028. Other European heavy weight
Ninjas in Pyjamas*
made $161,391. For China the most notable absentee is
HyperGloryTeam*
who made $156,819, ahead of both CDEC and EHOME. For the Americas the only notable absentee is
Mousesports* '14-15
who made $116,402.
TI Teams Prizepool no DAC
Team Secret
$624,686
Evil Geniuses
$613,630
Vici Gaming
$577,233
LGD-Gaming
$480,929
Newbee
$424,730
Cloud 9*
$410,614
Team Empire
$274,579
Virtus.Pro*
$271,858
Invictus Gaming
$242,206
Natus Vincere
$213,989
Fnatic
$117,131
MVP Phoenix*
$104,219
CDEC Gaming
$86,256
MVP HOT6
$45,817
EHOME
$35,727
Vega Squadron
$32,533
Team Archon*
$7,139
compLexity Gaming
$4,001
TI Teams Prizepool with DAC
Evil Geniuses
$1,897,788
Vici Gaming
$944,135
Team Secret
$899,863
Cloud 9*
$563,490
LGD-Gaming
$526,792
Newbee
$455,305
Invictus Gaming
$364,507
Team Empire
$274,579
Virtus.Pro*
$271,858
Natus Vincere
$259,852
MVP Phoenix*
$134,794
Fnatic
$117,131
CDEC Gaming
$116,831
EHOME
$81,590
MVP HOT6
$45,817
Vega Squadron
$32,533
Team Archon*
$7,139
compLexity Gaming
$4,001
*Numbers are to the best of our ability and may variate depending on exchange rates etc.