Our TI Spotlight continues with
Invictus Gaming, a team who has placed top 8 at every International so far. The Chinese team hit a rough patch earlier this year but the addition of former DK legend
Xu 'BurNing' Zhilei revitalised the squad. We take a look at iG's record since TI4, and delve into drafting statistics for the TI2 winners. The Chinese giant could yet reawaken, find out why.
ADVERTISING: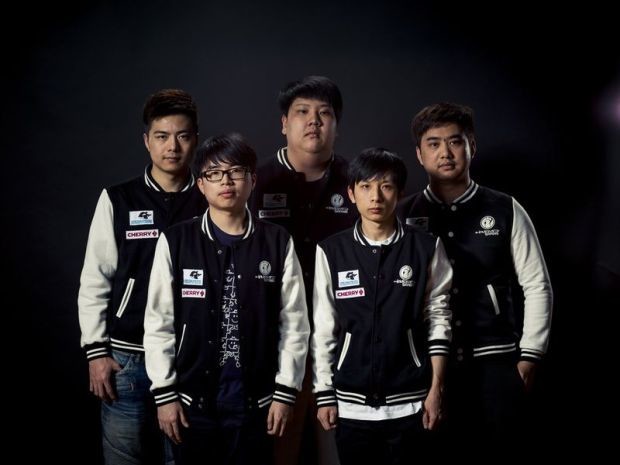 iG at Red Bull Battle Grounds 2015 LAN FInals
A new force assembled
After
an unsactisfactory placing
at The International 2014 (joint 7th-8th place), Invictus Gaming
went into a slump
as they often finished at the bottom half in major tournaments while only winning minor ones.
Their win rate plummeted throughout December 2014 and January - February 2015. When the Great Chinese shuffle had settled, iG appeared a
reinvigorated powerhouse
, acquiring the service of BurNing who came out of retirement to take another shot at The International.
With
Luo '
Luo / Xi
' Yinqi coming to the offlane and
Zeng '
Faith
' Hongda reunited with
Wong Hock '
Chuan
' Chuan to form the formidable support duo, the team had hopes of becoming a force to be reckoned with.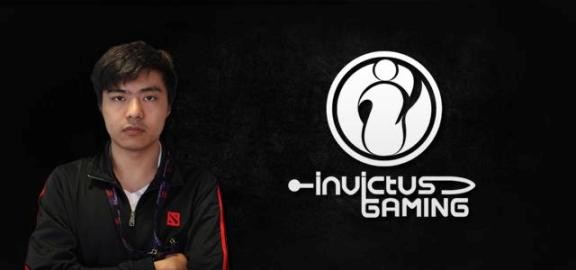 Despite formidable attempts with
DK*
and
Big God 2.0
, BurNing has yet to claim the Aegis as a trophy. Will he fulfill his dream this time in iG's uniform? Image by
@ShockwaveDota
Their honeymoon phase was phenomenal, winning the
Major All Stars Tournament
and placing second in
Star Ladder Series Season 12
. Together, they achieved
an amazing win rate of 72% and 68%
in March and April respectively. The phoenix, after crashing, seemed to have risen from the ashes, scorching all enemies in its wake.
More turbulent times
However, the last few months have been rocky for iG. In May, they suffered considerably more losses, with their win rate dropping to
an abysmal 39%
. iG's competitive results were also lacking, as they failed to claim the top spot in premier tournaments. iG tended to
do better on their home soil
, as they often occupied the podium in Chinese tournaments. When it came to
international tournaments
, however,
iG did not perform as well
, usually failing to make it into deeper rounds.
iG's performance since the last The International, more statistics about the team
here
Admittedly, the competition was much stiffer with major tournaments often stacked with other powerhouses. Nonetheless, it can hardly be denied that iG had much higher hopes than what they actually achieved. Having won major victories in the past, iG will surely aim for nothing less than first place in this year's The International. It's worth taking a look again at the roster of one of China's most prestigious Dota 2 teams.
Lineup overview
iG's current lineup (from left): Faith, Luo, ChuaN, BurNing and Ferrari_430
iG's current lineup is nothing short of star-studded.
Luo '
Ferrari_430
' Feichi, who will be competing under the iG banner for the
fifth time
this year, has always been a solid midlaner, dominating even the most fearsome of players on the lane. Well known for his remarkable performances on mobile heroes such as Queen of Pain, he is the true barometer of iG as whenever Ferrari_430 has a good start, iG will surely have a comfortable mid game and little trouble closing it.
The world-class support duo
Zeng '
Faith
' Hongda-
Wong Hock '
Chuan
' Chuan are possibly the most impactful members on the team this patch whereas succesful rotations (especially in the early game) can result in swift victories. Along with Ferrari_430, these players are the remaining iG members that won The International 2012.
Xu '
BurNing
' Zhilei has also shown the world time and time again why he belongs to the hall of fame as a top notch carry, performing consistently and accumulating a ridiculous GPM even when his team is struggling.
Last but not least,
Luo '
Luo / Xi
' Yinqi's impact cannot be underestimated. He has made a rather smooth transition from the position 1 carry to position 3 offlaner (Luo also played as support for a very short time). Given the space and farm, Luo can very well carry his team to victory in the off-chance that both Ferrari and BurNing have a bad game. Together, the squad is determined to bring glory to the name of Invictus Gaming once more, adding another much-coveted trophy to the team's accomplished history.
Drafting statistics
Surprisingly, iG has not performed well with popular heroes of this patch 6.84. Out of the top 10 most played heroes, including Gyrocopter, Earthsharker, Leshrac, Clockwerk, Lina, and Witch Doctor, only
Queen of Pain, Rubick, and Shadow Fiend
positively impacted iG's ranking. Most notably, Gyrocopter was many times picked early in iG's draft, but the Flying Machine has one of the most negative impacts on their win rate.
Also,
Ferrari_430 has not played a single game on Leshrac
, an extremely prominent (and notorious) midlaner this patch. Perhaps we will see Ferrari on Leshrac comes August. Support-wise, iG favours Rubick to the extreme, picking him in 39.7% of their games, which is close to doubling the average pick rate 19.95%. The Grand Magus has proved to be a valuable asset, contributing to the victories of iG, especially when played in the hands of ChuaN (see video below).
Queen of Pain, Rubick and Shadow Fiend: iG's most successful heroes
Moving over from iG to their opponents' drafts, Dazzle and Dark Seer are heavily picked against iG, with their pick rates approximately doubling the average pick rates (
22.4% to 10.35% and 20.7% to 9.4% respectively
). Among the two,
Dark Seer
proves to be iG's more feared hero, its win rate against them standing at 58.3%. Nonetheless, it is worth noting that Dark Seer was largely used by the world's strongest teams, so the results might be a little bit skewed. For instance, almost half of Dark Seer's games against iG have been played by Zai of Secret, and
iG has never won against Secret's Dark Seer
. Another trivia: iG loses
81.8%
of their games against Secret.
Dark Seer: iG's Achilles' heel?
Perhaps we will see Faith prioritise in banning him to avoid fighting an uphill battle. Bounty Hunter, an increasingly popular hero in the last couple of weeks, is also one of the better heroes against iG. Hopefully they will have come up with a solution for this sneaky assassin by the time TI arrives.
Important dates post The International 2014
July 25th 2014
: YYF announced his retirement on his
Tencent Weibo
August 26th 2014
: chisbug and June replaced YYF and Faith.
December 24th 2014
: chisbug left the team.
March 5th 2015
: June left the team.
March 15th 2015
: BurNIng and Faith confirmed to be joining the team.
Notable achievements since TI4
19-07-2014
7-8th The International 2014
$519,208
21-09-2014
1st Sina Cup Season 5
¥50,000
27-09-2014
3-4th I-League
$19,301
30-12-2014
2nd Esports Champions League 2014 Autumn
$3,260
22-03-2015
1st Major All Stars Dota 2 Tournament
$46,962
26-04-2015
2nd SLTV Star Series Season 12
$30,000
10-05-2015
2nd Red Bull Battle Grounds 2015
$25,239
15-05-2015
5-6th The Summit 3
$9,509
14-06-2015
1st ECL Spring 2015
¥130,000
21-06-2015
3-4th ESL One Frankfurt 2015
$26,979
Heroes to look out for coming into The International
Ferrari - Queen of Pain
Luo - Axe
ChuaN - Rubick
Notable highlights - A match maid in heaven
When the Redemption vote for The Summit 3 was underway, teams made promises in order to get their fans to vote for them. For example, Alliance's AdmiralBulldog promised to stream 24 hours non-stop and EternalEnvy promised to bleach his air if Alliance won the vote. iG took a slightly different approach, pledging to dress up as maids for the event. After emerging as the ultimate winner, the team delivered on their promise.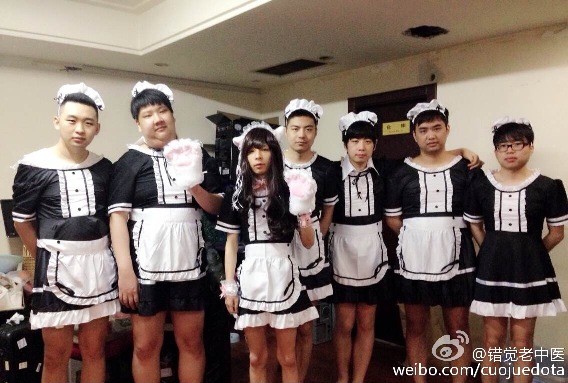 The rest of the photos can be found
here
The road ahead: Prediction for The International
There is no doubt that iG has what it takes to be a serious contender. They have placed top 8 and above in every TI so far (5th in TI 2011, 1st in TI 2012, 5th in TI 2013 and 7th-8th in TI 2014), which is indeed a very respectable achievement. With a lot of talent and experience under their belt, iG's capacity can hardly be questioned.
Nevertheless, this year's competition is extremely fierce and intense, with all the participating teams showing exceptional improvement as time passes. iG's path to the top will surely be a struggle, especially considering their current form, but the one thing their fans can expect is that iG will play some good dota.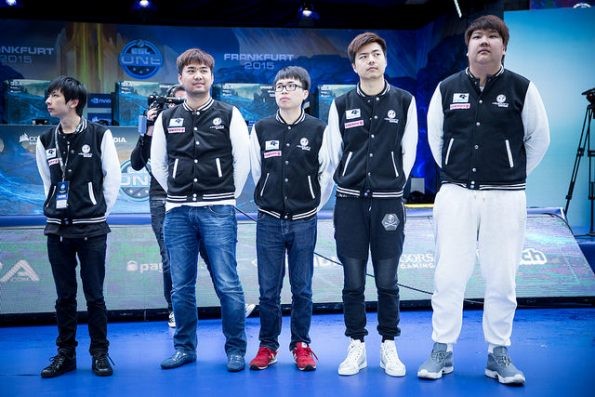 iG at ESL One Frankfurt 2015
Where do you think iG will finish at The International 5?