The third team in our TI5 spotlight series is
Virtus.Pro*. The aggressive Russians have had a thunderous year, starting out at the bottom as
Nam Vezet - Mi Igraem* and ending up at the top as the VP main squad. Through all their roster changes, one thing stayed the same: they kept fighting, kept improving, and can now proudly call themselves one of the top teams in the world. Let's take a look at how it all happened.
ADVERTISING: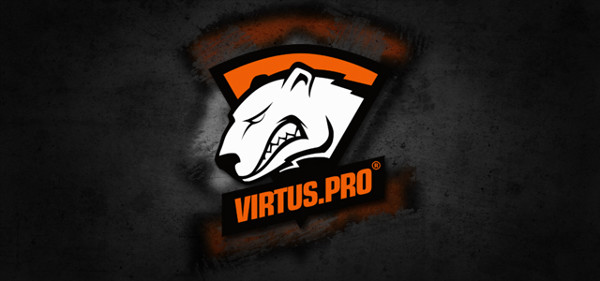 The creation of the roster - time of Goblak and Scandal
The roots of the current Virtus.Pro roster goes back to NVMI - a team created by
Artur '
Goblak
' Kostenko post TI4. That squad featured three players who are currently part of VP. NVMI got off to a strong start: in September 2014 they triumphed in
Game Show League Season 1
, a LAN at DreamHack Moscow in which all the top CIS teams took part. Soon after the team was signed by Virtus.Pro and started playing as their secondary squad VP.Polar.
VP.Polar were the embodiment of the traditional "CIS Dota". Goblak's drafts were unpredictable and came online early. The team excelled in beating teams by running at them and killing them over and over again.
Much of their strength in these early days came from their mid player, scene veteran
Roman '
Scandal
' Sadotenkov, a strong laner who was great at transferring mid-game strength into the taking of objectives. But if they didn't win early, the game often ended poorly. VP.P's drafts often weren't suited to 50-minute games; additionally
Ilya '
Illidan Stormrage
' Pivtsaev's relatively limited hero pool and risky farm patterns often cost them games.
Virtus.Pro Polar who were the secondary squad of VP soon overtook the main roster in results. Despite that in early November the team received something that many regarded as a major blow. The captain and the creator of the squad, Goblak, left VP.P in order to join
Natus Vincere
. Additionally, soon after Goblak's departure Scandal
left the team without a word
.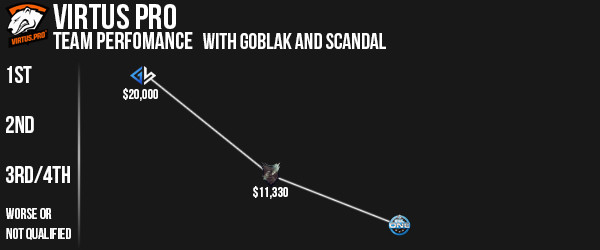 DKphobos: "fng was the only one who could save us"
Goblak left the team to try and inject new life in an ailing Na'Vi. That meant that Na'Vi's previous captain -
Artem '
fng
' Barshack was hung out to dry; and the former
Power Rangers*
star was everything Polar needed. They wasted no time recruiting him as a standin.
As it turned out it was a brilliant move and the team wasn't doomed because of Goblak's exit. Alongside fng VP.P added Mag, a veteran offlaner who previously played for
Team Empire
. As they were both free agents at that time they started to stand in for the team. After a long period of playing as standins fng and Mag officially joined the team in December. How crucial was fng to the success of the Russian squad? "fng was the only one who could save us" said
Olexandr '
DkPhobos
' Kucherya in
an interview
.
While Mag was a good addition to the team personality-wise, having two offlaners with overlapping hero pools forced the team into a predictable pattern. To match their draft with the hero pools of their players, fng often picked two mid/offlane "hybrid" heroes like Magnus, Brewmaster or Puck to put one of these offlane and one of them mid. This arrangement left their midgame strong as ever, but it also kept the lategame burden square on Illidan's shoulders. The team was not quite complete yet.
As a result, even though the team performed very well at the beginning of the year this wasn't the end of VP.P roster changes. The team made a decision to let Mag go at the beginning of March. One day later, despite
"verbally agreeing" with the CEO of VP that it would be "impossible"
DKphobos left to join Na'Vi. VP.Polar was yet again down to three players. However, it didn't set them back.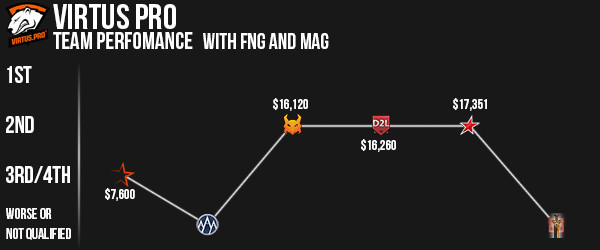 Replacing Mag with God - finally a true mid player
VP
dropped their severely underperforming original roster
in March and decided to focus on the Polar squad. The empty spots in VP.P were filled by the former VP players and the team functioned yet again. After a
shockingly short episode
at Na'Vi DKphobos returned to the squad and took back his spot at the offlane.
Sergey '
God
' Bragin became the only player from the original VP roster to stay with the organisation.
When God replaced Mag the pieces of the puzzle came together. DK.Phobos could fully focus on his offlane again; and Illidan could farm in peace, confident that when the late game came around there would be a second heavy hitter joining him. God also had a vastly different hero pool that extended fng's drafting choices by quite a bit. It was the end of Puck, but the entrance of high damage heroes like Shadow Fiend, Zeus, and God's all-time favorite Queen of Pain.
Soon after all those changes Virtus.Pro Polar got rebranded to simply Virtus.Pro. In May despite all the roster changes the Russian squad received an invite to The International 5. Soon after VP proved worthy of it securing by their biggest win of the year -
Dream League Season 3
. They didn't drop the ball after that and kept the level of their performance high to the end of the season.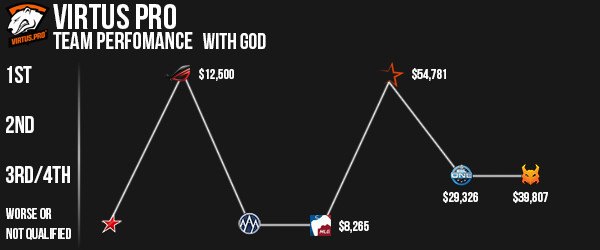 What they play?
VP loves the classic "carry farms, mid ganks, offlaner supplies utility" line-up. This generic but stable formula leaves plenty of room for all core players to excel at their roles, while giving the supports room to bring the flexibility and eye-catching plays.
For example, VP is one of the few teams that does not have a designated "rubick player". Both
Ilya '
Lil
' Ilyuk and fng have mastered the flashy support, and the two take turns playing it. This extra bit of flexibility leads to VP playing a lot of Rubick. The grand magus is present in almost half of their matches, and the Russians have a 68% winrate with the hero.
Next to being a great Rubick, Lil is also a top-notch Visage player. Combine this with Illidan's love for Drow Ranger, and you have a team that can always hit their opponents with the sudden Drow/Visage combo. But VP doesn't live for the cheese strat; they are fine picking just one of the two heroes and leaving it up to their opponents if they want to face the deadly combination or not.
VP has other surprise picks up their sleeve. They're one of the few teams that ever picks Silencer, playing the hero in its oldschool carry role. It's their answer to spell-heavy flavor-of-the month nukers like Leshrac and Tusk, and it works well, boasting a 5-3 record so far.
But VP are not afraid to use the flavor-of-the-month themselves. Illidan feels right at home playing Phantom Lancer and Gyrocopter, and God didn't have to adapt to the meta at all. His favorite style of magic-spamming mid is stronger than ever. Leshrac is only an addition to his arsenal that already contained QoP, Zeus, Lina, and Shadow Fiend.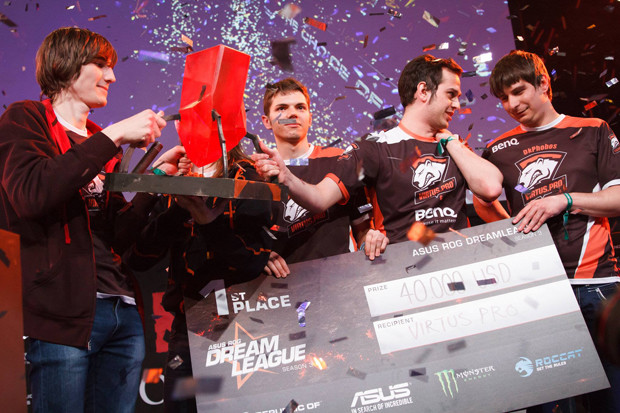 VP after winning Dream League 3. Image: Dreamhack
Why they'll win
VP has consistently improved themselves since their start as NVMI. Each roster swap improved the team composition, and individual skills of every player are also very high. The team has seems to hit their peak just at the end of the season.
In the previous patch they used to be know as the late game team having an incredible win rate post 40 minutes. That the current patch favours the early game focused teams more and one would think that it isn't ideal for VP.
However, "CIS doto" is definitely deeply embedded in the Russian squad; and as a result that change doesn't bother them at all. Their ability to push early and mid game aggression to the limit is as good as every other CIS team. That combined with nearly perfect knowledge of how to play the late game makes them a very fearsome opponents.
Why they'll lose
The Russian squad is nothing if not consistent—but that means they're also predictable. They still have a fairly narrow hero pool, with clear favorites like Rubick and Leshrac, and they're not very likely to switch up their roles. VP might be good at what they do but they don't do a lot of different things. This means that a team that's more flexible can out-think and out-draft them. With the very best of the world attending TI5, there's bound to be a team that punishes their style.
Slark, one of Illidan's signature hero. Although lately used less than in the past.
Looking ahead to The International 5
Virtus.Pro is a team with stable performances throughout the year despite often changing their roster. They have been able to push the top teams to the absolute limit even in nail baiting BO5 series, but they have never managed to actually win in the end.
As the patch seems to fit them, will TI be the time they finally make it? It is hard to imagine. Despite most of their players being around for a long time, only God and Illidan have ever attended TI. Having experience of playing on such huge stage can not be understated and VP are definitely lacking it.
As a result the absolute top teams will have another advantage over VP. It will be even harder for them to overcome the opponents they didn't manage to beat when it mattered before. The Russians could definitely be a contender for a Top 8 or even a Top 6 finish at TI. What do you think?
Where do you think Virtus Pro will finish at The International 5?
Other TI5 profiles