Navi and Virtus Pro clashed earlier this evening in the grand finale of the Dream League Season 3 at Dreamhack Summer. Coming into the match
Natus Vincere were the heavy favourites having beaten both
Ninjas in Pyjamas* and
Virtus.Pro* earlier in the tournament. However,
Ilya 'Lil' Ilyuk's Rubick had other ideas for how the story should end proving who's the ultimate magus.
ADVERTISING: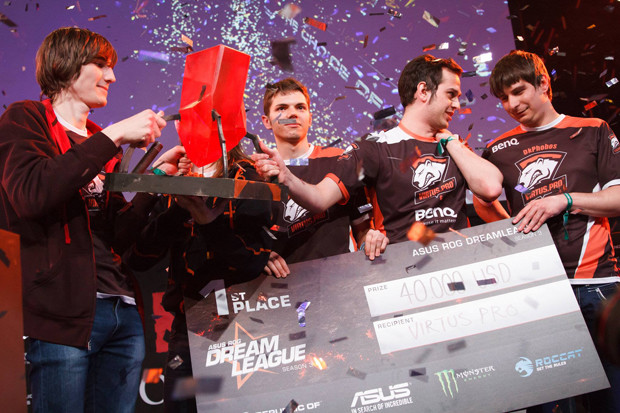 Image:
Dreamhack
Only three teams were left in the last day of ASUS ROG Dreamleague, two of which have been begging for a return to form. VP and Na'vi's games on the previous day were quite close and Nip looked strong in their victory against
The Alliance
, leaving the final chapter of the Dream League Season 3 hard to predict. However, VP demolished NiP 3-0 in the lower bracket to be reunited with Navi in the Grand Finals.
I am literally dead right now. Slept less then 2 hours for 3 days in a row. Proud of my team. Gg @natusvincere— Sergey Bragin (@GTHEMALL) June 15, 2015
Despite coming from the lower-bracket VP and Navi were even stevens as they went into the Grand Finals, and although they came from the winner's bracket Na'vi were up to their typical tricks. They heavily lost their first two games against VP, who were looking really good.
The tournament looked nearly over when Na'vi went down 13 kills in game three with
Gleb '
Funn1k
' Lipatnikov's Broodmother finding himself in a 0-5-0 hole. Now that Na'vi was properly warmed up, however, turn arounds were coming. Reducing their deficit to zero off a single big teamfight win, Na'vi took the driver's seat with fight after fight going their way. They took game three and four in quick succession and forced a game five winner takes all!
Ultimately, however, VP proved the stronger team. While Na'vi once again managed to even the game out through some miraculous plays, VP quickly picked up on what to do. In previous fights they'd triggered their Black King Bars but ended up kited for the duration. In order to win the game they waited to trigger BKBs until both teams were fully committed. With Aegis in hand Shadow Fiend proved too big of a front-liner for Na'vi as VP take home first place!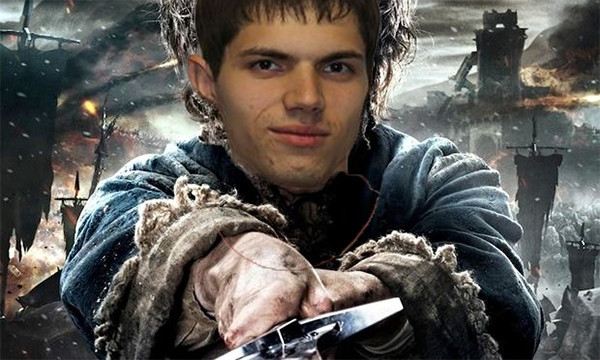 Lil's Rubick is indeed a Master Burglar
MVP: Enter Bilbo Baggins- Lil did they know
The star of the show for VP was definitely
Ilya '
Lil
' Ilyuk, who is apparently hobbit size as he makes one master burglar. Lil was stealing spells left right and center, even Invoker doesn't cast this many spells.
All day long he played Rubick and no matter who he was facing, he seemingly had spells like stampede, fissure, requiem of souls and winter's curse at his disposal whenever he wanted. Why he was still allowed to have Rubick on the sixth game in the day remains a mystery.
Lil was not alone though. Support play this tournament as a whole was massive with some great plays.
Akbar '
SoNNeikO
' Butaev efforts were huge for Na'vi and allowed them to make the crucial comeback. He was dunking on Earthshaker as if he was LeBron James, ruining most of VP's fights in game three and making some crucial saves with Winter Wyvern in game four.
Speaking of the frosty drake, he showed up in a whopping five games today. This tournament as a whole saw some interesting choices with several unusual safelane farmers such as silencer, centaur and razor. Dreamleague season three also featured an afk farming victorious rubick with a score of 0-1-0, numerous 60+ minute games and some amazing comebacks making this yet another season to remember.
Sorry everyone, we tried hard, next time gonna be better!— Olexandr dashkevych (@NaViXBOCT) June 15, 2015
Final Standings for DreamLeague Season 3
1.
Virtus.Pro*
$54,771
2.
Natus Vincere
$32,386
3.
Ninjas in Pyjamas*
$19,886
4.
The Alliance
$12,424
Navi is TI-ready and VP heads to Frankfurt on a high
One thing is for sure, both of these teams look TI-ready. Na'vi did go down quite easily in MarsTV, but were lacking their captain. With no further tournament for them until TI, it's time to bootcamp. VP, on the other hand, will be able to continue to test their prowess against TI-invited teams in ESL Frankfurt this weekend.
They will again be joined by Alliance, who have heavily dropped off since winning Dreamleague season one a year ago (their last tournament win). Having failed to qualify for TI this year, making them the only absent TI winner at TI, they will have a rough road ahead if they want to redeem themselves at ESL.