Day 2 of the Dreamleague S3 Finals at DreamHack Summer was certainly a turbulent one. Storylines ran strongly through the bracket as we were treated to an all-Swedish elimination match, and a marathon bloodbath between two fierce CIS rivals. Read on for details on every development from throughout the day, and a look into what we can expect further on in the tournament.
ADVERTISING:
El Clásico Returns - Na`Vi push to victory against the Swedes
It seemed the Ukranians had Alliance's number for this series, as they dealt with them pretty handily in a 2-0 victory, setting themsleves up for a WB Final clash between the winner of
Ninjas in Pyjamas*
vs.
Virtus.Pro*
. While it would be fairly easy to pin the results on what was arguably two outdrafts from Na`Vi, their perceptive play throughout the series and incredible aggression makes them seem like a real contender to go all the way and claim the
Dreamhack Summer
title, something they are yet to achieve in their long history.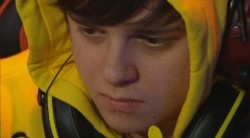 Funn1k was ready to Kick-Ass
"They punished us for every weakness we showed"
That was the reaction of Alliance's French Captain and Drafter
Sebastien '
7ckngMad
' Debs, as it was certain Na`Vi were on another level today. Na`Vi recognised Alliance's need to farm and play somewhat passively in both games and abused that as best they could. A last pick Broodmother for
Gleb '
Funn1k
' Lipatnikov meant Alliance had little room to farm, and were pushed onto Na`Vi's side of the map for the most part. They adapted fairly well to this, shutting down
Alexander '
XBOCT
' Dashkevich's Lycan, but the Roshan-taking capabilities of the hero meant he could catch up fairly well.
Ultimately it was Roshan that was Alliance's downfall, after an attempt to contest Na`Vi as they waited for the fourth Roshan of the game. They lost 4 heroes for their troubles, giving Nav`Vi an excuse to make a bee line for the Tier 3 and force out a GG call from Alliance just before 40 minutes.
Idk what happened to alliance, but their drafts are not good : S

— Artsiom Barshak (@Fnggshka) June 14, 2015
It seemed Game 2 could have been a similar affair, with Na`Vi claiming the dominant flavour-of-the-month heroes Lesharc and Gyrocopter, and a surprise fifth pick Chen for
Ivan '
Artstyle
' Antonov, which certainly punished the greed of an even more surprising Wraith King pick on Alliance's part. Towers fell left and right as all of Alliance's outer towers were down by 15 minutes, and the first barracks fell just two minutes later. Greed was definitely one weakness that got punished by Na`Vi, as
Wraith King's Midas
pick up left Alliance standing there helpless as Chen's army tore through their buildings, and then swiftly sent them to the
loser's bracket
.
Illidan and Friends bring the Storm to NiP

If one picture could perfectly sum up a series, it's this little screenshot. In both games,
Ilya '
Illidan Stormrage
' Pivtsaev was abolutely on fire, remaining deathless for the majority of the first game, and being there to turn around engagements time and time again on his Gyrocopter in Game 2.
His weaver in the first game was complimented by a great ganking force on his team, with the mobile Earthshaker and Rubick being there to follow up on cross-map Ice Blasts, leaving NiP with little space to breath. Fights were won all across the map for VP, with
big spell steals
from
Ilya '
Lil
' Ilyuk's Rubick turning fights; stolen Call Downs and Static Storms gave the Russians a huge damage advantage.
It only went downhill from the point NiP baited a suicide on Leshrac following a 5-man smoke through their own jungle, only being treated to a counter-gank from VP, resulting in the aforementioned Illidan
Ultra Kill
.

A confident Illidan gives his thoughts on what was certainly an easy series for him
Game 2 was equally successful for the carry player, and Lil was once again a key part of the team's success, with a
Tusk
being picked up, a hero we saw a lot recently in China's MarsTV Dota League, but less so in recent EU tournaments. The hero helped massively shut down
Linus '
Limmp
' Blomdin's Shadow Fiend, who even finished the game still
without a Mekansm
. Meanwhile farming more happily was
Artem '
fng
' Barshack, who had a
KDA of 0/0/0
on his Rubick until the last fight of the game, offering a single death to start things off.
Following yet another clean-up from Illidan, NiP had no choice but to concede, sending themselves to the lower bracket to face off against none other than fellow Swedes Alliance.
Both Swedes Struggle for Survival in today's first Elimination Match
The day's first elimination match couldn't have been a more suitable match up. On the Swedish stage of Dreamhack, the two native teams battled it out for a chance to remain in the competition and move onto the Lower Bracket Final against the loser of VP vs. Na`Vi.
The first game esentially centered around
Per Anders '
Pajkatt
' Olsson L.' Storm Spirit, who certainly enjoyed a game of two halves. Being forced into his jungle as early as minute 2, he was on the wrong side of 3 early kills. But thanks to insane amount of space being created from his team, mainly
Henrik '
AdmiralBulldog
' Ahnberg's Clockwerk, he could catch up and go absolutely ham later into the game, finishing with a
23/4/13 KDA
.

Pajkatt hoping he'll have just as much fun in Game 2
NiP taking Game 2 gives us the first 3-game BO3 so far today. While Alliance had the game under control for the first thirty minutes thanks to early presence largely from their Bristleback, Enigma and Clockwerk, following a bad fight at the 30 minute mark the gold lead changed hands for the first time. It all snowballed from there, with
Adrian '
Era
' Kryeziu taking control of much of the map thanks to his
Silver Edge
pickup, and NiP finishing the game over 30k gold in the driving seat.
In a turn we've rarely seen in the last few patches, it was
midases all around
in Game 3. In response to what was evidently a lineup set to stall their push, NiP picked up midases on both their supports as well as their offlane Earthshaker.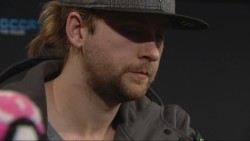 ESL One is next for a sad Loda
Jonathan '
Loda
' Berg's Naga Siren farmed fairly peacefully for the first part of the game, but eventually Era crashed his jungle party, scoring himself a triple kill in the process. Not much of any significane happened for the next 20 minutes, as both teams
farmed and pushed
where they could, with the occasional skirmish and pick off. After a steady run of ratting from Alliance, Loda suffered a
dieback
and eventually Era's Gyrocopter was too much for The TI3 Champions, who won't be returning to Seattle, or now to Day 3 of Dreamhack Summer.
A Tale of Two CISties - And a lot more kills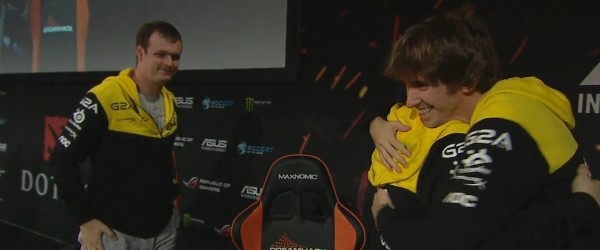 "Dendi-kun never hugs me like that"
Hugs were certainly needed all around in both camps after the marathon that was Game 1. Lasting a whole hour, something very unusual considering the aggressive nature of many CIS teams.
Artstyle found himself in the wrong base at min 4
Na`Vi's supports really set the game in motion, with
courier snipes
and successful rotations paving the way for
Danil '
Dendi
' Ishutin's DK to push down
multiple Tier 1 towers
early on. From the mid-game onwards, it was truly anyone's game, with the gold lead changing at the drop of a hat, and
Roshan
being the centerpiece for many a chaotic teamfight.
Eventually it was clear Na`Vi had the edge late game, with a set of back and forward fights ending, allowing Na`Vi to run rampant through the bottom lane, taking barracks and then swiftly onto the throne.
Game 2's draft would suggest it would be much shorter game.
Ivan '
Artstyle
' Antonov's signature Chen was picked up, as well as the Nyx Assassin that Funn1k all but popularised many patches ago. Proving his worth on the hero once again, Artstyle made rotation after rotation, shutting down
Sergey '
God
' Bragin's Leshrac heavily. With 9 kills in as many minutes, Na`Vi looked to repss their advantage, heading to the enemy jungle and starting to take towers.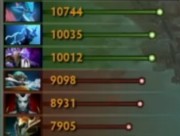 An electrifying performance
The mid-game was a lot more promising for VP, as they finally took some good trades while
defending the pushes
of Na`Vi. The Ukranian snowball had seemingly been
stopped dead in it's tracks
as VP's cores packed on the pressure.
Despite not playing a traditional carry (something he's certainly known for),
Ilya '
Illidan Stormrage
' Pivtsaev was on form on a
Razor
in Game 2, managing to frontline for VP and maul through Na`Vi's rugged high ground defences thanks to his
Agh's Scepter
. VP claimed mega creeps thanks to that, and the game soon after, as even Xboct's
Rapier purchase
couldn't hold off the onslaught.
Greed went much less punished in Game 3. A great start for Dendi's Shadow Fiend allowed him to open with a
Midas
pick up, and he teamed up with Xboct's Gyro accross the map to bring the pain down on VP. While kills weren't in their favour, Na`Vi were far ahead on gold, with Dendi having
4k
on the nearest VP hero at minute 20.
The first major teamfight of the game saw VP initially come out promisingly, until the ominous presence of Dendi arrived, cleaning them up and resulting in a
5-man wipe for Na`Vi
. Eventually Na`Vi's cores became too much to handle, and after multiple lost fights and lost towers, VP conceded the final game after
35 minutes
.
What's next?
Day 3 will see the conclusion of what has been an exciting tournament so far. Na`Vi of course secured themselves a place in the Grand Final, and will play the winner of NiP vs. VP, a repeat of the UB Semi-Final which VP won 2-0. With the Swedes having home advantage and plenty fo time to reflect, will they pull it out of the bag second time around, or will the might of CIS Dota reign on? Leave your thoughts in the comments.