PokerStars is the biggest online poker room in the world also holding numerous live tournaments. The company has recently got increasingly interested in streaming with some of their PokerStars Team Pro becoming regular streamers on twitch.tv. Now it appears that PokerStars is now showing interest in Dota 2 as they reached out to a handful of top Dota 2 players via Twitter to "take part in a project".
ADVERTISING: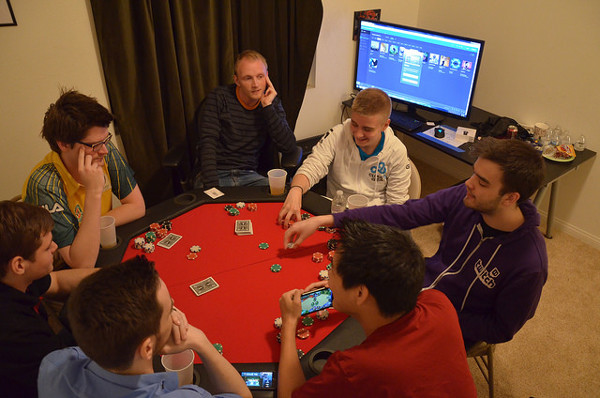 Misery and n0tail of Cloud9 playing at the Summit 3 (Image: BeyondTheSummit)
Gamers make good poker playersIt is commonly known that pro gamers make great poker players as the skills required in poker and gaming are very similar. One of the main examples is Bertrand "ElkY" Grospellier - a former StarCraft:Brood War pro gamer is now one of the most respected poker pros.PokerStars is the biggest online poker room in the world. In 2012 there were 50 million accounts registered and that number has probably grown tremendously already. They also hold numerous live poker tournaments across the whole world with the most famous being European Poker Tour.
What is more they not only sponsor a group of top professional poker players, "PokerStars Team Pro", but also a team of sport stars including the likes of Rafael Nadal, Ronaldo and Neymar Jr. PokerStars have used their sport stars to advertise very aggressively with multiple ads as well as a charity poker tournament including those celebrities.
PokerStars interest in streaming start relatively recently, with multiple PokerStars Pro Team members increasing their activity on twitch.tv, in particular American poker star
Jason "JCarver" Somerville
who has pioneered this way of presenting poker with his
Run It Up
series. Somerville also has his foot in the esports world through his
sponsorship with Razer
, one of their only "lifestyle" sponsorships.
Example of one PokerStars "project" with some familiar sports stars
So who have PokerStars approached? Well it appears that PokerStars has mainly approached top Dota 2 players including
Clement '
Puppey
' Ivanov,
Danil '
Dendi
' Ishutin,
Alexander '
XBOCT
' Dashkevich and
Wehsing '
SingSing
' Yuen through their 200K+ follower Twitter account to "to get involved in an upcoming project". What this project may be? It remains unknown but with the recent approach of PokerStars it is likely to include streaming.
@DendiBoss hi Danill, we would like to get you involved in our upcoming project, please DM us with an email address so we can tell you more!

— PokerStars (@PokerStars) May 18, 2015
PokerStars also reached out to SingSing, Puppey and XBOCT, all highly marketable players
Quite interesting is the fact that PokerStars has approached mostly CIS players (with SingSing being the only one not from the region). You can check out
@PokerStars
to see who have they contacted. It may suggest that they are looking to target strong gaming community from that region.