Queen of Pain is currently in the honeymoon period in 6.84, having been either picked or banned in EVERY single competitive 6.84 match to date. There have been a total of 55 matches since the patch was released onto the main client last Friday, with QoP banned in 67% of them, while Lina is the most picked hero. Find out which other heroes are proving popular in the new patch inside.
ADVERTISING: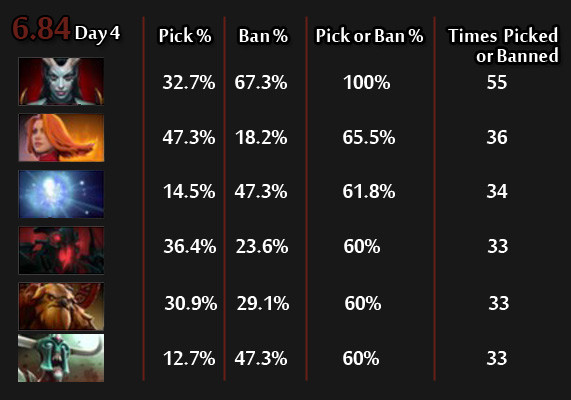 6.84: Earthshaker and Io remain popular, Undying making a comeback?
Heroes on the rise
Dragon Knight
(+30.4% pick rate)
Gyrocopter
(+23.3% pick rate)
Invoker
(19.6% pick rate)
Centaur
(17.7% pick rate)
Beastmaster
(14.6% pick rate)
We're only just hitting day five of patch 6.84, but Queen of Pain is currently the most hated hero of all. With lane creeps bounty decreased by 7% and hero kills worth 10% more in 6.84, the days of the roaming supports are back more than ever.
Ahead of the patch release some expected heroes that have spells or abilities that allow them to escape from a sticky situation or at least more likely to survive ganks to be on the rise. Lina, Queen of Pain and Shadow Fiend all feature in the top 6 so far for this patch, but all three of the heroes were already on the rise in 6.83, so how much of their popularity is down to 6.84 is hard to gauge.
The increased focus on roaming has also resulted in increased popularity of heroes that function well in that role, with Io and Earthshaker - who were also both popular in 6.83, finding themselves in the top five most picked and banned heroes so far. Earthshaker was one of the very few heroes to not receive changes in 6.84, and is currently ranked 5th in the pro scene usage statistics, primarily due to his effectiveness as a roaming ganker in conjunction with his long ranged stun and block.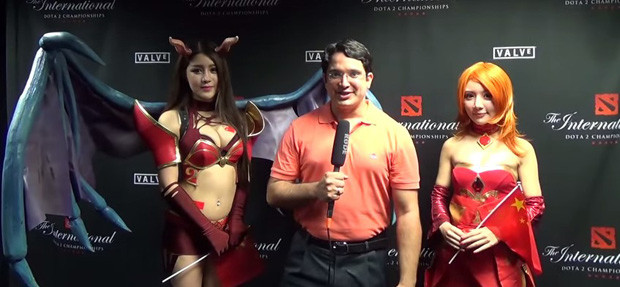 In 6.84 so far Queen of Pain is most banned and Lina most picked. (Image:
LordNod
)
Meanwhile, the change to Undying's Tombstone, which resulted in area of effect spells no longer being able kill all the zombies, has seen him banned in almost half of the competitive matches so far.
Troll Warlord and Sniper nerfs affect popularity
As for firm favourites at the end of 6.83, Troll and Sniper, their lives in the spotlight may well be over. Troll a popular hero at the end of the last patch, has seen his popularity plummet and is currently ranked 57th in hero pick/ban data on
datdota
, having been picked only twice in the 55 matches so far, the same with Sniper (43rd).
Their fall in popularity can be heavily atrributed to the nerfs both heroes received. Sniper had the recharge time and delay of Shrapnel increased, as well as the spell no longer giving vision instantly. As for Troll Warlord, his Berserker's Rage no longer gives an additional +15 damage, and changes to the amount of vision Whirling Axes provides has affected his potential lane dominance.
It's only just the beginning of 6.84, but the new patch has definitely brought with some new faces to the battlefield, with Dragon Knight, Beastmaster and Gyrocopter also making a comeback (pick rate increase above). With D2CL LAN finals and Redbull Battlegrounds both taking place this weekend, will the current hero trends survive?
Are you seeing the same heroes in your pub games?