As mentioned in our PanDa.DotA disbandment news, joinDOTA has received insiders regarding the return of
EHOME to the Dota scene. Just moments ago, EHOME has announced on their microblog that they have indeed returned and will be looking to sponsor two teams, WC3 DotA and Dota 2.
ADVERTISING:
At present time, EHOME has not announced who they will be picking up yet. However, with the recent disbandment and reformation of various Chinese teams, we as the viewers can only speculate what EHOME will cook up with all the free agents available.
Literal translation of EHOME's microblog post:
EHOME Esports Club officially start our Dota project. Come and join us! A brand new EHOME, Good Luck 2012!
One of the many rumours flying around will be the return of
Yi Tian
'820'
Zou who disclosed his desire to compete in The International this year. Nothing much has been heard from 820 since.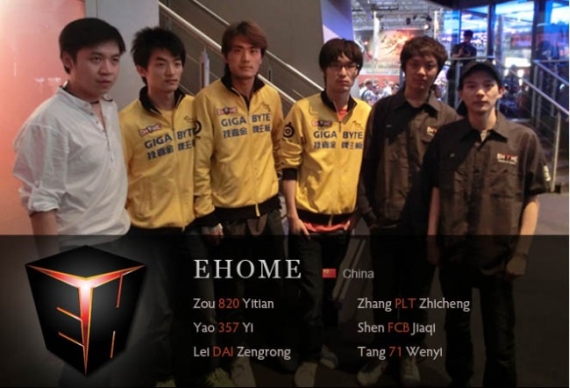 The ex-EHOME squad in The International 2011.
EHOME DotA is one of the longest standing clans around. EHOME, spearheaded by 820 placed second in two of the biggest Dota 2 LAN tournaments last year prior to their disbandment.
Most of EHOME's ex-members,
Zeng Rong
'Dai'
Lei,
Jia Qi
'Crystal'
Shen and
Yi
'357'
Yao are currently playing under
Canis Lupus Campestris.
Stay tuned to joinDOTA as we bring you more update on EHOME's new Dota squad. Meanwhile, you little lunatics can discuss who do you think EHOME will pick up in the comments section down below.