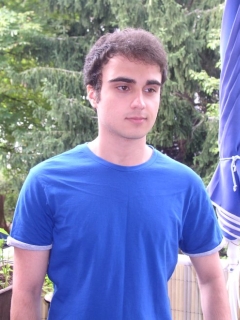 Kuro 'KuroKy' Salehi Takhasomi has been an icon of the European Dota scene for years now. Rose as a star carry during the old Mousesports days, the German player quickly found himself head-hunted by some of the bigger teams of the era. KuroKy moved on from Mousesports to play with his good friend,
Clement 'Puppey' Ivanov in Ks.International, briefly for MYM, and later on in GGNet.

KuroKy was not satisfied with the performance of his new teams as they met failure after failure. However, he had not lost hope for competitive Dota. He decided to join some of his German mates in Panzer but that soon fell apart too. Since then, we have not heard much from KuroKy and many are questioning if he will ever return to the competitive scene.

Today, joinDOTA have a treat for you as we managed to score an interview with KuroKy. In this interview, KuroKy talked about why he is not back to the scene and various other strategic insights. Being a man of few words, KuroKy elaborated on how the famous push strat is not part of the meta-game but rather the creation of the engine itself.
ADVERTISING:
Hello Kuro. It has been a while since you were interviewed anywhere at all. How have you been doing?
Hi, I'm doing good. Thanks.
We have not seen you playing competitively for a while now. Being a player of your calibre, why have you not join a team yet?
Realistically, all teams besides Na'Vi don't provide the skill level I am interested in. I'm not looking for some top eight placements.
In one of our interviews recently, Puppey gave a shoutout to you at the end of the interview. What do you think of his team Na'Vi of late and what do you think makes them stand-out among all the other teams?
Most of their players consist of people who has played this game for more than six years, LightofHeaven, Smile, Puppey, and Dendi played competitive Dota ever since competitive Dota was born. Puppey and Light have been leading teams for ages, so they have all knowledge and individual skill they need. The other important part is commitment, which they are all willing to commit.
During the start of The Premier League, your team, 10,000th, and Ariana (then known as Panzer) both joined the tournament and ended up having to stand in for each other most of the time. What was that whole fiasco?
The organizers invited us four months prior the start of the tournament by the time the tournament starts, we already gave up to inactivity. Miracle, Azen, and me just wanted to play as a mix but we finally decided to jump off when the organizers suggested to replace us and we knew that we do not deserve this spot. We were just a mix, so we gave in.
Are you saying the The Premier League organizer pressured your team into withdrawing the tournament? Do you think that is right?
No they didn't. They gave me a lot of time to consider my choice. So, its fine.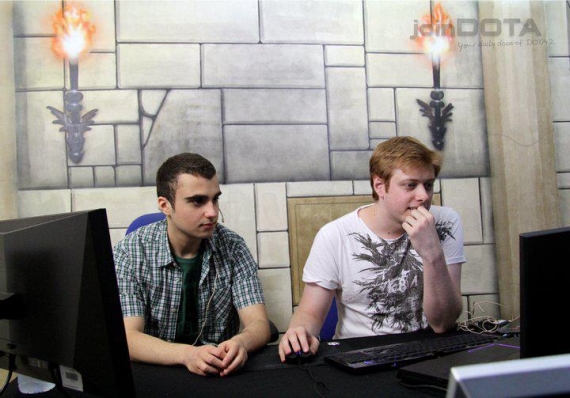 KuroKy and Tobi Wan in joinDOTA studios
Are there plans to build another team such as 10,000th with some of the German or European free agents such as your former GGnet teammate, Kevin 'kev' Stegeman?
No, not for now.
A few weeks ago, German company Ariana, picked up PANZER. Just two weeks after that, the team disbanded. What was that all about?
I'm not too sure, they lacked a fifth player I guess.
Is that the only reason? Couldn't they find another player? There are a lot of German players a round.
The mentality of "just substitute x player or get y player" is too simple minded. A lot of factors are important for a rhytmic, harmonizing team. So no, they couldn't find another player.
How do you think the formation and the quick disbandment of Ariana may reflect on for the whole German scene as a whole? I mean wouldn't it turn off future sponsors in your region?
No it won't. It's a narrow-minded vision to think like that. If a sponsor wants to support a team, they will. As long as they are successful.
What do you think is wrong with German competitive Dota scene?
We don't like to pay the price for victory; In other words, we will never commit on the same level CIS and Asian teams can. That's the western lifestyle I guess
Have you been playing a lot lately or perhaps watching a lot of tournament live streams?
I'm watching streams from time to time, like The Defense final. I'm playing approximately 0-2 games per day or otherwise I would be streaming.
Were you rooting for Na'Vi during the grand final of The Defense?
Of course. I'm good friends with them. Besides that, its natural for me to root for Puppey all the way.
Na'Vi loves to pull one of those early push strat. Do you think that is the best strat to go for in this meta-game?
Push is most viable in Dota 2 because of the engine and not "meta game".
What do you mean by that? Care to elaborate?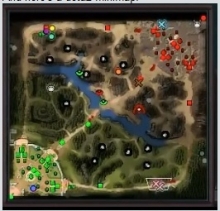 Comparing DotA and Dota 2, DotA has the quality that every click, move, and action changes the game drastically as you have full control over your hero. This creates more dimensions between the interaction of heroes within split seconds. This create a much bigger skill gap. Every move has to be well thought out and as you act fast in DotA, your movement has to be clear in order to succeed your intended action. Dota 2 is simply right clicking towers and heroes due to smaller map, better animations and much easier pathing. So, the skill level is lowered drastically. I won't deny that there still is alot of profundity in the game.. at first I thought it was just me, but after confirming this with puppey and following the results of the DotA2 tournaments, it became obvious
In DotA, you had 2-4 teams for 4 years who never really got upset in tournaments, while Dota 2 has alot of random factors and easy-style going on, thus making it harder to predict results.. I know I might get shitstormed for saying that, but competitive players denying this fact are simply liars or never understood DotA.
[b]So are you saying the strat will never change in Dota 2? Considering the push strat viability is due to the game and not the hero changes etc.
[/b]
It depends how the game mechanics change. It's still a beta game.
Assuming that it doesn't, are you saying there will be no way?
Assuming that some heroes like Sylla, Lycan and Panda are coming soon, you shouldn't get your hopes high. Besides that, you shouldn't misunderstand me. I don't care if it is push or whatever 'metagame', it's the fact how the engine forces you to play this way is very noticeable.
If you can instruct Valve to change the game and engine in response to this, what would you like to see changed?
I'm not a game creator, they are. I like Dota 2 either way.
We are in 2012 now which is suppose to be a big year for Dota 2. What are your plans for it?
no plans, I will act like water and keep listening to my feelings for now.
Will I be seeing you in The International 2 this year?
I don't know. It's my desire to attend, but I have to stay realistic too.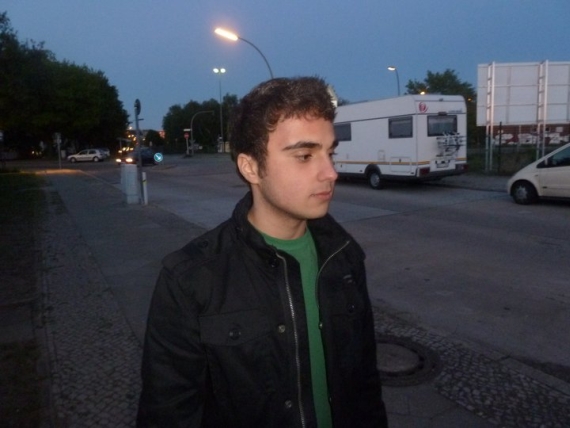 Lonely KuroKy. Will he find a team in time for The International 2?
A lot of professional players have started livestreaming their games be it scrims or pubs. Do you think that is a good thing or bad thing? Considering they are letting their opponents see their PoV.
I think it's fun, why not? Every player has certain patterns in their style. You don't need to watch their PoV to understand.
You mentioned earlier that if you have played more games, you would be streaming some of your games? Will we be seeing you doing that anytime soon though?
Not for now.
Professional players also tend to change their nick when playing public games. Do you do that too?
Yes I prefer to play undetected.
What would you say to some members of the community who said you are not as good you used to be?
No need to explain yourself to anyone because the person who likes you doesn't need it and the person who dislikes you won't believe it.
The age old question, will we see you back in action soon enough?
Unfortunately, not anytime soon.
[b]Well we wish you all the best. We have reached the end of the interview. Would you like to give a shoutout to all your fans in joinDOTA?
[/b]
Sorry for my absence, if anyone still follows my actions - thanks for any kind of support. It is much appreciated. Shoutout to my dear friend Min-Sik, my German friends and everybody who took time to read this interview.