Earlier today,
Team Redemption* just received disheartening news from Valve confirming that the team has been banned from any future events hosted by the publisher. This cuts the dream of representing their country at the biggest Dota 2 tournament short for the Malaysians, and on top of that will most likely influence other invitations as well.
ADVERTISING: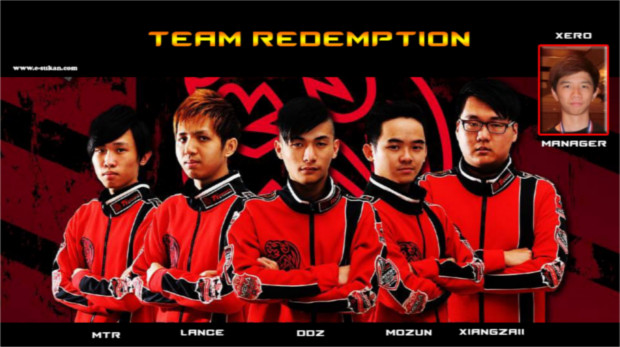 The ban is a result of the infamous match fixing scandal all the way back in October, where the team (at the time
Arrow Gaming*
), had bet against themselves during a match versus
Can't Say Wips*
. The discovery of this initially led to the team denying the accusations as well as forging evidence to prove their innocence, but eventually resulted in the apologies of both
Kok '
ddz
' Yi Liong and
Fua '
Lance
' Hsien Wan, resulting in a lifetime ban from
Synergy League
.
Even as they reshuffled their roster as
Team Redemption*
in the hopes of rebuilding their image, it doesn't seem Valve will be giving them a second chance. Valve's lifetime ban will prevent the team from participating at this year's and any subsequent Internationals, as well as any other future tournaments Valve may host, such as the Dota 2 Asian Championship.
Statement from team manager
Teng '
Xero
' Dawei on their
Facebook
page.


Upon hearing this news, I've had a chat with the players to discuss our future. Despite the initial shock and disappointment, they've steadied themselves and told me that they will continue playing, as their passion for the game cannot be measured. This reply humbled but assured me that the boys have matured, even by a small extent. Therefore, Team Redemption will continue fighting as before. Potential sponsors will of course be notified of our status, as we seek to be transparent in our dealings. Thank you once again for supporting us. #trfighting"
"Our chances on another shot at The International was an enigma before, but we've finally received news from Valve themselves. It is with a heavy heart to inform that Team Redemption - or in this case, the players consisting of DDz, XiangZaii, MoZun, MtR and Lance will not be participating in any future events hosted by Valve. This message was received directly from Valve, which essentially means that we will not be participating in The International.
Although the decision may seem harsh to some, hopefully it'll prevent any more match fixing scandals from happening in the future.
Do you think Valve's decision was too harsh?