A new interview with Danil "

Dendi

" Ishutin at the Major All Stars tournament reveal details about the squads status without Vanskor, Dendi's thoughts on professional matchmaking, as well as sharing some information about the International DotA Elite Community which allows top European players to train and practise as part of an exclusive club.
ADVERTISING:
Dendi at Malaysia All-Stars (with Eng subs)
The Ukrainian mid was first asked about the absence of Ivan "
Vanskor
" SkorokhodVanskor, Na'vi's position 4, who did not attend the MAS LAN event. "He said he didn't want to go. And we said: 'Ok. What can we do?'" said Dendi. "He forces us to play Dota alot, to jog in the morning, to do sports. That's what he is. He presses us toughly. And this time he said he wouldn't go. He told us we must take yol and win the tournament."
"We arranged a Mortal Combat ring: ZeroGravity vs Sneg1. Zero won"
The interview also highlighted details about Na'vi's new offlaner— Alexander "
DkPhobos
" Kucheri, who joined the team from ASUS Polar in a surprise decision which left the Virtus Pro CEO Sneg1 unhappy about
the manner of his departure
.
Dendi joked about the drama of the new player's acquisition saying "We arranged a Mortal Combat ring: ZeroGravity vs Sneg1. Zero won." Jokes aside, Dendi said "Everything was rightful", referring to the fact that the player was transferred with all the terms of the original contract, but that Dendi was "not aware of the process and details".
Although despite the new addition, Dendi says the team hasn't had the time to practice: "We haven't trained together either. We didn't have time. We'd just gathered together."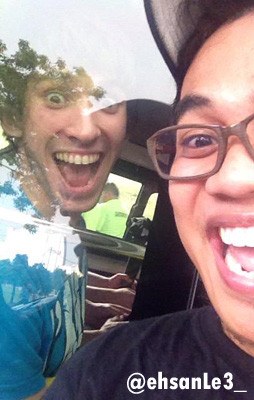 Dendi with a fan at MAS
Dendi was then quizzed about IDEC (International DotA Elite Community), a league on the XDL-client. "There are about 120-130 players, mostly European's top players of professional teams."
"It is very pleasant to play there because everyone has a notion of how to play the game as opposed to match-making where people mostly don't understand a thing. (...) The games are much like real games, official matches or clan wars."
Dendi also gave his thoughts on the idea of a Valve-implemented "special ladder" only for pro players, similar to what Blizzard created in Starcraft2.
"Valve tries to be fair to everyone." said Dendi. "And such a thing wouldn't be fair, because it's not clear how could others get there. It is not clear how to make the choice, how to refuse, whom you'd let in, whom you'd not." Dendi gave the example of the system used in IDEC.
"We are 120 players in the league, and we decide amongst ourselves within the league. Whom to invite, whether to let the person in or not is subject to voting or similar things." said Dendi. "How would Valve do it? I think they want to be fair to everyone, and that's why they don't make such things."
Dendi said a public ladder can work but "match-making in the form of a rating (MMR) doesn't depict the skill at all." Dendi explains that a player with 7000 MMR "might play awfully or be incapable of playing Dota at all."
Dendi was interviewed by his own team during the Malaysia All-Stars, which you can follow details of
here
.