With perrenial crowd favourites
NaVi the first team to be eliminated from the ESL One NY LAN finals, the next series saw their American counterparts
NaVi.US attempt to upset the book keepers and take down the new, allstar lineup of
Secret Team, who entered the series riding the momentum of a long winning streak, with only 4 losses in their 21 games as a team. With the panelists reaching close to a consensus on their prediction of a 2:0 victory to Secret, NaVi.US were the clear underdogs.
ADVERTISING:
Game 1
Game 1 kicked off with NaVi.US first banning
Johan 'BigDaddy' Sundstein's infamous Wisp, along with the popular Brewmaster. Secret began by banning out the equally popular Skywrath Mage, as well as the Death Prophet, which is the highest win rate hero for both teams and was extremely likely to be seen as either first pick or ban in this series. The Razor first pick by NaVi.US was no great surprise, being one of the most popular heroes in the current meta. Secret started off their draft by picking up the Earth Shaker for BigDaddy, which Maelk highlighted as one of his most dangerous heroes before the match. NaVi.US also showed respect to
Kuro 'KuroKy' Takhasomi's new role as carry, banning out hard farmers in the Anti Mage and Phantom Assasin, only to have Medusa picked up.
The game got off to a somewhat promising start for NaVi.US who were able to pick off
Gustav 's4' Magnusson's signature Magnus at mid. Unfortunately it was followed up by Secret picking up 2 kills in return on either side of the map, which set the pace for the rest of the game.
Tal 'Simbaaa' Aizik's offlane Timbersaw wreaked havoc on the safe trilane of NaVi.US, effectively shutting down
JingJun 'Sneyking' Wu's Faceless Void, which was 5 deaths down by 17 minutes after being constantly picked off across the map.
Kuroky calls out his former organisation before the first match
The hyper aggressive play style of Secret kept NaVi.US contantly on their toes, forcing supports to rotate to deal with S4 and Simbaa, leaving Kuroky to free farm at bottom. With his farm unchecked he was able to acquire an incredibly early Helm of the Dominator and Yasha. However, Kuroky's Medusa never really got the chance to flex his muscles due to the dominant play from the rest of his team, which shut down NaVi.US so effectively that it resulted in them calling the GG at the 25 minute mark, shortly after Kuroky first displayed his ridiculously early third-item Eye of Skadi.
Game 2
NaVi.US began by banning out the Wisp again, with Secret picking up the Earth Shaker again for BigDaddy in lieu of his signature hero. Secret again banned out the Skywrath but then banned the Centaur Warrunner in order to let through S4's dominant Death Prophet, which they grabbed as first pick. Similarly NaVi.US let through the Brewmaster to be picked up first and played by
Steven 'Korok' Ashworth.
The game started off with a much slower pace than the first, with some back and forth between the two squads that neither team was able to convert into the kind of early kills that marked the first showing in the series. NaVi.US definitely looked like a stronger team as the game transitioned from the laning phase into the early game, again picking up the first blood on S4 in the mid lane with a rotation from both their supports. Unfortunately for them, Secret again came back with good rotations from the Earth Shaker and Nature's Prophet to claim 2 kills in return. In contrast with the first game, NaVi.US managed to maintain a stronger presence going into the mid game, largely due to some superb play from Korok's Brewmaster and
Sam 'Bulba' Sosale's Clockwerk, who secured some clutch kills with his skillshot hooks.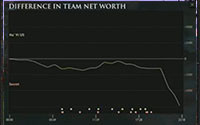 The graphs tell the whole story
Despite managing to find trades whenever they were ganked, NaVi.US were still on their backfoot as the mid game got going, due to their draft having significantly less late game presence than that of Secret, and Kuroky and S4 starting to pull ahead in net worth. This was due to their supports maintaining solid map control and the nature's prophet doing an excellent job of aggressivley split pushing across the lanes. The graphs remained relatively stable towards the 20 minute mark however, and NaVi.US were by no means out of the running with Korok's Brewmaster still finding good farm. The clutch moment that turned the tide against NaVi.US came at the Rosh pit, as they squared up and prepared to engage Secret as Roshan's health dropped low. Unfortunately, in keeping with the technical difficulties that have plagued the ESL One LAN finals so far, Sneyking disconnected as he entered the pit, resulting in an almost comical pause with Roshan a few hits from death. It is hard to say how much this affected the outcome of the fight that came afterwards, but what can be said is that Secret decisively won the teamfight, taking both the Aegis for s4's Death Prophet and exchanging 3 kills for none.
This fight immediately placed Kuroky and s4 into the lead networth positions and showed up as a massive swing in the gold and xp graphs that marked the start of a decline that NaVi.US were unable to recover from. They appeared to fall apart to some extent, getting picked off across the map and quickly losing territory and farming space. With Secret seemingly reinvigorated by the Roshan fight and NaVi.US looking less coordinated than they had been just 5 minutes earlier it was a quick descent into the 30 minute GG call from NaVi.US, who recognised that they had lost what little advantage they had just as Secret's lineup began to really come online.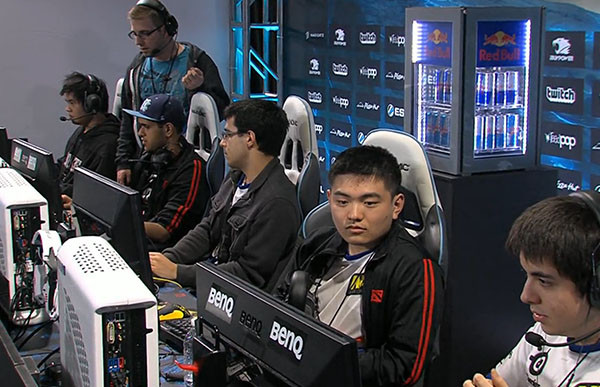 NaVi.US ultimately couldn't hold out against Secret's dominant play
All in all it was a great series to watch, with NaVi.US showing in game 2 that they could definitely compete with Secret when they were at their best. Ultimately though, Team Secret were clearly the dominant team, fully justifying their 90% odds to win in the betting circles. With one more team knocked out of the running for the grand prize at ESL One NY, Secret have proved themselves in the LAN arena to be a serious threat to the other contenders in this tournament.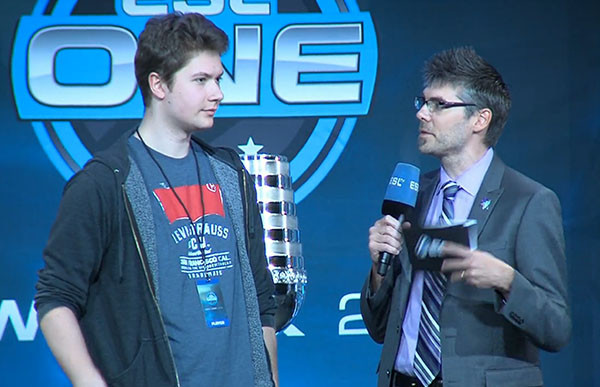 Puppey gives a post-win interview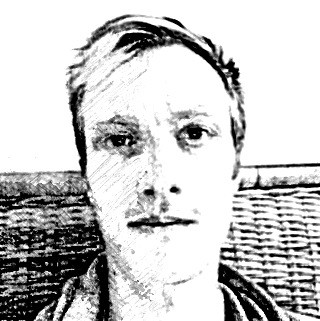 This article was written by
Tristan Willis, joinDOTA's Writer. 3ntr0py has been playing computer games since the Warcraft 1 days, and has been in and out of the Dota scene since Allstars. He now divides his time between studying anthropology, writing things, and playing the occasional game of DoTA, or seven.Location: London, United KingdomFollow him on @3ntropyDota.