Three DotA enthusiasts decided to sponsor talented rookies by providing them with a fully furnished gaming house located in New York City and a $1000/month salary among other things.
The roster mainly includes the shining stars of Pretty Boy Swag that dominated the American Fall League.
ADVERTISING:

The team is still undecided on its Logo, vote for your choice here
We strongly believe that these are five of the most promising young players in the American Dota scene today, and given how much success they've had even without an official sponsor, we believe that they have the potential to become a top-tier team with practice and dedication.
-Team eHug Management
Earlier today the sponsors announced on Reddit their final choice for the roster and also said that the team would begin playing under the new name by mid-January. The Dota community on reddit helped them choose these new players when they posted "
We're three good guys who love Dota and want to create a pro team that will treat its players right. Help us!
"
The roster features 4 players from Pretty Boy Swag and Pandaego from Take Five, the team that managed to surprisingly beat Evil Geniuses at the EMS One American Qualifiers.

Jason 'sleisel' Kim

The Captain and hard carry of the team seems to have ample practice on Pudge and Storm Spirit in pubmatches, professionally he showed considerable skill in his Clinkz, Sven and Faceless Void plays.


Alan 'RyuUboruZ' Andersen

Will probably be playing the 2 position in the team as he did in PBS, his professional portfolio shows impressive stats on his 4 undefeated games with Viper and a 66.7% winrate on Juggernaut.



Clay 'Cak3z' Winkler

He specialises in support and utility and mainly played Clockwerk, Dark Seer and Bounty Hunter in his professional encounters.




Donal 'ima_sheep' Cheung

He will also be playing a support and utility role for the team. Professionaly he played best on Abaddon and Visage while also dabbling with Rubick.




Jared 'Pandaego' Fletcher

This jack of all trades will most likely play the 5 role position of pure support. He has only played 10 professional matches but with 931 pub matches under his belt, he is well versed in almost all the heroes of Dota 2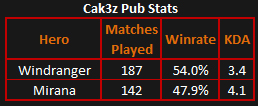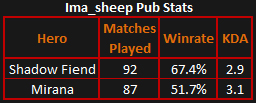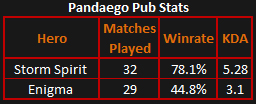 Do you think this team has a promising future?