Blending in with the Russians, a comical YouTube video featuring a Russian begging his Keeper of the Light ally to "giff" him mana has over 1 million views, making it one of the most popular DOTA2 videos, EVER. We caught up with its creator, British 21-year old Business college graduate, Jed Hatton. We also have a

T-shirt give-away

inside!
ADVERTISING: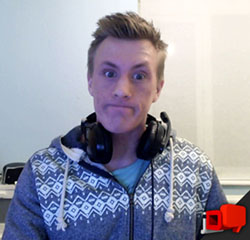 Hatton looking respectable (his own words)
Malystryx: So first of all what do you do in the real world, and how did you end up making videos?
Hatton:
I'm currently inbetween jobs but I sort of treat my YouTube as my job at this point. I ended up making videos after being inspired from some CS:S content way back around 2-3 years ago. I finished my college course in Business and decided to take a year out before heading to university.
I was planning on studying graphic design but my year off has slowly turned into a lot more! In the beginning I just wanted to create informative content for people who were new to Counter Strike. With the sudden release of CS:GO my channel kind of sky rocketed. I do consider it a business and there's still a lot more I can do with the channel.
Malystryx:I think the first unique video of DOTA you made involved you playing with your two brothers (
video here
). 19 minutes into the game one of your brothers was complaining "I've only got one power" then your other brother tells him "level up you spastic". I especially liked when you asked your brother to auto-attack to which he replied "I don't have auto". Is that when you realised the potential for comedy DOTA2 videos after the success of that video?
Hatton:
Yeah definitely. Dota was something I've always messed around with and I was cautious at first to upload that kind of content to my channel but they do suprisingly well and are good fun to make.
Malystryx: Despite your success with DOTA2 videos, you still spend more time on CS:GO, even though the DOTA2 videos are infinitely more popular. Is it a case of not having enough material for a new DOTA2 video? If the aim of your channel is to get as many views and traction as possible, why do you persist with CS:GO?
Hatton:
The thing with the Dota 2 videos is that they are so situational. It's sometimes hard to pull funny moments out of a game when nobody is giving you a reaction. That, and the fact that I have some sort of loyalty towards my CS:GO viewers. It's what the channel was started on and I know the game so well that creating consistent content is quite easy.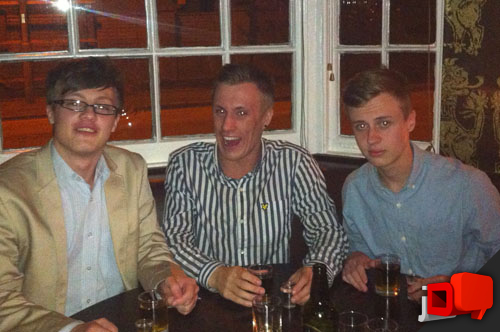 Jed (middle) with his two brothers replenishing their bottles
Malystryx: For me personally, I found the Fails of the Week series by DOTACinema losing some of its appeal because it seems to be a struggle for them to find new "moments". Is that the same with your DOTA2 videos, you make them for a bit of fun but to make them consistently would be a huge struggle?
Hatton:
Yeah for sure. I think what makes a good fail video is the reactions of the players, mostly over voice chat. It's very rare that it happens but when it does it's usually comedy gold. So yeah, having the pressure of consistently recording, editing and uploading that kind of content in a timely manner would be a huge struggle.
Malystryx: Many of your videos are quite trollish. I've never met so many ridiculous people as you have. Are all of the videos real or are some of them staged?
Hatton:
All of them are real which is partly why there are so few. It's probably one out of every 10 games of Dota I play that ridiculous things happen and I do my best to record it. I read all the comments on my videos and it's quite sad to see people think they are staged.
Blending in with the Russians
Let's talk a bit about Blending in with the Russians, its now got over 1 million views. How did that video come into being, why do you think that video in particular was so popular and more importantly was that really his voice?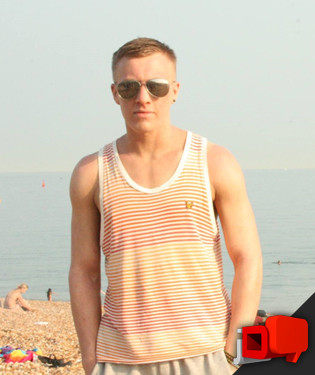 Jed Hatton - Creator of Giff Me Mana
Hatton:
This video was purely by chance! I think it became so popular because a lot of my viewers could relate to it. Luckily I got matched with the right people at the right time. If it wasnt for Russians with microphones the video wouldn't be half as funny; so a big thank you to them!
The Dota2 Extreme Rage video (
Watch here
) was amusing for a minute or so but after that I started to feel sorry for the poor girl. Do you ever consider you might have been pushing the limits and turning into an e-bully? Why not take it offline?
Hatton:
I think to call me an e-bully is a bit too harsh. I was trying to make the best out of a bad situation. Unfortunately, I missed the first half of the recording when she was flaming us for a few legitimate pings. I don't think that people who rage and talk as vile as she did deserve being felt sorry for. In hindsight I think we both went over the top!
Malystryx: Which other videos do you particularly like?
Hatton:
"Anti mage calls a magic shop" (
video here
) was really fun to make. The guy on the other end took the joke really well.
Malystryx: You mean that was really a magic shop?
Hatton:
That's the funny thing, it was legit! They are just a local magic shop that I pulled out from Google, the guy was clearly bored and had a bit of banter. This is their
website
and I believe they featured the video on there somewhere.
Antimage Calls a Magic Shop

Hatton's video
featured on the Magic Shop's official twitter
Malystryx: So following the success of your videos you also launched a t-shirt version of "GIFF ME MANA", is this because you needed a way to supplement your income? Do you think its possible for someone to earn a steady income just by making DOTA2 videos?
Hatton:
The "GIFF ME MANA" tee shirt helps fans to support me and the channel whilst still getting something in return. The commission I get on the t-shirts are fairly low as I want to keep the prices down to an absolute minimum but every sale really does help. I think it's possible for someone to earn a steady income from just DOTA 2 videos but only if the content they create is consistent as well as unique which is a pretty tough combination to keep up.
Malystryx: Almost all your videos about DOTA2 were popular, is it beginner's luck? What tips would you give to aspiring youtubers?
Hatton:
Just be strict. Hold yourself to a high standard when creating videos; only put something out when you are happy with it and not because you feel the need to upload more. I'd go for quality over quantity any day of the week.
Malystryx: What do you think of user-created video production in our scene at the moment. Which contributors do you really love and what do you think is still missing?
Hatton:
I think it's at a point where there is a fair bit of variety. The balance between comedy and informative content is pretty good. One of the first channels I started watching back in beta was Dota Cinema and I'm pretty sure they are now the largest Dota 2 channel. Other channels I enjoy watching are; DOTA POOP, Pyrion Flax, Nigma, haveluckgoodfun, Purge Gamers and of course joinDOTA. I'm not sure what is still missing but I'm content with all the channels I watch at the moment.
Malystryx: Finally, how would you describe your videos to someone who has never watched them?
Hatton:
I know these aren't sentences but hey - Funny. Controversial. Unique.
--------------------------------------------------------------------------------------------------
Competition: Win Free Giff Me Mana T-shirts!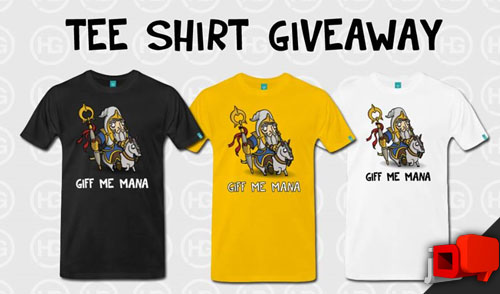 Visit Giff Me Mana Store
As part of this feature, I convinced Hatton to give away three Giff Me Mana t-shirts to our readers. In order to have a chance of winning one of the t-shirts, simply reply to this news item and answer the question: "
How did Giff Me Mana change your life?
" in 150 words or less. No swear words guys and only one comment per user.
We'll choose the three most entertaining and creative answers, each of which will receive a T-Shirt in a colour and size of their choice! (remember it's just for fun)
Support HattonGames Twitter:
@HattonGames
Facebook:
HattonGames
Website:
HattonGames.com