Being the first to announce their roster change after The International, Virtus.Pro are also the first to announce their brand new roster. In an interesting move,
Sergey 'Ars-Art' Revin have been left removed from the team, leaving him a free agent. This means that
Yaroslav 'NS' Kuznecov is the last remaining player from the previous line up.
ADVERTISING: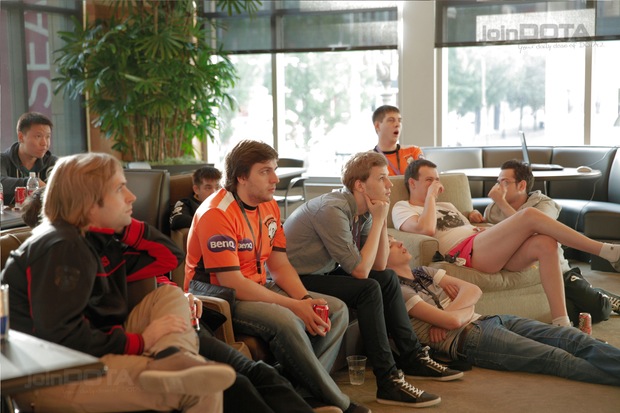 New CIS superstar team is formed
As reported previously,
Dmitriy '
LightOfHeaven
' Kupriyanov
will be joining up
with the bears of Virtus.Pro after taking a short break from competitive play when his previous team, Team Empire lost in the early rounds of The International Western Qualifier. LightOfHeaven was part of the Russian casting team during The International.
Artur '
Goblak
' Kostenko, the former captain of
Quantic Gaming
will join up with Virtus.Pro as well. Despite being unable to win the Wildcard match against RattleSnake, Goblak's wealth of knowledge in the game and his unorthodox ideas will surely be a big asset to the team.
Having spent the majority of the year in China,
Sergey '
God
' Bragin will once again return to Russia and play under a team with a common language and culture. Aside from being a highly skilled solo mid player, his experience gathered during his time in China is sure to greatly benefit the team.
Finally, to finish off the roster, Virtus.Pro has enlisted the help of former iCCup solo mid player,
Roman '
Resolut1on
' Fominok. However due to the team housing two solo mid players, either God or Resolution would have to make a role change for the betterment of the team.
Statement from
Yaroslav '
NS
' Kuznecov:
Sergey '
Ars-Art
' Revin. Our friendly relationship is not the only reason, as he brought a lot to our team and was playing brilliantly. Changes are rarely easy and pleasant, but often times you have to make sacrifices and tough decisions. Decisions are made jointly with others and our team made a choice.
If we leave sad news behind and move on to the good news, I would like to say that I am incredibly happy with our new roster, as all of us are ready to work hard! I haven't played with such experienced players and such a strong captain for a while now, moreover I haven't seen such a confident and selfless young player (Reso1ution) for a long time. It is great that we have joined all together! I hope that we will succeed and will treat our fans with great games and beautiful victories!
It is not easy for me to part ways with
Artur '
Goblak
' Kostenko (Captain)
Roman '
Resolut1on
' Fominok
Yaroslav '
NS
' Kuznecov
Sergey '
God
' Bragin
Dmitriy '
LightOfHeaven
' Kupriyanov