Confirming the expectations of many insides,
Team Dignitas have just announced that they are releasing
JingJun 'Sneyking' Wu, the teams solo mid player, without commenting on who his possible future replacement might be.
ADVERTISING: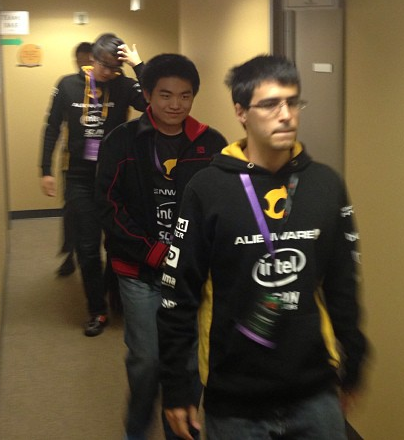 Sneyking walking behind Fogged as Dignitas head onto the big stage at TI3.
Photo via Valve's Dota2TI Instagram feed.
Sneyking
previously left Dignitas
right before New Year's Eve 2012 due to his studies conflicting with practice schedules, only to
return to the fold
three months later. His latest stint has been just shy of five months long, in which he has at times been one of the hottest solo mids on the Western scene, and at times gambling and coming up short, a unstable influence in a team which otherwise has tried hard to be a more solid and measured presence in the North American scene. This conflict is now the reason for Sneyking's release from the team.
It's no surprise to anyone that the North American scene is looking to change up quite a bit over the coming months, and the team has also commented on this, saying that for the time being no decisions have been made and nobody else has left the team. There is also no word as of yet on who will be Sneyking's replacement, if
Ioannis '
Fogged
' Loucas will return to mid or if he will continue as a support player for the squad.
The following statement was issued by Manager
Charlie '
Monolith
' Yang:


He has grown considerably since his days playing Heroes of Newerth and being lectured by swindlemelonzz (I'm sure someone from Reddit will be kind enough to link the video) and his issues with attitude are more complicated and less black and white than he is judged for. However Sneyking, like many players, still has room to grow and for the coming year, the growth will not be with Team Dignitas. We wish him the best of luck in his future endeavors and hope that this experience has contributed positively to his journey not just as a player, but as a person.

As for the rest of the team, they are still retained with us. Yes, the Great North American Roster Shuffle is making its way upon us all, but the rest of our roster has not changed and no final decisions, on behalf of the organization or the players, regarding any of latter have been made.
It's no surprise to most people that today we are releasing JingJun "Sneyking" Wu from our Dota 2 roster. He is a talented player with years ahead of him to develop his potential, but as of now he does not feature into our current plans. It's no secret that his play style is rash, unpredictable and inconsistent, but his play throughout the year has won us a fair share of games and contributed to the identity of the team.
Team Dignitas roster
Ioannis '
Fogged
' Loucas
Kurtis '
Aui_2000
' Ling
Peter '
Waytosexy
' Nguyen
Saahil '
Universe
' Arora