The final team which we get to introduce to you is perhaps the team that needs the least introduction, as they won last years The International and proceeded to dominate the Chinese scene for much of last year and the start of this. However,
Invictus Gaming have recently come upon hard times, and it is in the midst of this confusion that we now try to understand what we can expect of the team at this years event.
ADVERTISING:

The iG we know today was formed from the merger of iG.Z and iG.Y in late November of 2011, after a failed showing by iG.Z at the first International, coming in joint 5th place, a far cry from what was expected of a team which had been acquired as part of a supposed 6 million USD acquisition of Chinese powerhouses
Catastrophic Cruel Memory
and four of the five players of mighty
LGD
of 2010.
As part of the merger players of the caliber of
Zhang '
xiao8
' Ning and
Leong '
DDC
' Fatmeng were let go, both formerly of CCM who would go on to become part of the core of the current LGD.Cn roster. The five who were selected to stay were
Chen '
Zhou
' Yao,
Luo '
Ferrari_430
' Feichi and
Zeng '
Faith
' Hongda formerly of CCM(iG.Z) as well as
Jiang '
YYF
' Cen and
Wong Hock '
Chuan
' Chuan formerly of LGD(iG.Y). This roster has stayed together ever since.
The roster began to find their form in early 2012, first coming to show signs of overtaking
DK
who had started slowly losing the all-mighty grasp they had held on Chinese Wc3 DotA during 2011. While they had not shown results in Dota 2, after receiving their invite to the International 2012 the team began their process of transitioning over, working hard to achieve the form that would eventually earn them the title as
victors of the second International
.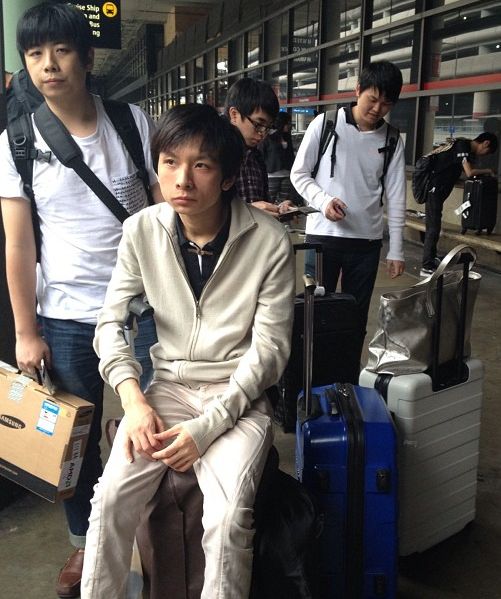 From this point onwards, iG were spoken of in hushed voices as the unbeatable juggernaut of Dota 2, which made it all the more surprising when LGD.Cn
defeated them in the semi-finals
of
G-1 Champions League Season 4
, followed by
Neolution Orange
doing the same
in the third place decider
. Still, this was shrugged off as a minor setback, with fans telling themselves that their rigorous promotional schedule had them off balance.
Sure enough, iG returned to the top with their victories at the
World Cyberg Games 2012
and in
G-League 2012 Season 2
, and continued to perform admirably in the
Dota 2 Super League
and through-out the
G-1 League Season 5 Asian qualifiers
. Everything seemed to be going well as iG were on a winning streak that had extended since G-1 League Season 4 in November, until May 22nd when
TongFu
defeated iG 2-0 during the D2Sl groupstages. This defeat was seen as nothing more than an outlier, until the next G-1 LAN Finals.
Two things shocked the world at the G-1 Season 5 LAN Finals; the amazing performance by
The Alliance
who managed to go
undefeated through the whole competition
, and the quite opposite performance of iG who according to the tiebreaker rules
ended up in very last place
, with only one game won against DK. This spiral of death continued with further losses in the D2SL, with iG relying entirely on their strong early season to make the playoffs at all,
where they were eliminated
by
LGD.Int
in the first round.
While iG had a slight resurgence in the
Alienware Cup #1
where they came in third
, they ended the pre-TI3 season by falling to
RisingStars
in the Quarter-Finals
of the
RedBull eSports Champions League
, far away from the glorious way they had begun the year.
Achievements
5th/6th Place -
The International 2011
@Cologne, Germany - $35,000
1st Place -
The International 2012
@Seattle, U.S.A. - $1,000,000
4th Place -
G-1 Champions League Season 4 (2012)
@FuZhou, China - $6,400
1st Place -
World Cyber Games 2012
@Kunshan, China - $20,000
1st Place -
G-League 2012 Season 2 (ended in 2013)
@Shanghai, China - $32,000
6th Place -
G-1 Champions League Season 5 (2013)
@Shanghai, China - $1,600
3rd Place -
Alienware Cup #1 (2013)
- $7,000
The Players

Zhou
(Captain)
Chen Yao
Signature heroes:
:d2_ld:
:d2_morph:
:d2_luna:
Zhou started out in
Comme Dieu
in 2010, where he quickly rose to fame as one of the best carry players. cD attracted the attention of a struggling
Nirvana.Cn
, who ended up buying the team, giving Zhou the platform to truly show the world his talents during 2010-2011, taking home a victory in the last season of G-League 2010.
Zhou joined CCM in 2011, finding great initial success and attracting the attention of iG, who bought up the team in August of that year, right in time for them to take part at the first International under the iG.Z banner, where they placed 5th-6th. He stuck with the team through their merger, eventually becoming a in-game leader for the team.
Zhou is one of the best carry players of China, and has at times been overlooked because of the high status of other players on his team, such as Ferrari, while his closest competitors are often also the biggest stars of their respective teams. Zhou has is a very solid player with good farming and great decision making in teamfights. His most famous heroes have been the Lone Druid and Morphling, as well as being famous for introducing Luna to Dota 2 at the International 2012. His most successful hero recently has been Anti-Mage.

Faith
Zeng Hongda
Signature heroes:
:d2_sd:
:d2_veno:
:d2_lesh:
:d2_kotl:
Faith started out in
TyLoo
in 2010 as the teams Captain under the nickname of '
WAQT
', where he played the Carry role. He moved on to play support when joining CCM in 2011, and would keep up this role in iG through the merger and the creation of the current roster. He is also iG's drafter and is often said to be the head of iG, the place from where their strategies originate.
Faith is a very positionally solid player and a very good warder. He is a highly unselfish player who manages to do a lot even though he is generally given very little to work with. He plays generally strong lane supports which can also join Chuan for ganking missions, although recently he has played a bit more pulling supports, with Chuan spending a bit more time in the jungle.

Chuan
Wong Hock Chuan
Signature heroes:
:d2_rubick:
:d2_chen:
:d2_ench:
:d2_sk:
Chuan started out in late 2009 playing for
8mski
, quickly catching the eye of
KingSurf
, joining the powerhouse team in early 2010, however due to issues with traveling he ended up leaving and joining
Aeon
instead just a month later, where he played for another two months before moving to China in order to study. In China he joined the team
ToT
, who disbanded in September of 2010.
After ToT Chuan went on to join
Deity
with whom he finished 4th at the WDC 2010 and SMM 2010 within a short timespan of two months, before leaving to play for a
Nirvana.my
, only to be recruited into LGD in the Chinese shuffle of 2011, winning G-League Season 1 of that year with LGD before being bought to join iG.Y. After the merger of the two teams, Chuan moved from offlaner to jungler/support for iG. During this period he was also seen as a regular stand-in for
Zenith
on the offlane, before eventually
Jonathan '
Loda
' Berg ended up joining the team.
His flashy plays and larger than life persona has made him perhaps the most famous of the iG squad among Western fans. He has played more Rubick than anything else during his team with iG and also plays a considerable amount of Chen and Enchantress. During much of the early year he played predominantly Sand King, showing off his great initiations and on point teamfight execution. He is also the teams go-to support Visage player.

Ferrari_430
Luo Feichi
Signature heroes:
:d2_invoker:
:d2_lanaya:
:d2_ns:
:d2_od:
:d2_panda:
Ferrari started out playing for
Mr
in 2010 but soon joined ToT, only to have it disband due to sponsorship problems a month later. This caused Ferrari to join
CityHunters
, only to move on to Deity shortly after. His 4 month stay in Deity was the longest of his career up until that point, but in the 2011 shuffle he ended up moving again, this time to CCM, whom he joined in January of 2011. He has stuck with the CCM core ever since, becoming part of iG.Z and then iG after the International 2011.
Ferrari is considered one of the greatest solo mid players of today, even though his recent form has not quite merited such high praise. He is a highly mechanically skilled player, a strong laner and a great ganker. While he is infamous for his Invoker play, after the nerfs to this and other of his core heroes after TI2 he instead became famous for playing heroes such as Night Stalker, until his ganking patterns were eventually figured out, causing him to move on again.
In recent times he has played a fair amount of Outworld Devourer along with a slight move towards focusing on more right clicking semi-carries. Notably he holds a clean record of 9-0 on Brewmaster.

YYF
Jiang Cen
Signature heroes:
:d2_naix:
:d2_wr:
:d2_bat:
:d2_bh:
Although having been courted before, it wasn't until
Wu '
2009
' Sheng asked him to join LGD in 2010 that he said yes. The two had gotten to known each other through playing in LGD's in-house league
Chinese Dota Elite Community
, and finally with a legendary player asking him to take the leap into professional gaming, YYF was convinced that there was a future for him in gaming.
Coming in at the very early stages of LGD's legendary 2010 run, YYF became an instant star player and eventually took over playing a solo role for the team after 2009's retirement. When iG offered him a place with them he chose to move on along with four others of his team because of the greater prospects of growth that the iG organization offered to him. He has since become the offlaner for the merged iG squad and has been heralded as possibly the best at this position in the world.
YYF is a very dependable player when iG is doing well, but has shown some lapses during their recent poor performances. Nonetheless he has been one of the pioneers of what is known as the "racecar" Lifestealer with Phase Boots and Sange & Yasha, as well as impressing with his on-point Batrider plays, having a near perfect sense for finding opposing players out of position. His stability and consistent great level of execution is why when at his best he is regarded as one of the best players in the world by so many.
Strategy
It's a bit difficult to speak of the strategy of a team which seems to have lost their identity. Before falling apart, iG had an aggressive style of play, focusing on grouping up and taking teamfights, great ganking from Ferrari and great support rotations. They loved heroes like Sand King for Chuan, and generally had a very strong mid game lineup with Zhou as their lategame fallback.
Now though, they seem all over the place, trying to take ideas from Western drafting as well as more modern elements from Chinese Dota. A lot of their recent success has been with heroes like Treant Protector, while also at times looking like they are trying to copy Na`Vi's drafting, valuing heroes like Puck, Windrunner and Rubick fairly highly.
A pattern that seemed to emerge during the final professional games that iG played was that they are gravitating towards a dual core strategy, with Ferrari more often than not being asked to play semi-carries like Outworld Devourer, Templar Assassin or Dragon Knight. YYF often plays teamfight utility right now, where as previously he would alternate between a mid-late damage dealer and a initiator. The iG supports are also playing very greedy picks, playing more junglers than they used to and relying more on supports which required pulling, as opposed to their previous preference for strong roaming supports.
The end result may be that iG has to slow down their play a bit in the early stages due to their higher reliance on early levels and farm to get going. Their picks are still not entirely lategame focused however, more so at amassing a commanding strength in the mid game and taking fights during this period. The question then becomes, is their teamfight co-ordination still up to it, and will they get enough out of Ferrari in this kind of role, when he has already looked a bit shaky at times.
Predictions for the International
While iG certainly hasn't looked on form, their scrim results have supposedly been looking up recently. Then again, the same was said prior to the ECL, where they went out in the first round of the playoffs. Whatever is wrong with iG, the individual skill of the players should not be it, as they have some of the most talented players in the world under their banner. It's also not the backing from their organization, as they famously have the second richest man in China,
Wang Sicong, as their owner and personal sponsor.
For some reason iG stagnated into their own off-beat style of play during early 2013, as they were left behind while the metagame kept on developing. They were able to hold it together for a long while through their teamplay alone, but when it was no longer enough, the teams synergy seemed to disappear as well. Some fans have been quick to blame internal conflict, which isn't all that farfetched as there was supposedly some issues adjusting after the merger of iG.Y and iG.Z, however management have been sterm in denying any internal issues.
Make of it what you will, be it just the squabbles of a team under pressure and failing to live up to the god status which they've been assigned by their fans or something more, in the end iG go into this International as underdogs, not unlike Na`Vi did last year. Yet this is the most dangerous kind of underdog, one which has something to prove and the abilities needed to do so. A top 8 finish should be expected even in this form, and anything beyond hinges on how well iG can rediscover their old synergy as a team.
Previous Team Presentations
Na`Vi
Orange NeoES
The Alliance
DK
Fnatic.EU
Zenith
Team Liquid
LGD.Int
mousesports
MUFC
Team Dignitas
TongFu
Virtus.Pro
LGD.Cn
Wildcard Teams: Quantic Gaming & RattleSnake
How far do you think Invictus Gaming will go at this years International?