Start Date:

2014-04-14

End Date:

2014-06-30

Type:

LAN Event

Prize Pool:

$200,000+

Location:

Germany, Frankfurt

Host / Series:

ESL
Basic Information
The Electronic Sports League (ESL) is hosting the largest eSports event in Europe ever, with space for about 30.000 visitors in a football stadium. 8 world class Dota 2 teams attend.
Date:
28th & 29th of July 2014
Location:
Commerzbank Arena
in Frankfurt, Germany
$80,900$40,450$20,225$20,225
5-8th place: 4x $10,113
ADVERTISING:
Tournament Grid
Quarter Finals and Semi Finals are Bo3. Grand Final will be Bo5.


Ticket & Compendium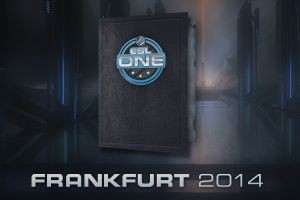 The ESL One compendium can be purchased in the
Dota 2 Store
for 10,00 USD. Every sold copy raises the prize pool by 2,50 USD.
Qualifier Results
TI finalists
The Alliance
and
Natus Vincere
have been directly invited to Frankfurt. The remaining six slots have been played out in continental online qualifiers. Three additional teams from Europe qualified as well as two from Asia and one from America.
Europe
12 teams were invited to the groupstage, with 4 joining them from an open qualifier. The winners of the 4 groups played out two slots in two best of five finals, granting
Mousesports
and
Fnatic
their tickets to Frankfurt. The losers of those group finals as well as the second and third placed teams from the groups fought for the final slot in single elimination playoffs, with
Cloud 9
being the lucky winner.
I. Open qualifier
Open Qualifier results
II. Groupstage & Group Finals
#NameW-L1
Team Empire4-22
MeetYourMakers3-33
Monomaniac eSports3-34
Virtus.pro2-4#NameW-L1
Team Dog5-12
Relax5-13
roX.KIS2-44
mYinsanity0-6Group A & B Final
Empire 2:3 Dog
#NameW-L1
Fnatic5-12
Power Rangers3-33
DuzaGaming3-33
Next.kz1-5#NameW-L1
Cloud 95-12
Goomba Gaming4-23
hehe united3-34
Sigma.int0-6Group C & D Final
Fnatic 3:2 Cloud 9
III. Playoffs
America
4 teams from North and South America have been invited to the playoffs with 4 more joining them from an open qualifier. In single elimination, best of three format (best of five final), the American slot was played out.
Evil Geniuses
came out on top.
China
While two slots were assigned to Asia overall, the first one was reserved for China only. Eight top teams were invited to compete in single elimination, best of three playoffs (best of fiva final).
Invictus Gaming
secured its participation in Frankfurt. The second and third place got to move on to the Asian qualifier.
Asia
The final slots was fought out in all of Asia. Four teams got directly invited to the playoffs. The second and third place from the Chinese qualifier joined them as well as two teams from the groupstage. Prior to that, teams have qualified for the groupstage through national qualifiers.
LGD Gaming
made it to the event.
I. National qualifiers


to be added


II. Groupstage


to be added


III. Playoffs