Alienware Cup format announced
The format of the
Alienware Cup
has been revealed as well as the schedule having received some
minor changes
. In addition, the distribution of the prize pool has been made public, showing a broad distribution which is a lot less top heavy than we've seen with other recent tournaments.

The format for the groupstage is the same as for the current season of
The Defense
, with round-robin best-of-2 matches where points are awarded based on games won, with a 2-0 win netting you two points and a 1-1 draw netting both teams one point each. Details have not been made public yet regarding how potential tiebreakers will be handled.
Winning the groupstage results in a direct seed into the semi-finals of the upper bracket, while the rest of the teams get paired up so that the higher ranked teams of each group get to play the lower ranked teams of the opposing group in the first round. The tournament follows a double elimination playoff bracket with all matches being best-of-three series, except for the losers bracket final and the grand final being best-of-five matches. Unconventionally, the losers bracket seeds do not result directly from the initial winners bracket seeds, as the match-ups will prioritize pitting teams from different groupstage groups against each other. There is also no winners bracket advantage for the grand finals.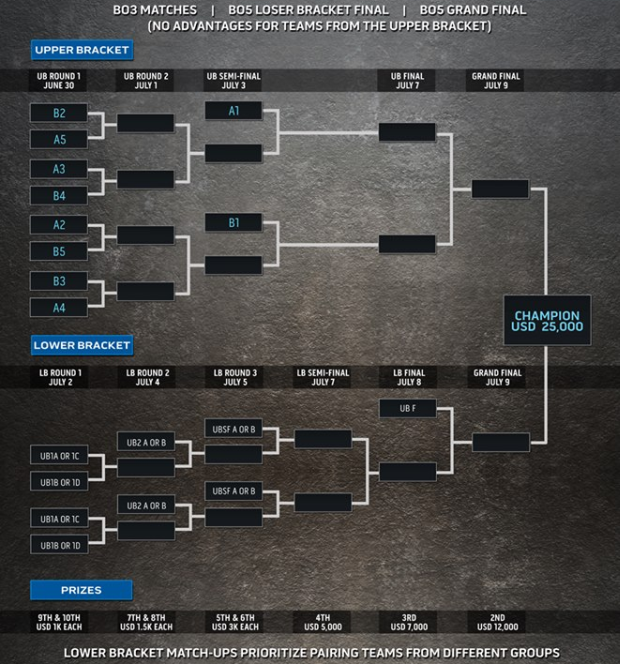 Schedule
The schedule has also received some minor tweaks, moving up the dates a bit for the groupstage and postponing the dates of the playoffs a bit.
Group A
- June 16-17, 23
Group B
- June 24-26
Playoffs
- June 30 - July 9
Prizepool distribution
1st - $25,000
2nd - $12,000
3rd - $7,000
4th - $5,000
5th-6th - $3,000
7th-8th - $1,500
9th-10th - $1,000
Sources:
Alienware playoff format and schedule