EG add Bamboe and bootcamp in Phoenix
It hasn't been the easiest of times for
Evil Geniuses
, as their periodic inactivity hurt them in their pursuit of an invite to
The International 2013
as well as in the qualifiers for the
G-1 Champions League
. Facing having to go through the qualifiers for The International, EG have as so many other teams sought to update their roster, which has lead
Jacob '
Maelk
' Toft-Andersen to take up the role of coach, while
Alaan '
SexyBamboe
' Faraj takes his place as member of the official squad.
In addition the whole of the new roster will be making their way to the Evil Geniuses teamhouse in Phoenix, Arizona over the coming week, to bootcamp in preparation for the International Qualifiers.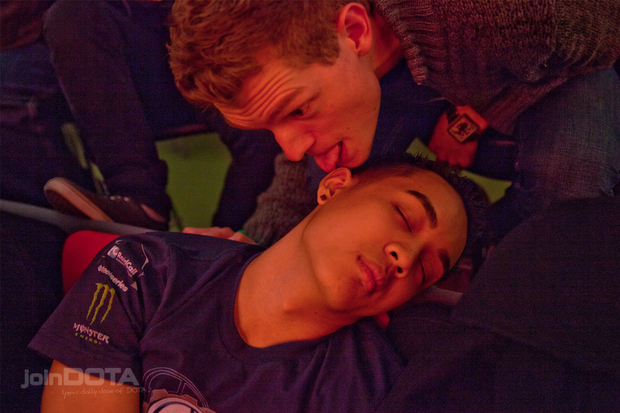 No longer will DeMoN live in fear of being assaulted in his sleep.
Maelk's roots with the competitive scene go as far back as 2005 and his first team
Boomtown Odense
, however it wasn't until he created
Jukes on You
that he truly secured his legacy. If the name sounds a bit unfamiliar, the name they took after winning
MYM Pride #3
is certainly one which will be remembred in the annals of dota,
Meet Your Makers
. He would remain with MYM through most of his competitive career in Wc3 DotA, up until the first International, where he placed fourth.
Maelk's journey with EG began in February of 2012, a turbulent time, as the team sought to become one of the premier within the scene but seemed to encounter just as many failures as they had successes. During most of this time Maelk served as the drafter for the team, even as the Captain's mantle was held by
Clinton '
Fear
' Loomis. Maelk brough with him to EG his own penchant for various forms of push strategies as well as through his selfless play would come to give his name to the most coveted award of them all,
the Maelk award
.
In Maelk's place EG have formally uplifted their recent stand-in player, former
Mousesports
offlane player SexyBamboe. Bamboe has been a part of the Dota 2 community for some time now and has become well known for his characteristic high risk/high reward playstyle. Bamboe has been described by former teammates as one of those players whom you sometimes just sit back and watch them take over the game, something which Fear is sure to look to cultivate further in this talented player.
With SexyBamboe, the core roles we've seen in the previous weeks will be cemented, as
Jio '
Jeyo
' Madayag will continue to play the Hard Carry role,
Jimmy '
DeMoN
' Ho will return to his classic role as solo mid, Bamboe will take up the offlane solo role, Fear will continue to play secondary support and
Robert '
Bdiz
' Tinnes will take the role of hard support.
Statements:
The following statement was made by Cody Conners, the General Manager of Evil Geniuses:
We've been looking ways to make our Dota squad stronger for some time now. Utilizing the facility in Phoenix was an easy choice to make, and after much thought we're confident that the lineup changes will make for a stronger team. Maelk's experience will make him invaluable as a coach, and with Bamboe rounding out our competitive lineup I'm sure that our Dota squad be the strongest it has ever been.
Regarding his departure from the main squad,
Jacob '
Maelk
' Toft-Andersen had this to say:
I am happy to say that I am quitting the competitive circuit, and will instead shift my focus to a new managerial role within Evil Geniuses. After nine years of playing Dota competitively I have long thought about stepping back as a player and instead directing my passion elsewhere. We've been looking at the roster for a few weeks now, and I am confident the team will succeed in the qualifier for The International and continue to deliver the results fans have come to expect from the team. I would like to thank both the community and the team for their constant support. I wouldn't have been able to do this for so long if it weren't for the support of fans and people in the industry,
And finally a few words from the newest addition to the Evil Geniuses family,
Alaan '
SexyBamboe
' Faraj:
I'm excited to join the Evil Geniuses team. After our strong performance in G-1 qualifiers it felt natural to join up with them. I believe that we can become one of the best with the right mindset and dedication.
Evil Geniuses:
Clinton '
Fear
' Loomis (Captain)
Jimmy '
DeMoN
' Ho
Jio '
Jeyo
' Madayag
Robert '
Bdiz
' Tinnes
Alaan '
SexyBamboe
' Faraj
Jacob '
Maelk
' Toft-Andersen (Coach)
Sources:
Evil Geniuses