Reformed Neolution Orange
After much speculation,
Neolution Orange
have finally announced their new roster for 2013, which in many ways has the feeling of a great reunion, as it brings together many familiar faces from across the years.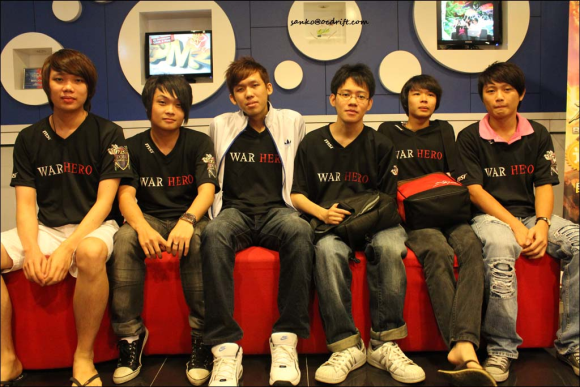 The last time Mushi, XtiNcT and Net played together on the same team, back with Nirvana.My
As we reported
earlier
,
Wai Pern '
Net
' Lim and
Chong Xin '
Ohaiyo
' Khoo will now be wearing the orange and black jerseys. For Ohaiyo, once titled the disciple of
Yee Fung '
Mushi
' Chai, this is a homecoming after having been edged out following the dissolution of
Orange.Academy
. On the other hand Net faces a very different story, as he famously split ways with Mushi over personal disagreements after
SMM 2010
. More than two years later, it seems the two have finally found a way to overcome these issues and will join forces once more.
As for Mushi himself, this divisive genius of Malaysian Dota has to the delight of many Orange fans decided to remain with the team, a decision which did cost Orange the other enduring personality of their team,
Wei Pong '
Yamateh
' Ng. Also officially leaving the team will be former members
Chua Chee '
Ice
' Cai and
Litt-Binn '
WinteR
' Chan.
Yean '
WangWang_
' Seong, while not officially part of the team, had been standing in for some time and was speculated to be part of the new roster, but is also not found on the new lineup.
The final two players for the team will be
Joel '
XtiNcT
' Chan Zhan Leong as well as
Kang Yang '
ky.xy
' Lee, who have both been part of the Orange roster for some time now, although ky.xy has not seen much play under Orange for a while, as his position on the team has clashed with that of Mushi.
In addition to the roster changes a new partnership has been revealed, with
Neolution
teaming up with Orange Esports as their 'Platinum Sponsor' releasing the news on the Neolution Orange facebook with the following statement:

Orange Esports extends our welcome to Lim 'Net' Wai Pern and Khoo 'Ohaiyo' Chong Xin who will be completing our 2013 DotA team roster. On the other hand, we parted ways with Chan "Winter" Litt-Binn and Chua "Ice" Chee Cai. Like Yamateh, Winter and Ice are also top quality DotA players and accomplished a great deal during their service with Orange Esports. We wish them best of luck in their next stage of DotA career and they will be missed by many of us.

We also take this opportunity to announce our new partnership with Neolution E-Sport who will come in as Orange Esports Platinum Sponsor for 2013. We like to thank the CEO of Neolution Group, Mr. Satean Boonmanant for his generous supports. The sponsorship will complete the new pay package for our Professional DotA players like never seen before in South East Asia. In recognition of their sponsorship, Orange Esports DotA team will be known as "Neolution Orange" in 2013
Neolution Orange Roster
Joel '
XtiNcT
' Chan Zhan Leong
(Captain)
Yee Fung '
Mushi
' Chai
Kang Yang '
ky.xy
' Lee
Wai Pern '
Net
' Lim
Chong Xin '
Ohaiyo
' Khoo
Credit for the picture of
Nirvana.my
goes to
Sanko from OCDrift.com
.
Sources:
Facebook Announcement
Related Content: